Craft beer in Alsace: Boum'R and TAAL breweries
Craft beer in Alsace: Boum'R and TAAL breweries
France definitely is a wine country, but it doesn't mean that there is no beer culture. Craft beer boom is strong around the country, and the amount of microbreweries has exploded – in fact there are more breweries in France than in any other country in Europe, way over two thousand! Alsace area next to the German border is a well-known wine area, but also home to artisan breweries. We have been staying in the area for several months in different occasions, and of course also explored the local craft beer scene. Whereas there are some a bit bigger craft breweries, like Brasserie Sainte Cru in beautiful Colmar, majority of the breweries are small and located in small villages. In this Craft beer in Alsace post we introduce two small artisan breweries located close to Colmar; Brasserie Boum'R and Brasserie TAAL, both producing mostly ales with a hoppy touch.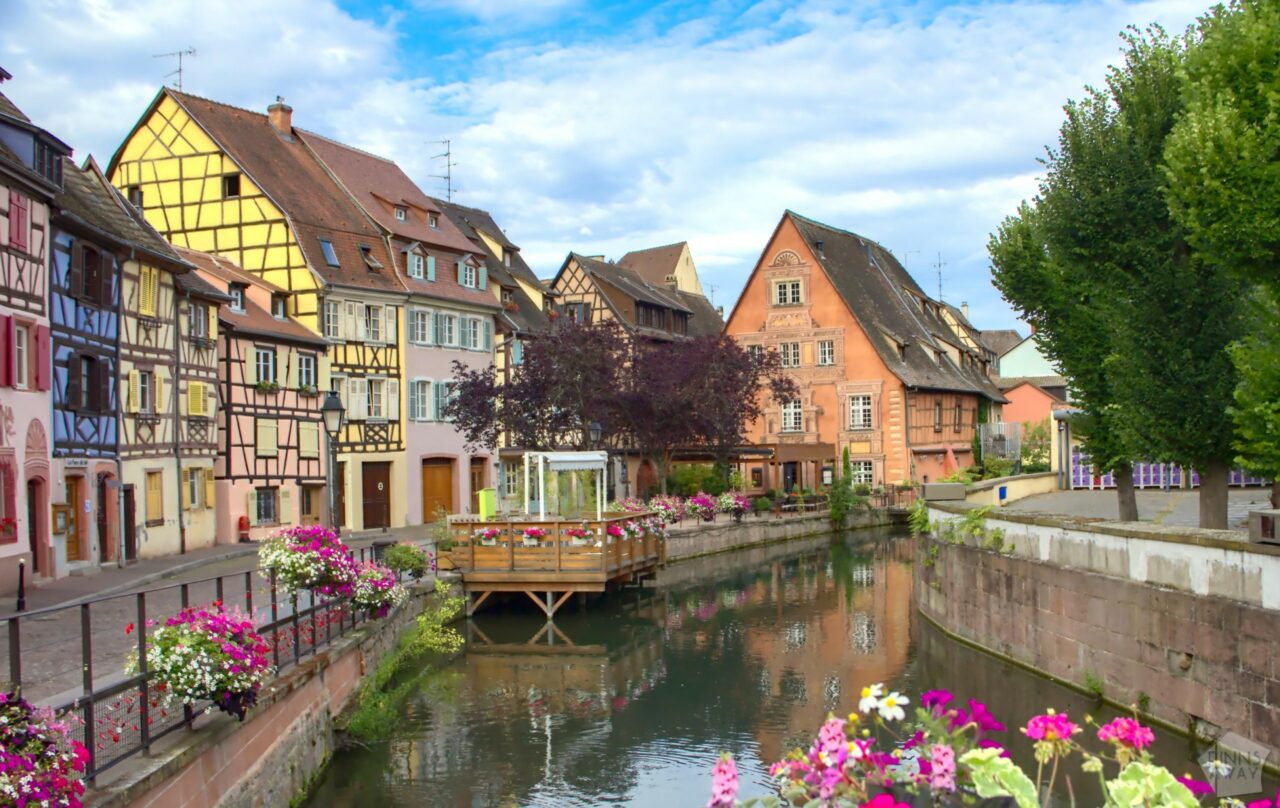 Brasserie Boum'R in Wettolsheim
Boum'R is a microbrewery located in small Wettolhseim village, just a few kilometers south-west from Colmar. We visited this small artisan brewery in June 2021, and got to interview Max, one of the founders and owners. The brewery was established in 2016, but the fellows behind it already had several years of experience in home-brewing before founding an actual brewery. The name of the brewery is a tribute to the nearby Hettenschlag village, where the founders live. The Alsatian name of the inhabitants of Hettenschlag is Hattaboum'R, and from that the brewery kept the ending Boum'R.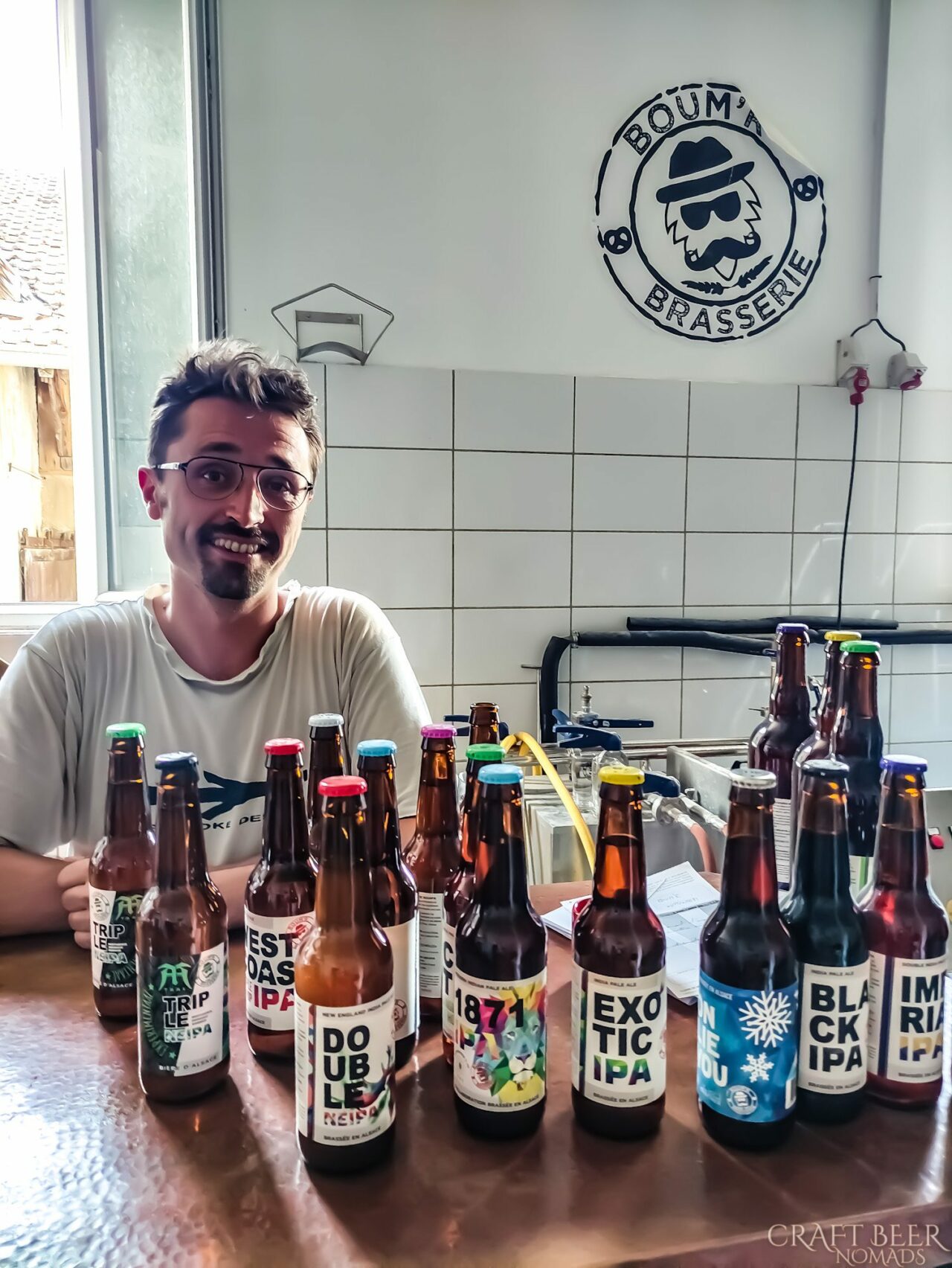 The story of Brasserie Boum'R
Back in 2012 in Hettenschlag, three young men, Eric, Max and Pierre, become roommates, and find a common passion – beer. Max, being half French, half German, had spend his younger years in the world of traditional, rather conservative German beers, and had found the wonderland of tasty IPAs after moving to France. In Hettenschlag flat this interest towards more hoppy beers was shared with the new friends, and soon the fellows started home-brewing.
By 2014 their brews have become rather popular among friends, and a beer called La Hopus, Belgian style ale with five hops, becomes a game-changer, that leads to brewing more bitter beers, especially IPAs. Then a bit bigger kettles are used and the recipes turn more hoppy batch by batch. In 2016 the shared kitchen is no longer big enough for the production, and the fellows decide to invest in professional equipment, and to create an actual craft brewery.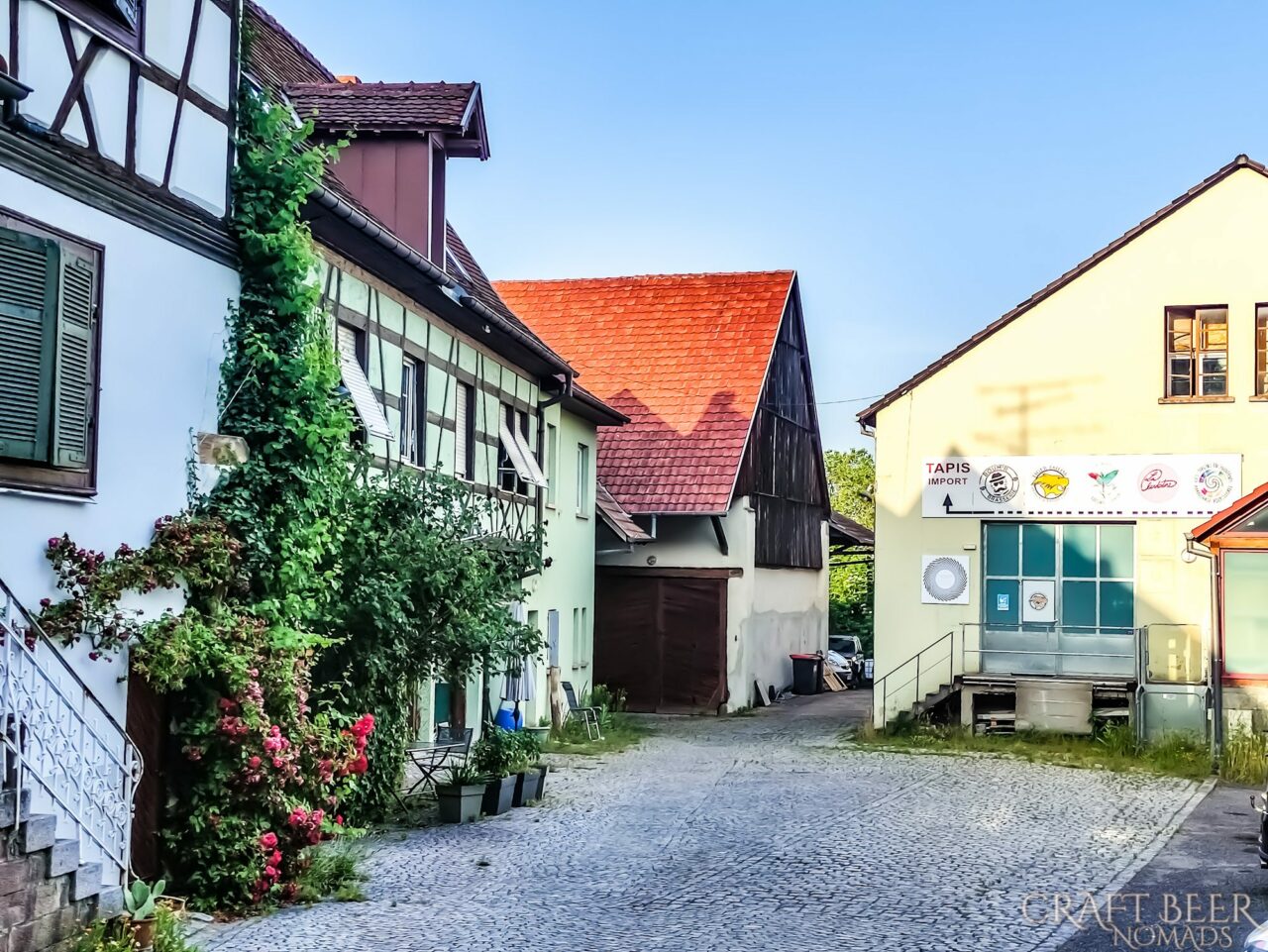 Boum'R brewery in Wettolsheim was officially opened in 2017, and on the same year Boum'R beers win the first medals; silver for Blonde Alsacienne and for Exotic IPA, in an international beer competition held in Lyon, France. The brewery is built in three levels, with a malt crusher and storage space in the upper level, the brewhouse and small shop in the middle floor and the fermentation tanks and cold storage in the basement. Max explained that the brewing equipment of Boum'R is an Italian-made system, that was a more economic investment than an equivalent German-made system, but proven to be a bit challenging when it comes to getting spare parts. Max luckily happens to have background as a mechanic, a useful area of expertise also in the world of brewing.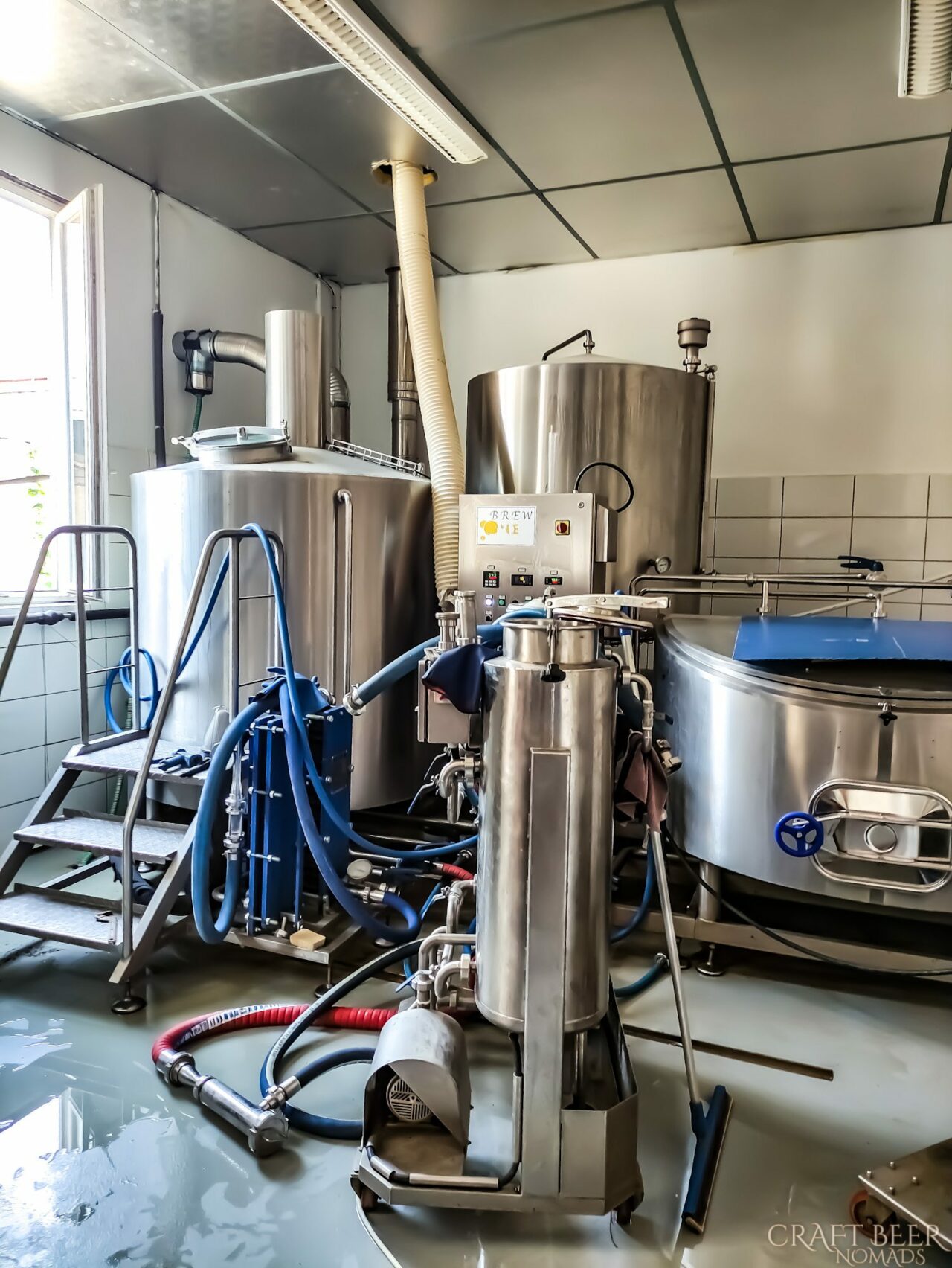 The cool basement floor of the brewery is an unusual sight, with huge concrete, glass-lined containers. The building was used in wine-production decades ago, and now the old container structures are in use with the water circulation and cooling processes of the modern brewery. There are five fermenters, and the current capacity of the brewery is around 600 hectoliters per year.
Boum'R beers are born from passion, and brewed with the aim to introduce original beers with an intense taste profile. Boum'R specializes in making different kind of IPA beers, but they also have a selection of other beer styles in their repertoire. Hops from all over the world, and also locally grown, are the heart of the beer development, and Boum'R crew wants to demonstrate the diversity and richness of hopped flavors in their products.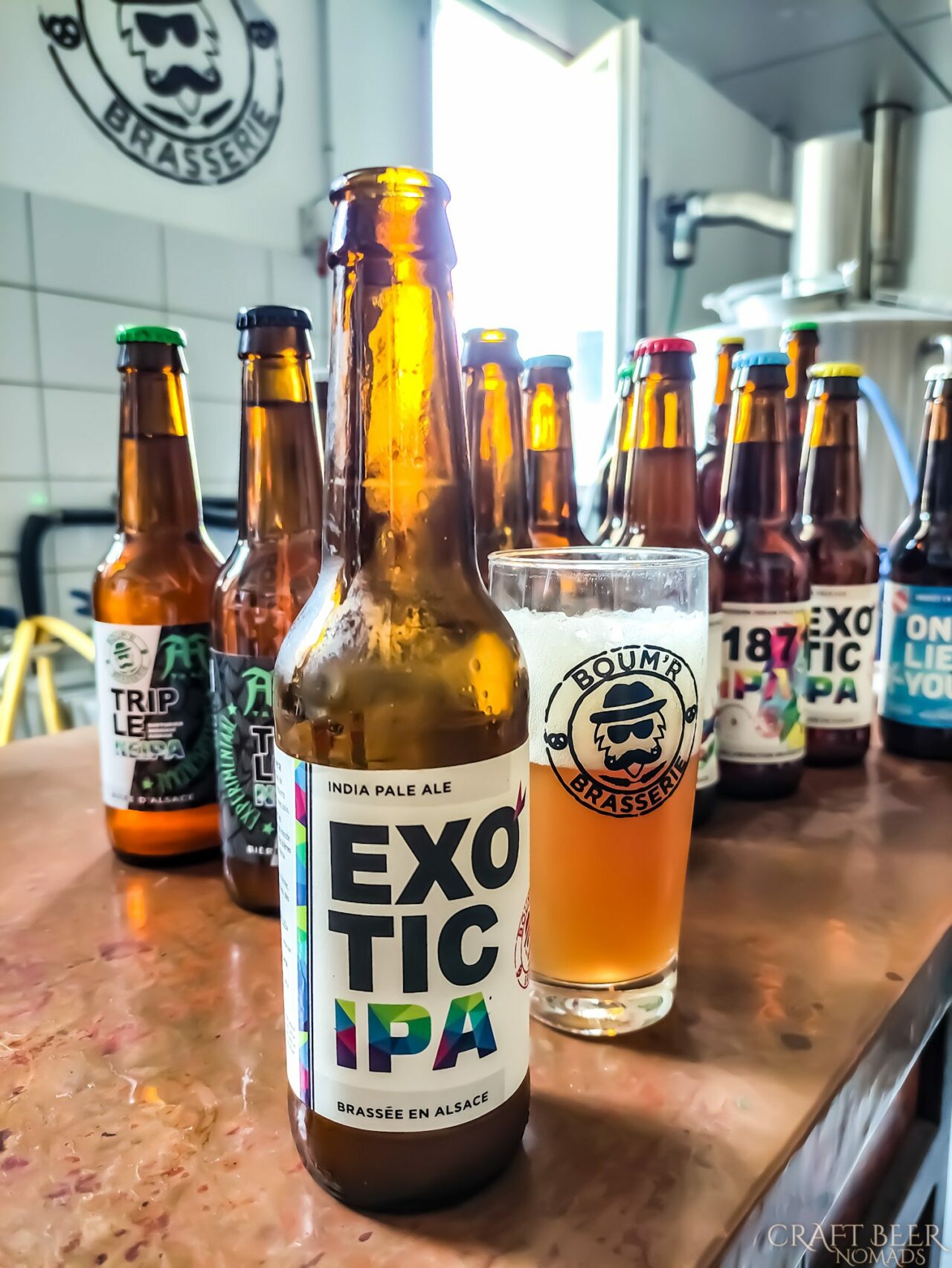 We tasted several Boum'R beers, and were impressed by the quality of the IPAs. We have spent a lot of time in France and tasted dozens of French IPAs, and found many of them be more Belgian-style than new world -style, despite the labels telling that they are American IPAs. Boum'r brews lacked that Belgian feel, and had a pleasantly hoppy, true-to-style profile.
Some of our favorites were Black IPA, a very dark and bitter IPA with a stout-like, roasted aroma, Exotic IPA with pleasantly fruity aroma and tropical feel, IPA Single Hop Citra, a bit west-coasty brew with citrus fruits and herbal touch, and White IPA Chinook Citra, a light and fresh IPA, great especially for hot summer days.
Brasserie TAAL near Münster
TAAL microbrewery is a family-owned brewery and restaurant in Wihr-au-Val village close to the town of Münster. The brewery project started in 2018, the first beers were bottled in January 2019, and the stylish taproom right next to the brewery was opened in early 2020.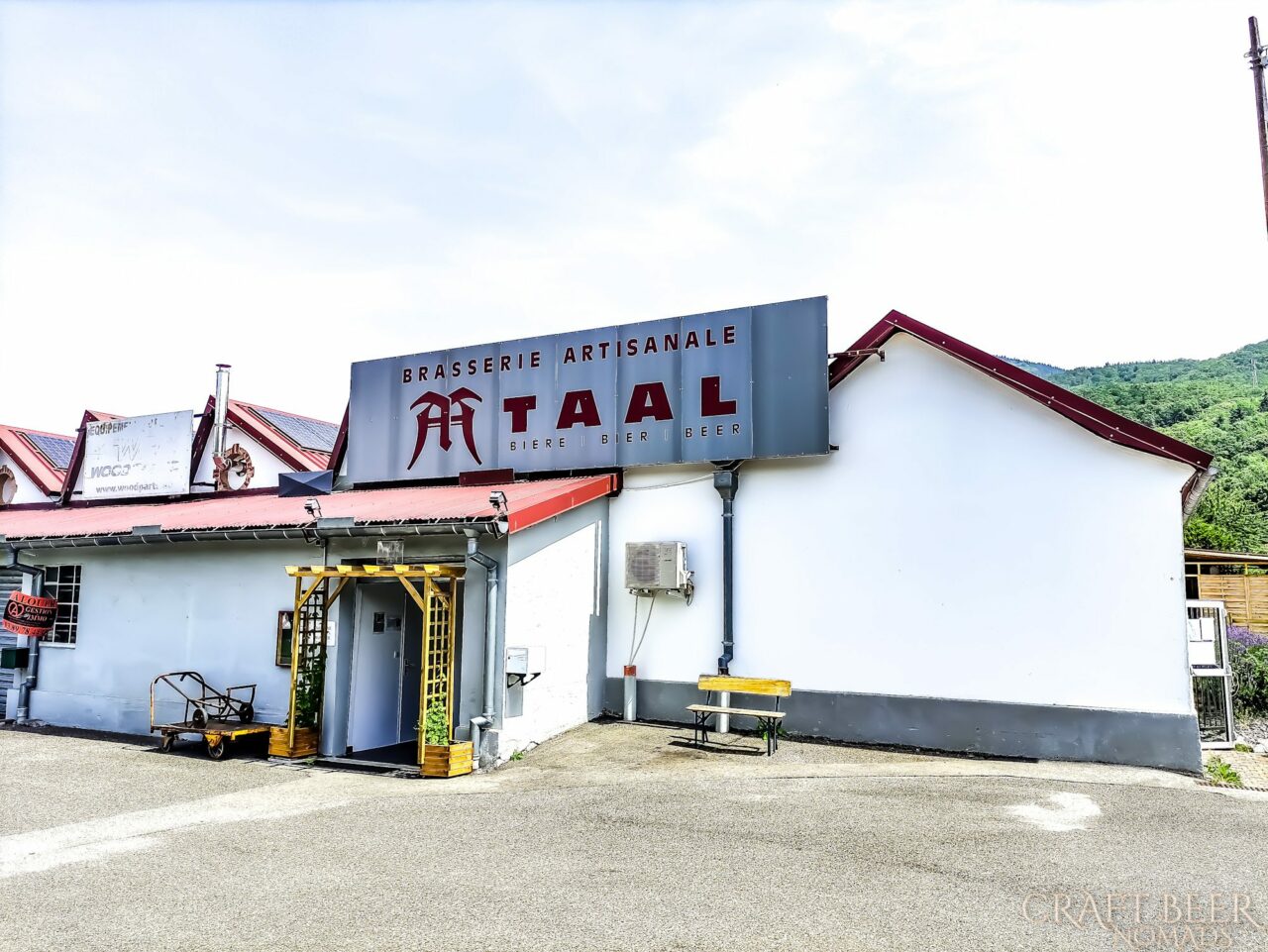 The story of Brasserie TAAL
The founders of the brewery include Olivier E. and Guillaume, who back in 2009 got excited about the craft beer boom in the US, and started home-brewing with basic beer-making kits. By 2017 Guillaume had become a recognized amateur brewer and Olivier had gathered experience on building businesses via his work. It's time to join forces with Martin and Dominique, who's skillset includes brewing, construction and repairing, and to build a brewery together. Olivier A, an awarded brewer, joins the team in 2019, bringing professional touch to the bigger scale beer-making process.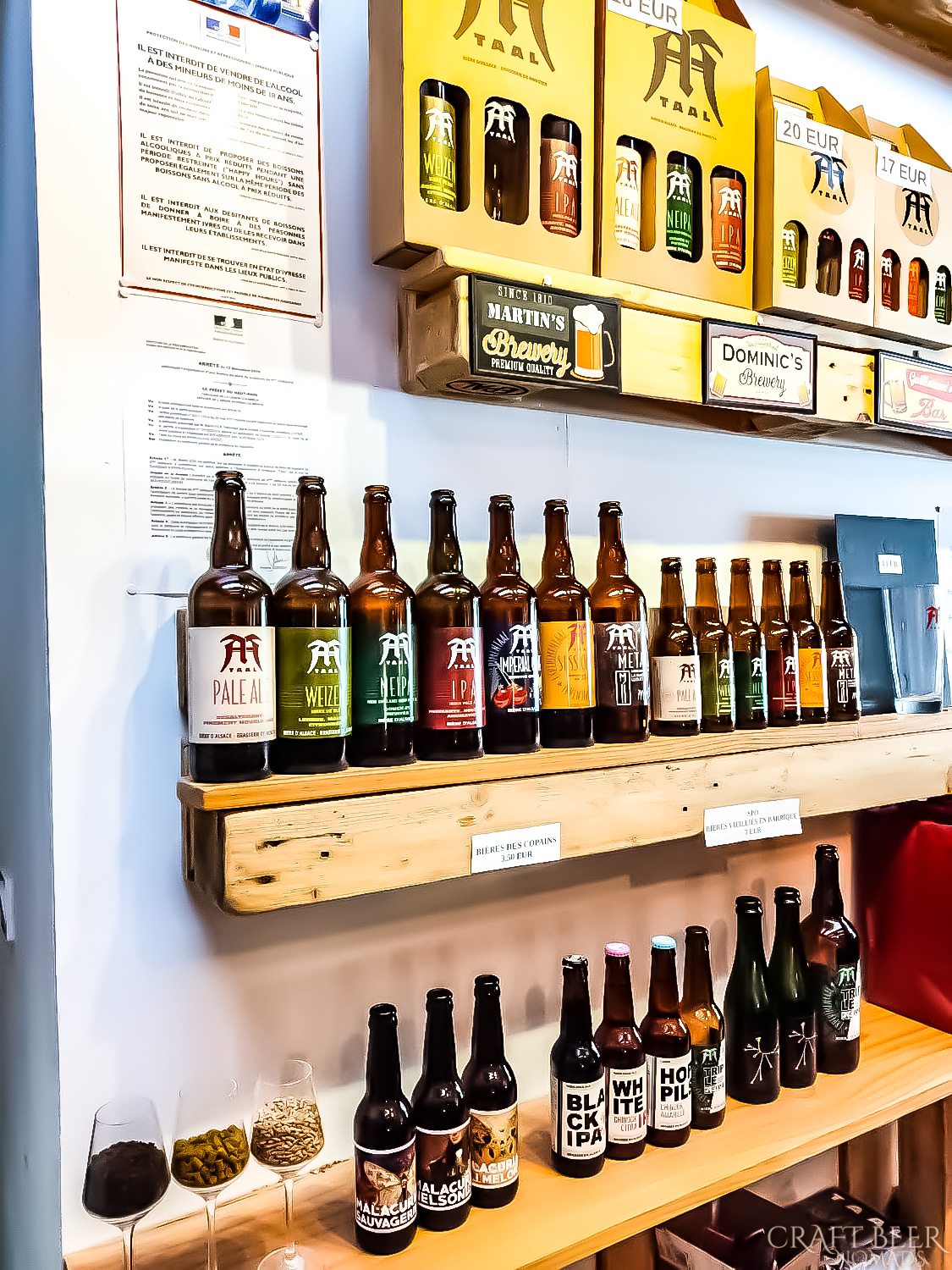 Like Boum'R, TAAL has Italian-style brewing equipment, with five fermenters from 1200 liters to 2400 liters. The yearly production capacity is around 1200 hectoliters, and the beers are sold in local restaurants and bottle shops, as well in online stores and of course in the taproom too. TAAL collaborates with other small breweries, marketing each other's products, and has made collaboration beers with Boum'R too.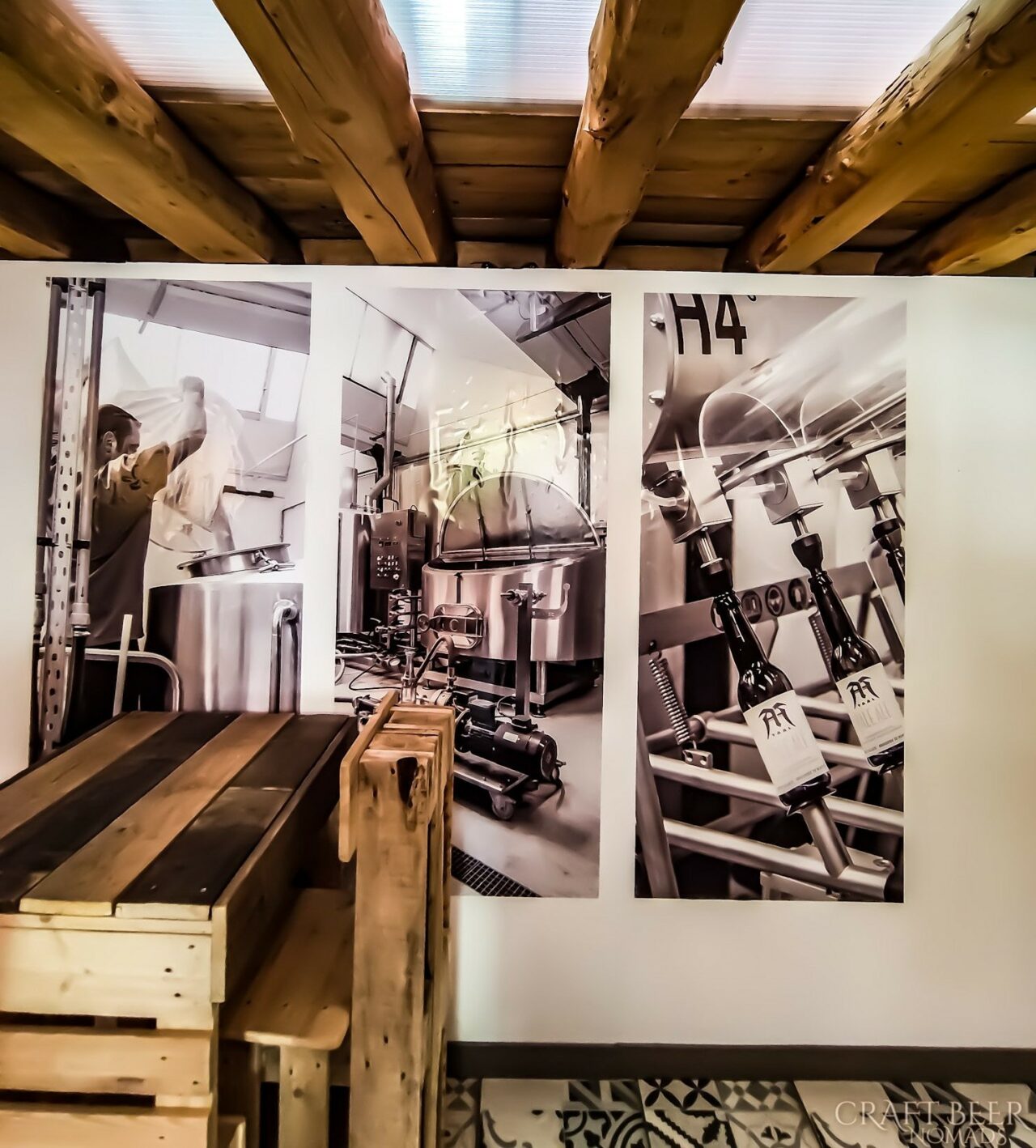 Brasserie TAAL taproom is a cozy venue in the middle of the beautiful Alsatian countryside, right next to Vosges mountains. There is a summer terrace and a pub, with occasional concerts and theme events. The venue can also be reserved for private events for companies or families. For those interested in hearing more about the brewery, there are guided tours with tastings available for groups.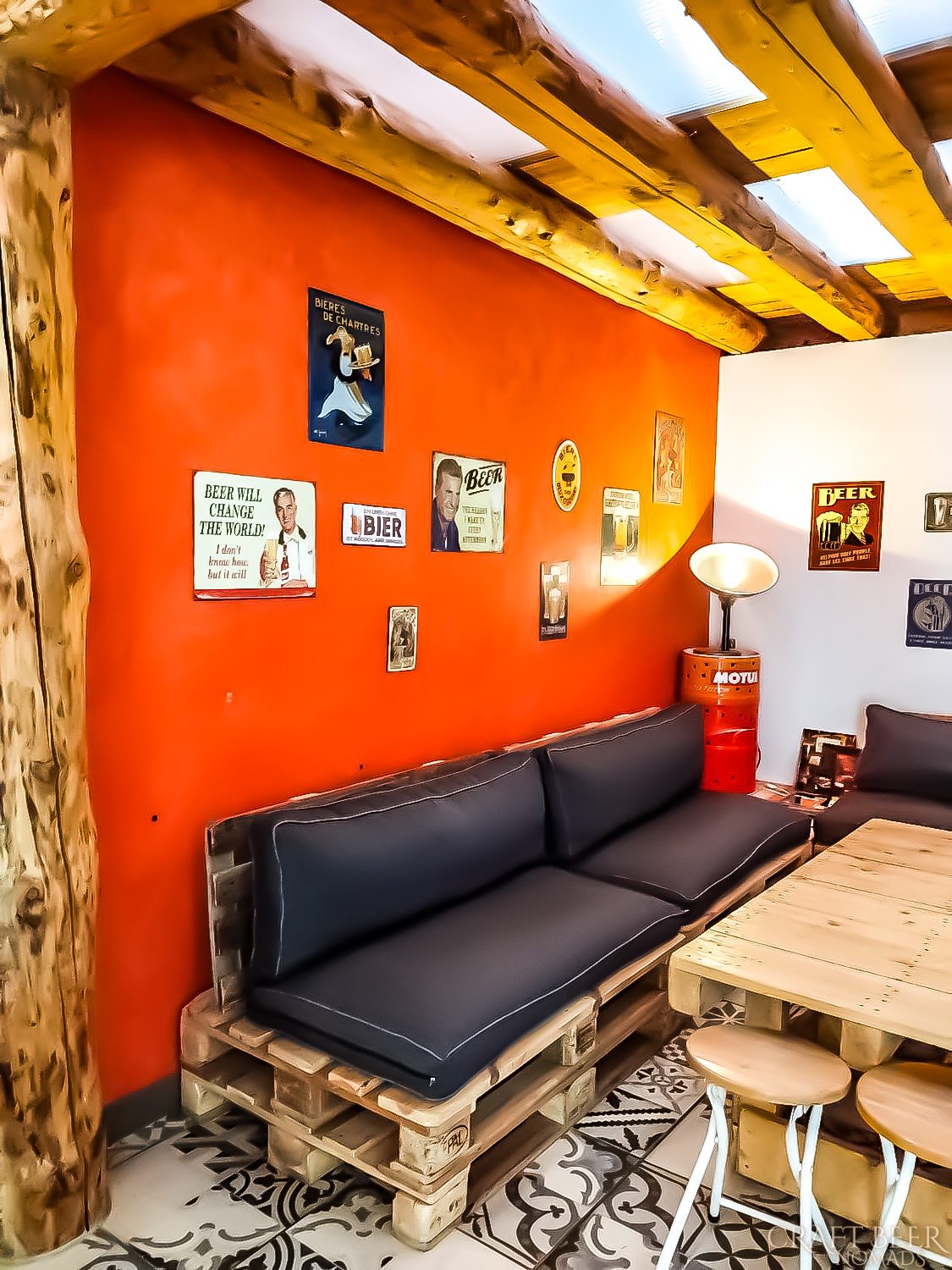 TAAL beers are brewed using the pure Vosges area water, mostly locally produced malts, liquid yeasts and hops from Alsace area, the US and elsewhere around the world. TAAL uses only natural additives, and the beers are unfiltered and unpasteurized.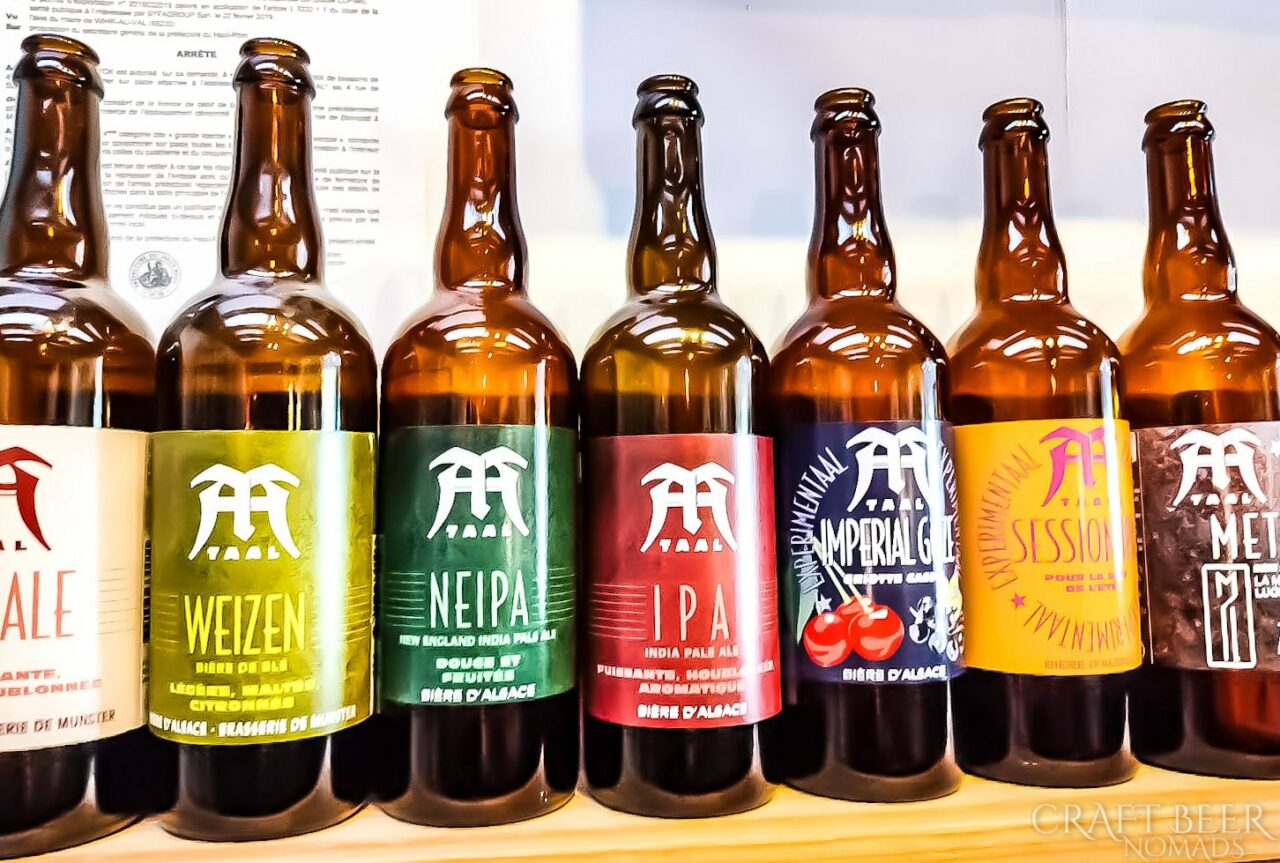 There are four beers in the core selection, and several seasonal and experimental products around the year. The flagship beers are Pale Ale, a light and fresh ale brewed with 100 % Alsatian hops, IPA, a classic American style dry-hopped, bitter and resinous brew, NEIPA, a soft, easy and fruity New England -style IPA and Weizen, a classic, slightly sweet wheat beer.
In addition to the core selection, we also tasted a fruited imperial goze called Imperial Goze Griotte Cassis, a tasty sour beer with a lot of berries (cherry and blackcurrant) and a touch of salt. The selection of experimental beers available changes often, depending on the harvest season, collaborations and the imagination of the brewers, and TAAL has tried a wide selection of different styles during the years.
Have you tasted local craft beer in Alsace, or elsewhere in France? Leave a comment below!
We are sorry that this post was not useful for you!
Let us improve this post!
Tell us how we can improve this post?