Craft beer in Riga Beer District, Latvia
Craft beer in Riga Beer District, Latvia
Riga, the capital of Latvia, is a great destination for a short city holiday, especially during the summer season. The historical, beautiful old town of Riga is a tourist favourite, but it's well worth to explore the city also outside of it. Riga is also wonderful for craft beer enthusiasts, with a lot of breweries, tap rooms and craft beer pubs. Riga Beer District is a unique joint effort of 10 pubs, gastro pubs and brewpubs in central Riga offering delicious craft beers, food and culture. There is a 2,5 km long walking route connecting all the venues, and you can either follow it independently, or book a guided tour. In Riga Beer District you can choose your favorites from over 100 craft beer varieties from Latvia and other Baltic countries. The goal of Riga Beer District is to 'promote the diversity of flavors offered by small craft beer breweries to both Latvia's beer lovers and visitors from near and far'.
History of Riga Beer District
Riga has been a brewing centre for a long time. Back in the 19th century, there were three large breweries operating in the exact same part of the town, where Riga Beer District is today. First one of them, Kunzendorff Brewery, was established in 1796, and was in full bloom in early 20th century. Kunzendorff had warehouses not only in Latvia, but also in Estonia, Russia and Ukraine. The other beer giants of Riga were C. L. Kymmel Brewery and C. Stritzky Brewery. As we know, the wars of early 20th century changed pretty much everything in Baltic countries, and the events led also to the end of existence of these breweries. Two latter ones were closed at the time of the First World War, and Kunzendorff struggled until the Soviet occupation in 1940.
The new era of craft beer has brought new life to the industrial neighborhood of these former breweries. According to Riga Beer District websites, the first new brewery to open its doors was Valmiermuiža Brewery's Beer Embassy in Riga. It was soon followed by smaller breweries and bars; Labietis Brewery, Ziemeļu Enkurs Brewery, the beer pubs Taka and Walters & Grapa, bar Vest, Old Brewery Arts Bar Autentika, and heavy metal friendly Zobens un Lemess bar. Few hundred meters towards the old town opened the Alķīmiķis pub and brewery, and also Kanepes Culture Center, that serves beer with arts, is part of the Beer District.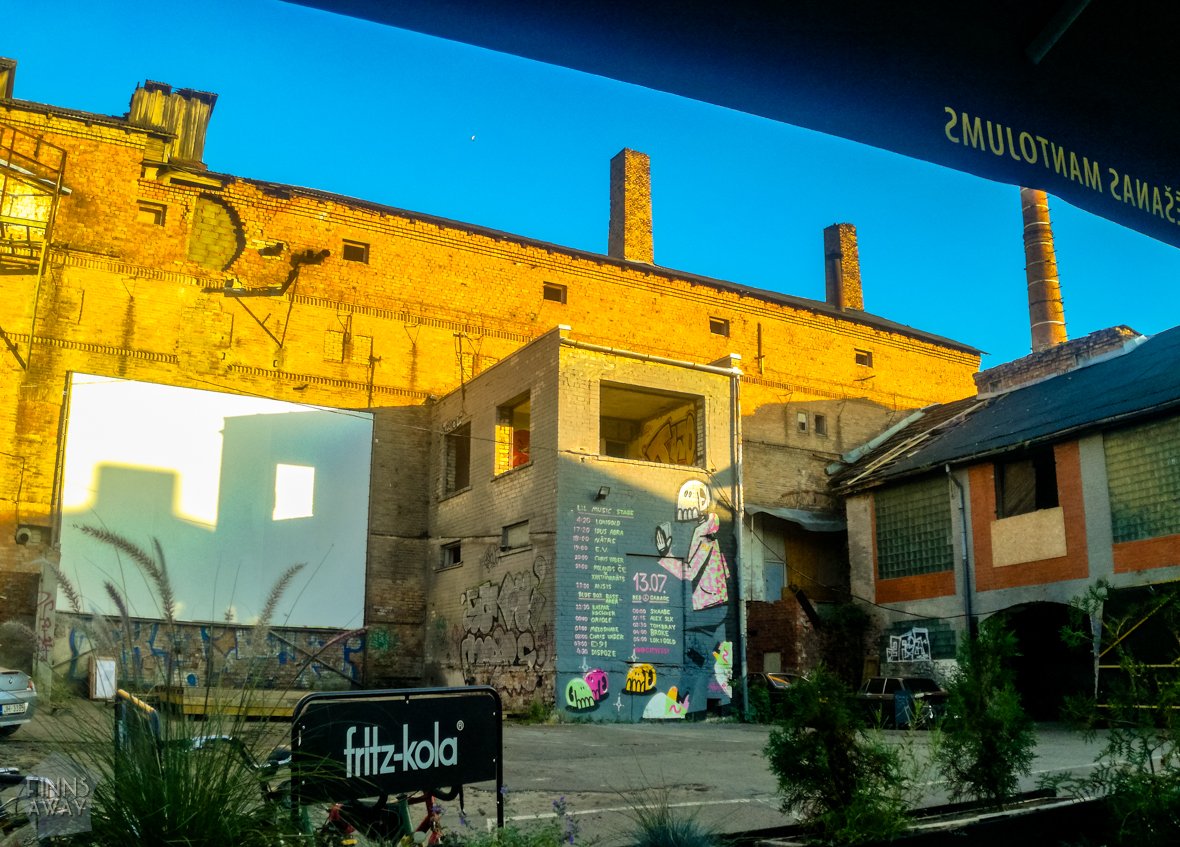 A tour in Riga Beer District
We have visited Riga several times, and often headed to Riga Beer District. Here we provide an itinerary for walking around the area, visiting part (or all if you dare) of the taprooms and bars. A tip for your tour; take care that you have the pubs and breweries marked on a map before you head out, as not all of them are easy to find. There are orange-colored Beer District leaflets with a map and some info available in at least part of the places, and the Beer District website is helpful as well. If you'd like to learn more about the Beer District as you go, you could book a guided tour, that includes craft beer tastings and some snacks.
We started from Alkimikis (Lāčplēša 12 ), brewpub that is situated closest to the city center. We have visited this friendly restaurant several times when staying in Riga, and really like the beers and the atmosphere, and the food is delicious also! Alkimikis has four own beer varieties permanently on tap, and a brew-masters selection of three beers changing every season, plus one beer that is changing every month. Next stop of the beer district route is the Kanepes Culture Center (Skolas Street 15), just two blocks away. We haven't visited, but according to Beer District website, the Culture Center has live music performances by local and international artists, and a beer selection of 8 tabs and 20 more varieties in bottles.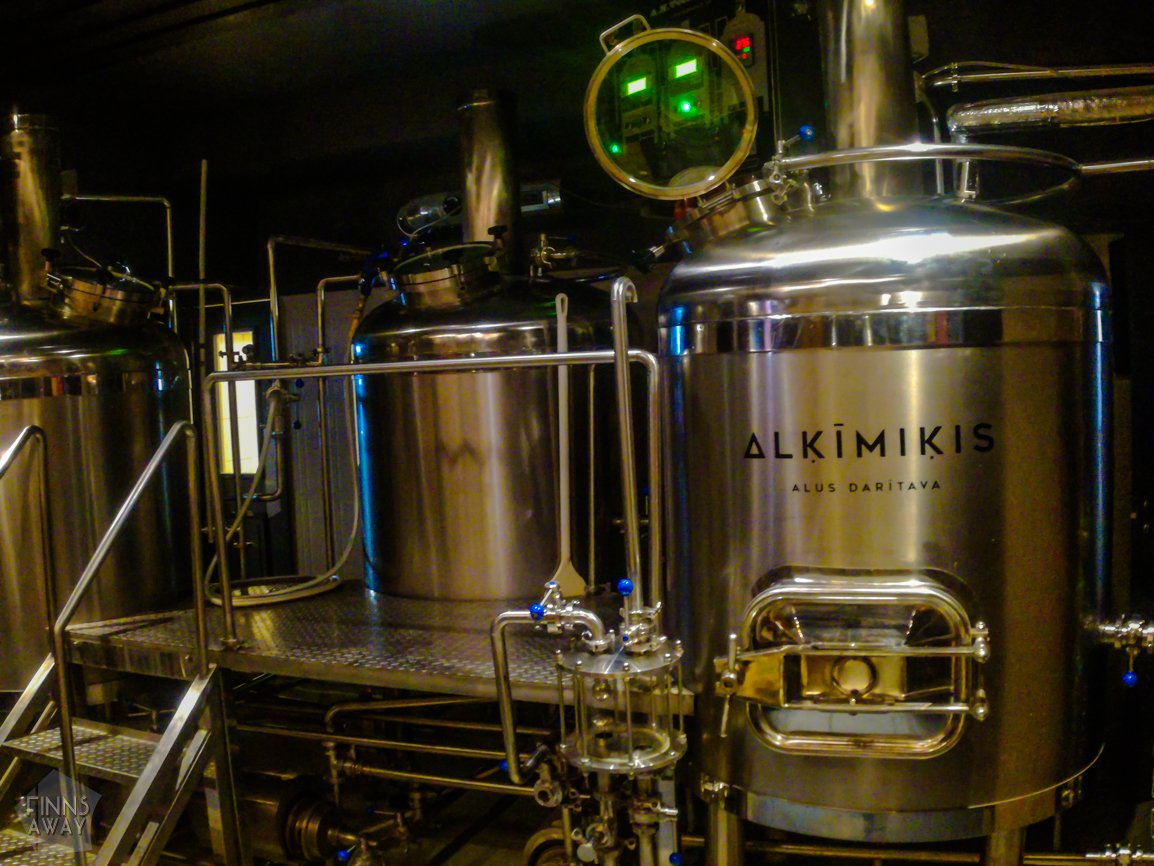 Two blocks northeast, you'll find Vest (Stabu Street 1 ), a restaurant and bar with roughly 50 varieties of beer from Latvia and other Baltic countries, and some from Scandinavia as well. On weekends it's home to late-hour parties with music from vinyl records, and at times it turn to a sports bar. On the other side of the block we ran into one of the sites that Riga Beer District is about, the premises of C.L. Kymmel Brewery that operated from 1850 until the WWI. Autentika (Bruņinieku Street 2 ) is an arts and event bar, operating in one of the old brewery buildings. It's not a brewpub though, and actually at the time of our visit the selection of beers was pretty limited. We stopped for one pint however, to enjoy the environment and the laid-back feeling of this pub.
The walk further northeast towards another old brewery site takes you past the handsome buildings of Riga's first hospital and some old villas. The former C. Stritzky brewing complex is nowadays home to Valmiermuiža Beer Embassy in Riga (Aristīda Briāna Street 9a). Their gastro pub and shop has a wide selection of beer, more than 100 varieties in total, and the beer kitchen serves Latvian cuisine tailored to be enjoyed with beer. Their own brews are mostly lagers, but they had some Valmiermuiža ales available in bottles. For craft beer lovers like us, Labietis brewpub around the corner is a small piece of heaven. This microbrewery makes delicious artisan beers and organizes workshops where you can watch the beer being made. Prices of their tasty ales in tap begin from 3 euros per 0,5 liter. There is a cozy terrace outside the brewpub, and when we have visited, it has been pretty full of beer enthusiasts. Labietis also has a tap room and bottle shop in Riga Central Market.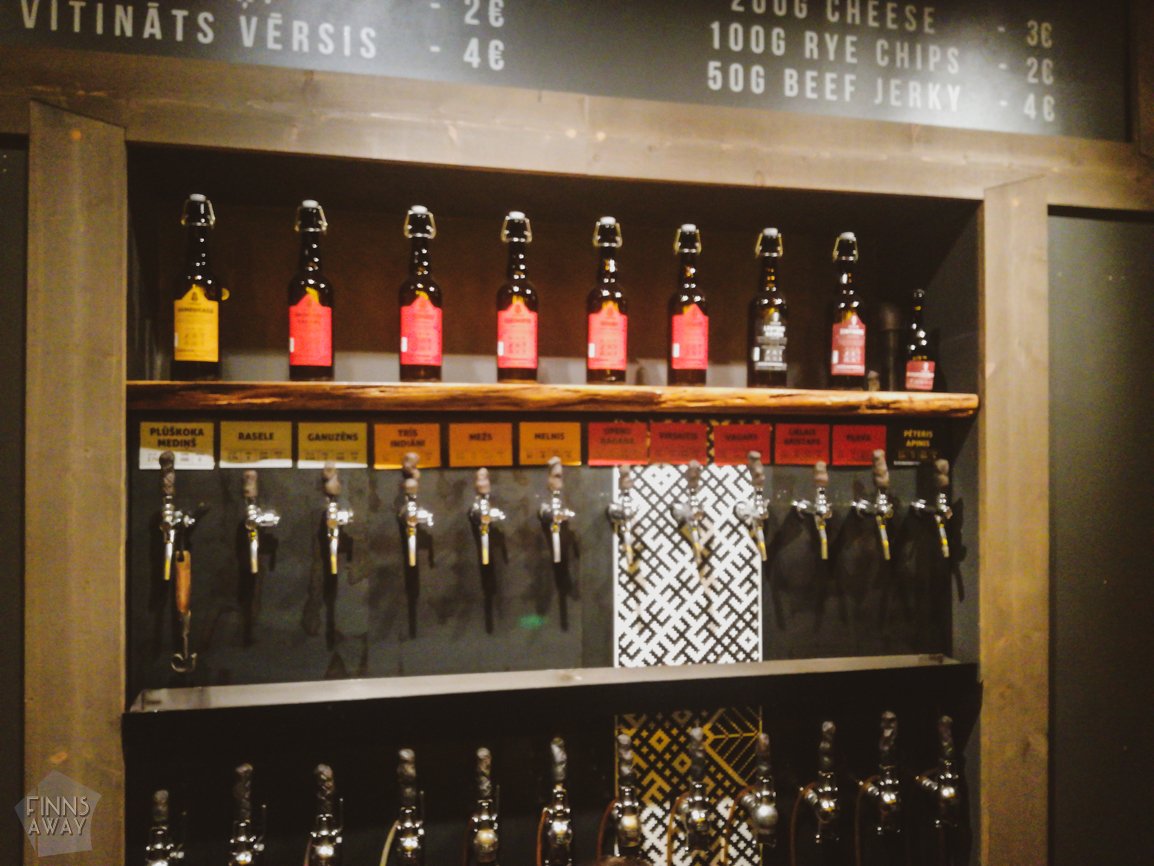 On the way back towards town, we walked past Zobens un Lemess (Aristīda Briāna Street 10), a bar that claims to offer heavy metal and strong beer. It's a meeting point for friends of darker sounds and craft beer, with six beer taps and 18 varieties in bottles. Sounds tempting, right? Around the corner is Walter's and Grapa (Miera Street 19), a pub serving craft beers from Baltic breweries. This small bar, built and opened by three friends, is home to parties and life music performances, and serves beer from Latvia and beyond from 8 taps and has selection of over 40 bottled varieties. Taka (Miera Street 10) is another craft beer oriented pub, serving the products of the smallest breweries, sometimes even varieties that don't even have a name yet. There are also some live performances of alternative music, film screenings and board games.
Our last stop was Ziemeļu Enkurs (Matīsa Street 8), a small brewery and brewpub on historical site of the former Kuntzendorff Brewery. Ziemelu manufactures artisan beer with only natural ingredients, and the pub serves also meals to be enjoyed with beer. There is a cozy roof-top terrace with views over the former brewery buildings. It was a nice venue for enjoying some late night ales on our way back to our hostel.
Have you visited some of the pubs of Riga Beer District, or how do you like Latvian craft beer? Share your thoughts in comments!
We are sorry that this post was not useful for you!
Let us improve this post!
Tell us how we can improve this post?