Madrid for craft beer enthusiasts
Madrid, the capital of Spain has for long been a great destination for a few days city holiday, but nowadays it also has a lot to offer for craft beer enthusiasts. We had a wonderful craft beer tour in Madrid in May 2021 – busy 2 days filled with visiting breweries and taprooms, interviewing the founders, owners and brewers behind the microbreweries, and of course with tasting some great local artisan brews! While Barcelona remains the leading craft beer city of Spain, Madrid area is bubbling under, and you can find a bunch of fresh local brews and cosy beer bars in the city. In this post we introduce Madrid-based breweries / nomad breweries, and the best spots to enjoy their fresh craft beer in Madrid city center.
Fábrica Maravillas, the only brewery in central Madrid
There are several breweries in the surroundings of Madrid, but there is only one actual microbrewery brewing in the city center. Fábrica Maravillas brew pub has operated in Malasaña area in central Madrid since 2012. The location is great – Malasaña is said to be the hippiest neighborhood of the city, and (in normal times) it bubbles with life day and night. The streets, boutiques, restaurants and bars of Malasaña are popular among both the locals and tourists exploring Madrid.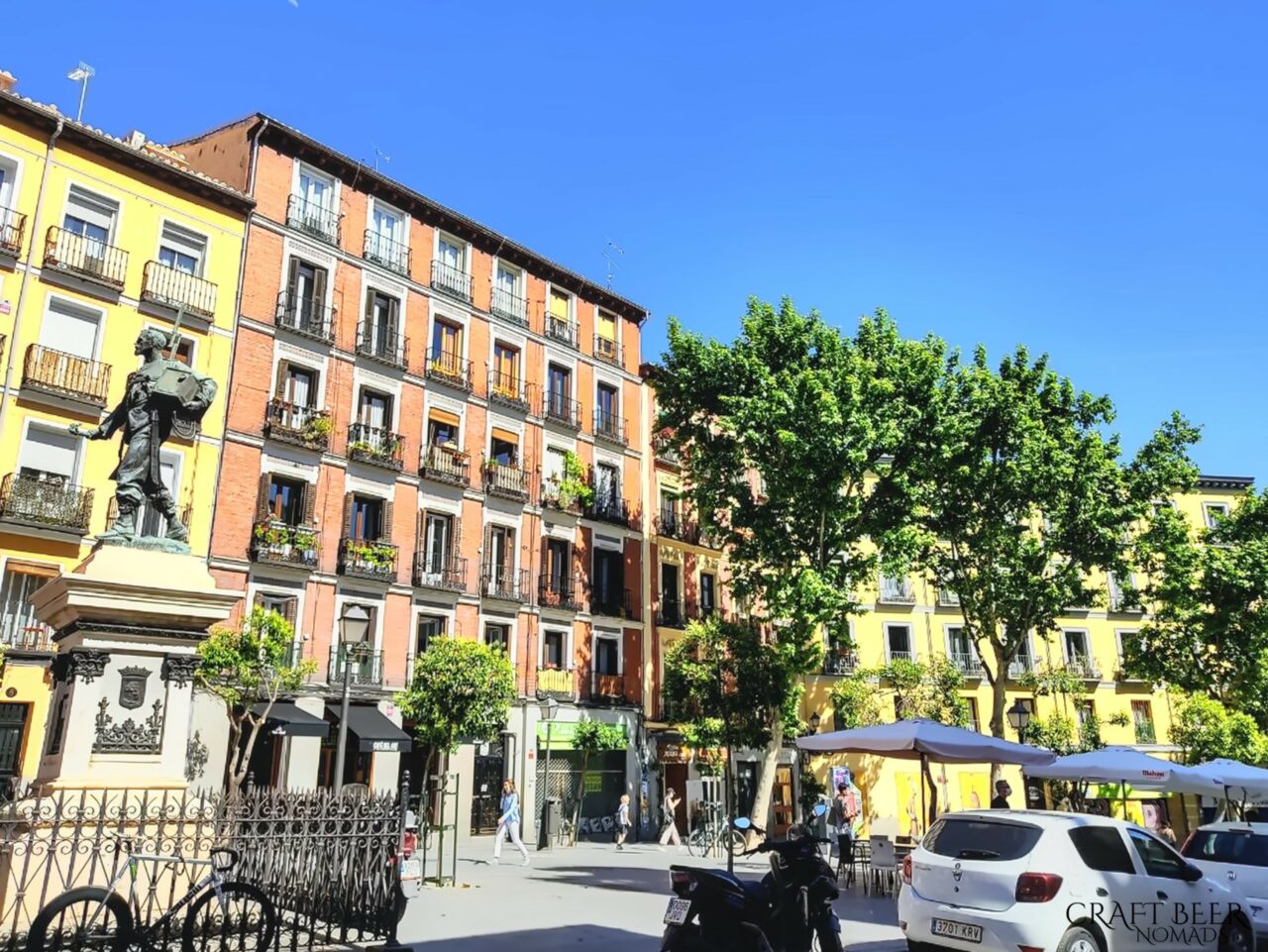 Fábrica Maravillas
, that translates to a wonder factory, is a cosy little brew pub, with a just recently opened terrace. The beer is brewed basically just behind the bar counter, with a small equipment, in batches of 500 liters. The founders and owners, Estefania and Thierry, are devoted to providing quality artisan beer for the local community, but also of course want to serve the growing amount of tourists that are interested in craft beer.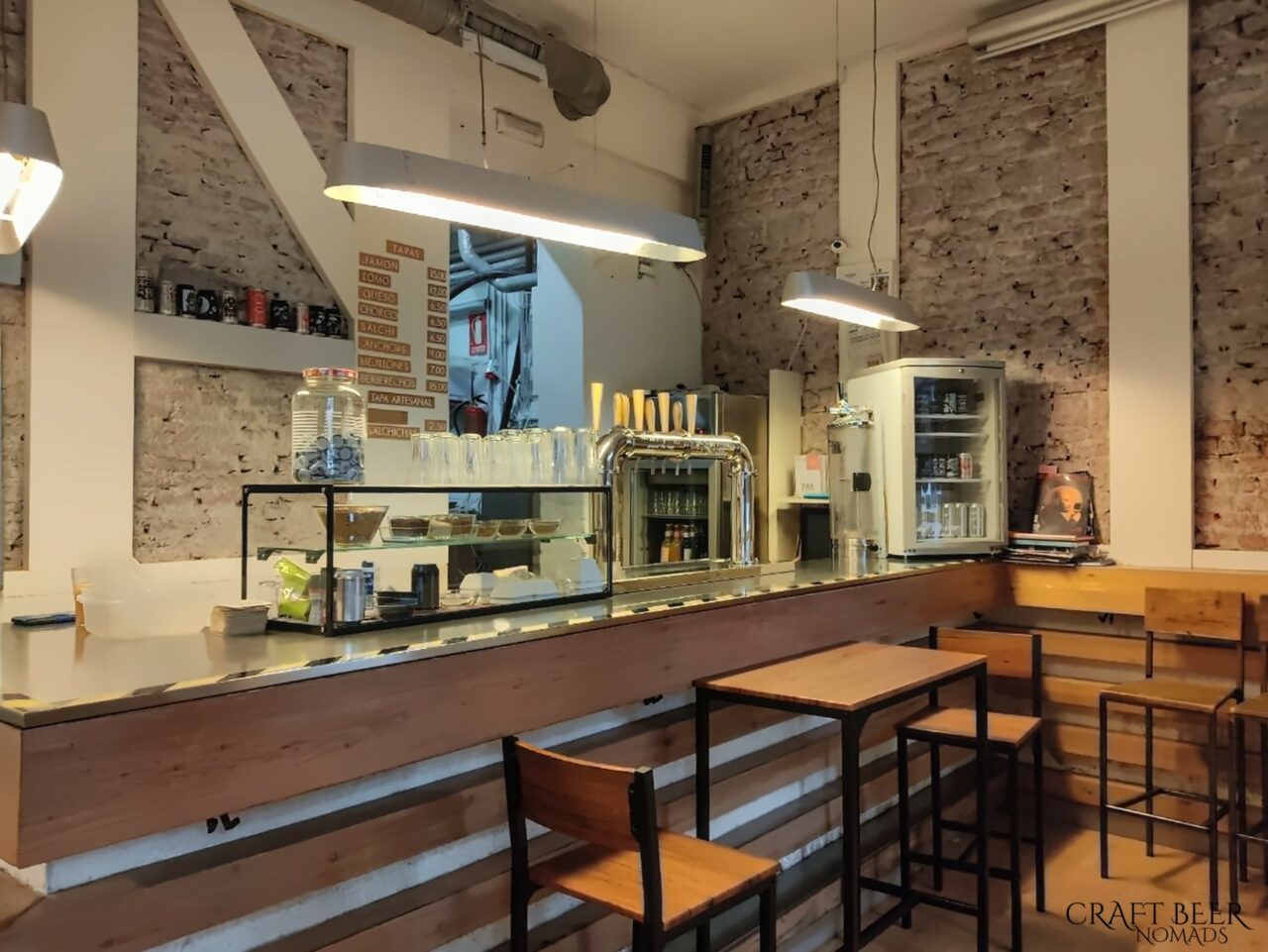 Fábrica Maravillas is a small family business, and the owners are doing everything from brewing to cleaning and label design themselves, and working hard to get over the catastrophic times that the pandemic brought with it. They dream of getting their beers in some quality restaurant of Madrid some day, to be paired with food, like wines always are. This is a great goal, since for some reason in so many restaurants there is a wide wine list, but if you ask for beers, there are just some commercial bulk lagers to choose from. Estefania says that another dream would be to some day in the future to leave the brewery to their son, who took his first steps in the brew pub, how cute is that!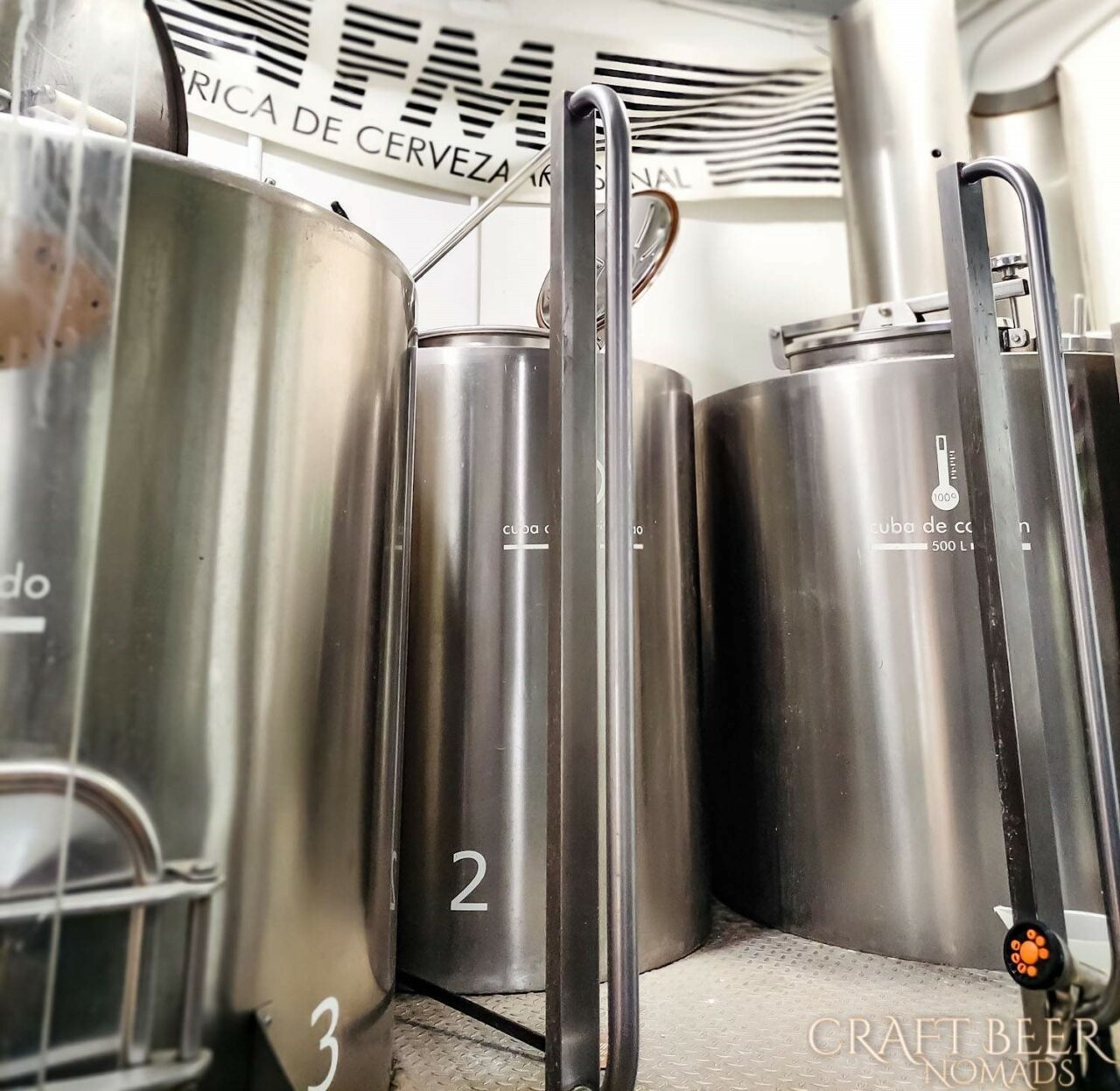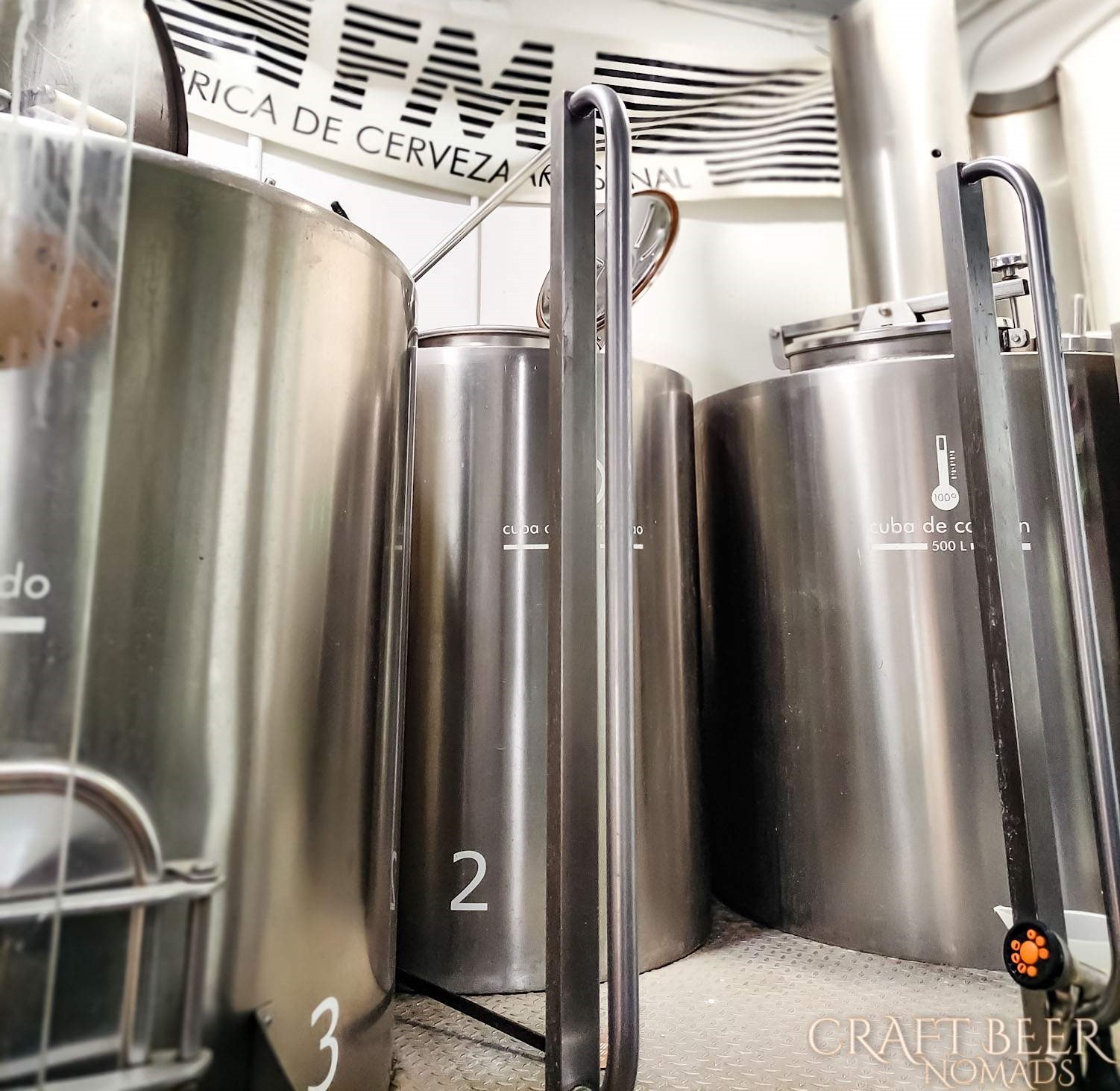 We wish all the best for FM, and can warmly recommend visiting this brew pub when you are in Madrid!
Fábrica Maravillas brew pub, Calle de Valverde 29, Madrid
Oso Brew Co and La Osita pub
Oso Brew Co is a Madrid-based nomad brewery, that was established in 2018, so soon celebrates their 3rd anniversary. The founders and owners of the brewery, Patrick and David, are both originally from central UK, but met each other when studying in Madrid over 10 year ago. Oso crew creates delicious craft beers, that are brewed in microbreweries around Spain. They want to provide such beers that they like to drink themselves, and they want to keep the brews clean and simple, enjoyable anytime, anywhere.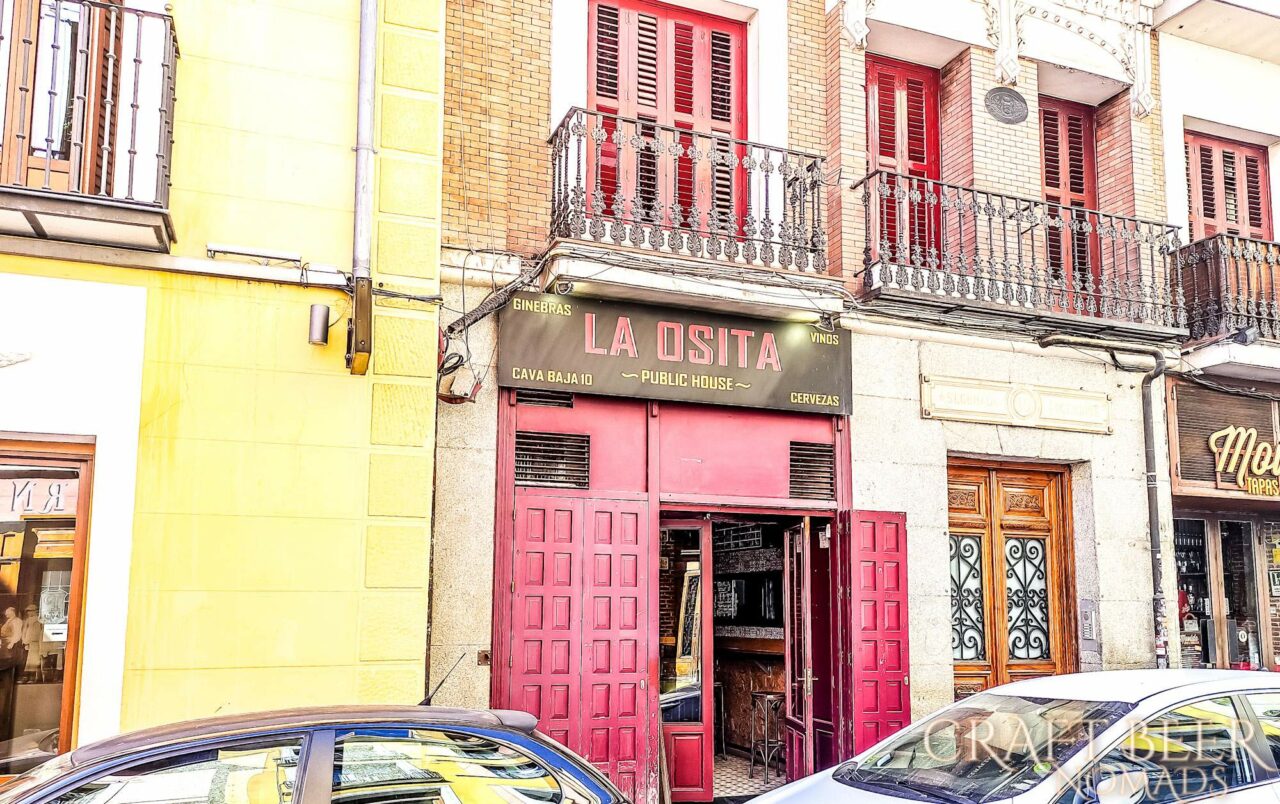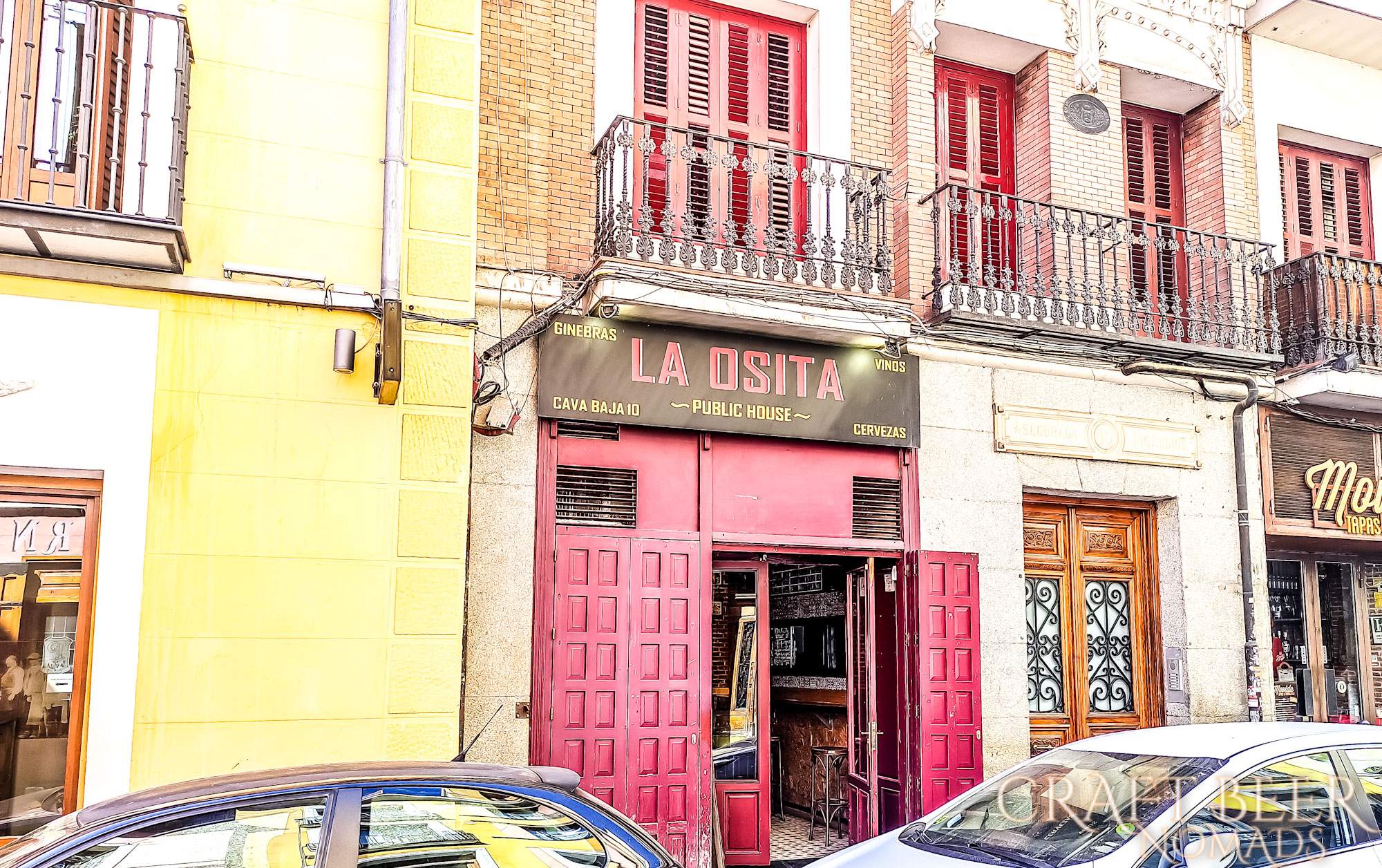 Oso translates to a bear, and the name has a clear reference to the home city of the brewery, since bear (with a strawberry tree) is a symbol of Madrid. Oso Brew Co tap room, La Osita (little bear) is a nice, traditional-looking pub in La Latina quarters in central Madrid. The area is a lively mix of old and new, with a lot of historical monuments, narrow medieval streets and traditional restaurants – great for combining sightseeing and craft beer! We popped in La Osita to interview the owners, and had a great chat, and of course tasted some Oso beers. These lads, Patrick, David and the brewmaster Joe that joined the team last September, clearly know how to make hoppy and juicy IPAs, but they also have quite wide range of other beer styles in their repertoire. The production amount of Oso has lately been around 5 000 liters per month, and the brews are available around Spain, but some are also exported abroad, especially to France and the UK.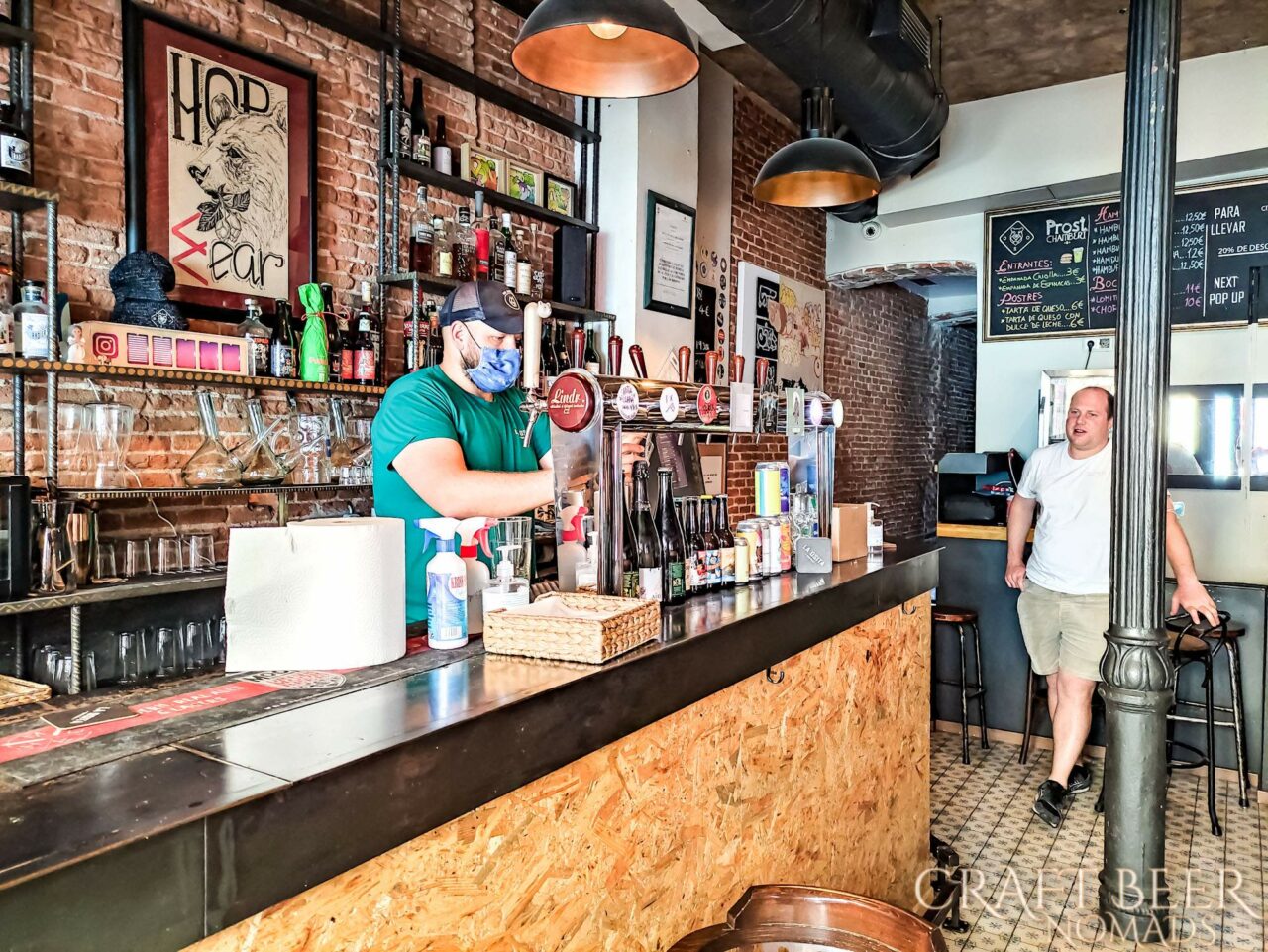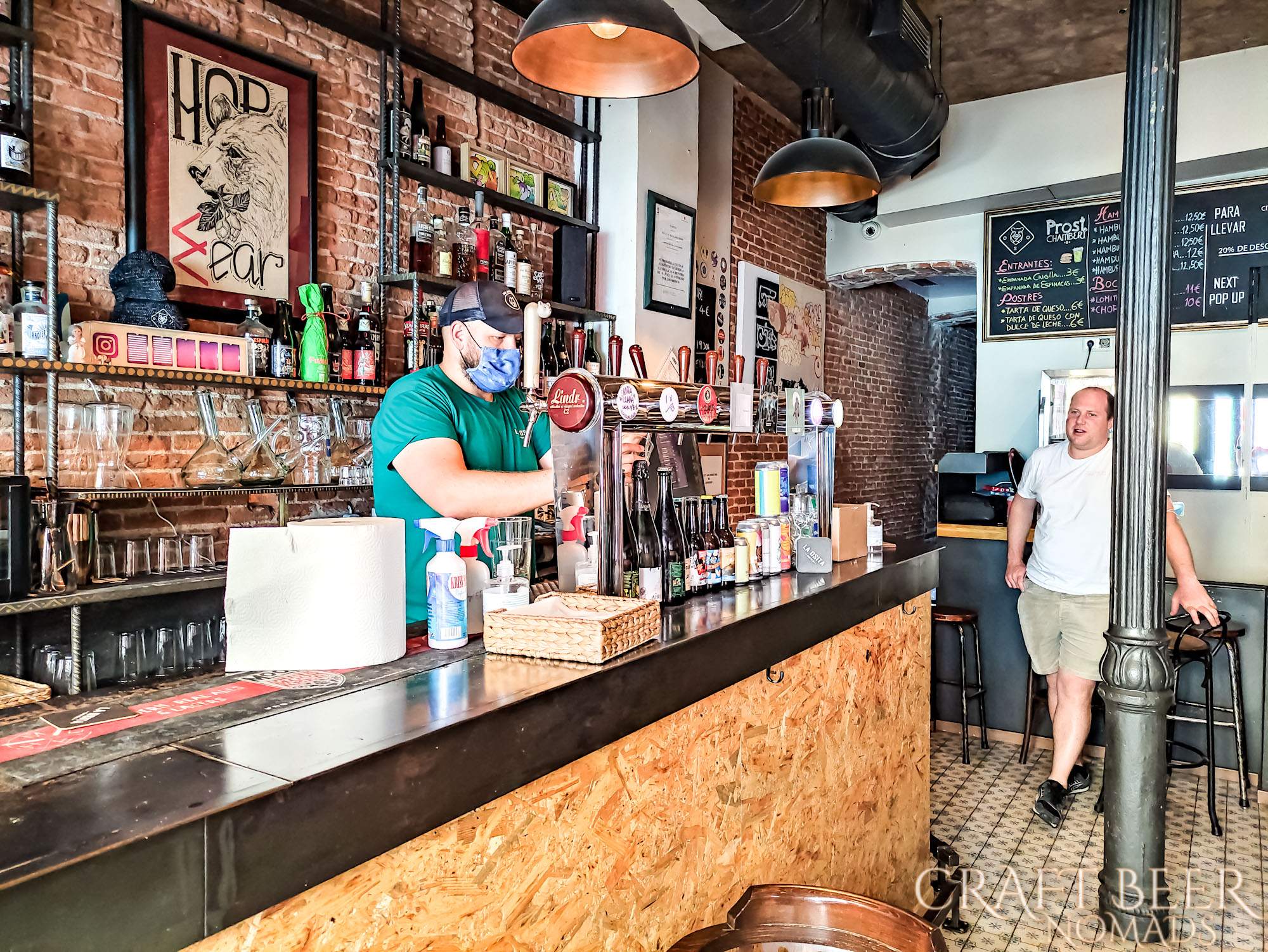 Like every nomad brewery, also Oso Brew Co has considered having their own brewery some day, and maybe they will, as they say that it would bring more control over the production, maybe offer better business opportunities, and also enable making more special beers, like barrel aged brews for example. Let's see how things will develop, but meanwhile, a warm recommendation to head to La Osita to taste fresh Oso brews! We especially liked their dangerously delicious DIPA The Madrileño: Chapter 3 (Citra, Simcoe & Mosaic) as well as The White Label IPA.
La Osita pub, Calle de la Cava Baja 10, Madrid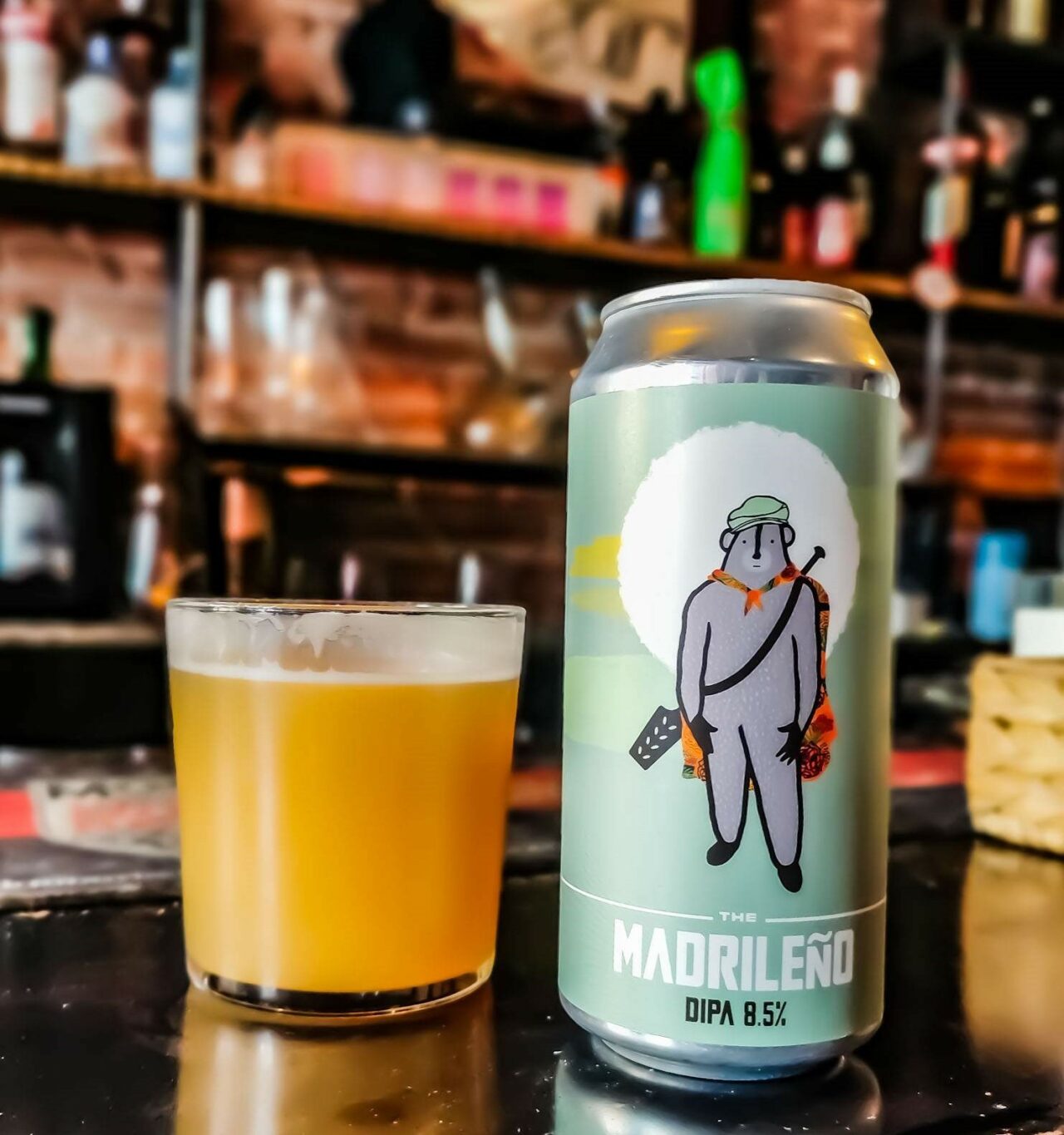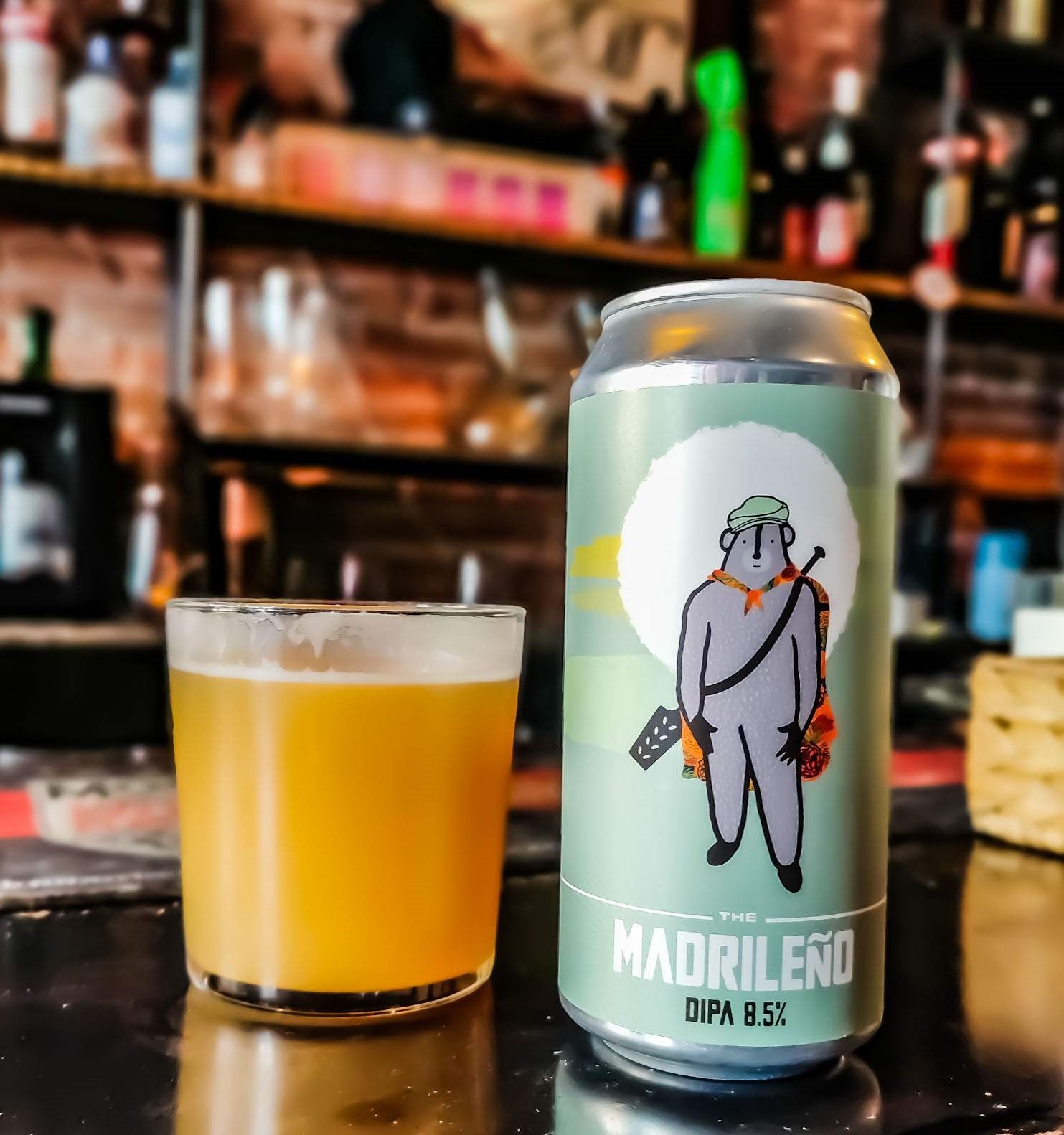 La Quince Brewing Co and Brew Wild Pizza Bar
Nomad brewery La Quince Brewing Co was founded back in 2013, with the ambition to change the craft beer scene in Madrid and in Spain overall. The philosophy of La Quince is "brew wild", and they enjoy creating bold and aromatic artisan beers. We met with the La Quince crew in Brew Wild Pizza Bar, their atmospheric taproom restaurant located in Barrio de las Letras, a neighborhood full of culture and gastronomy in central Madrid.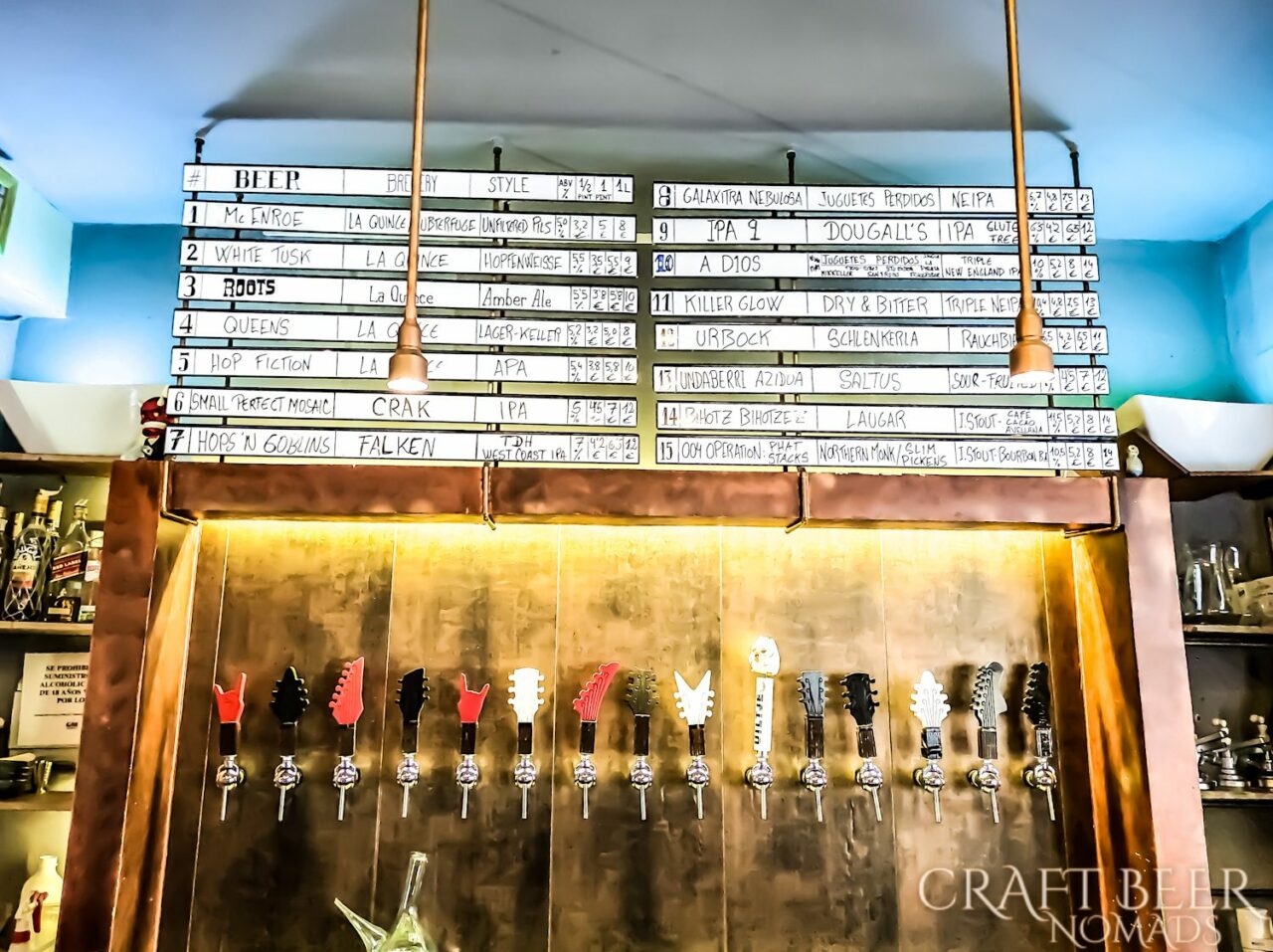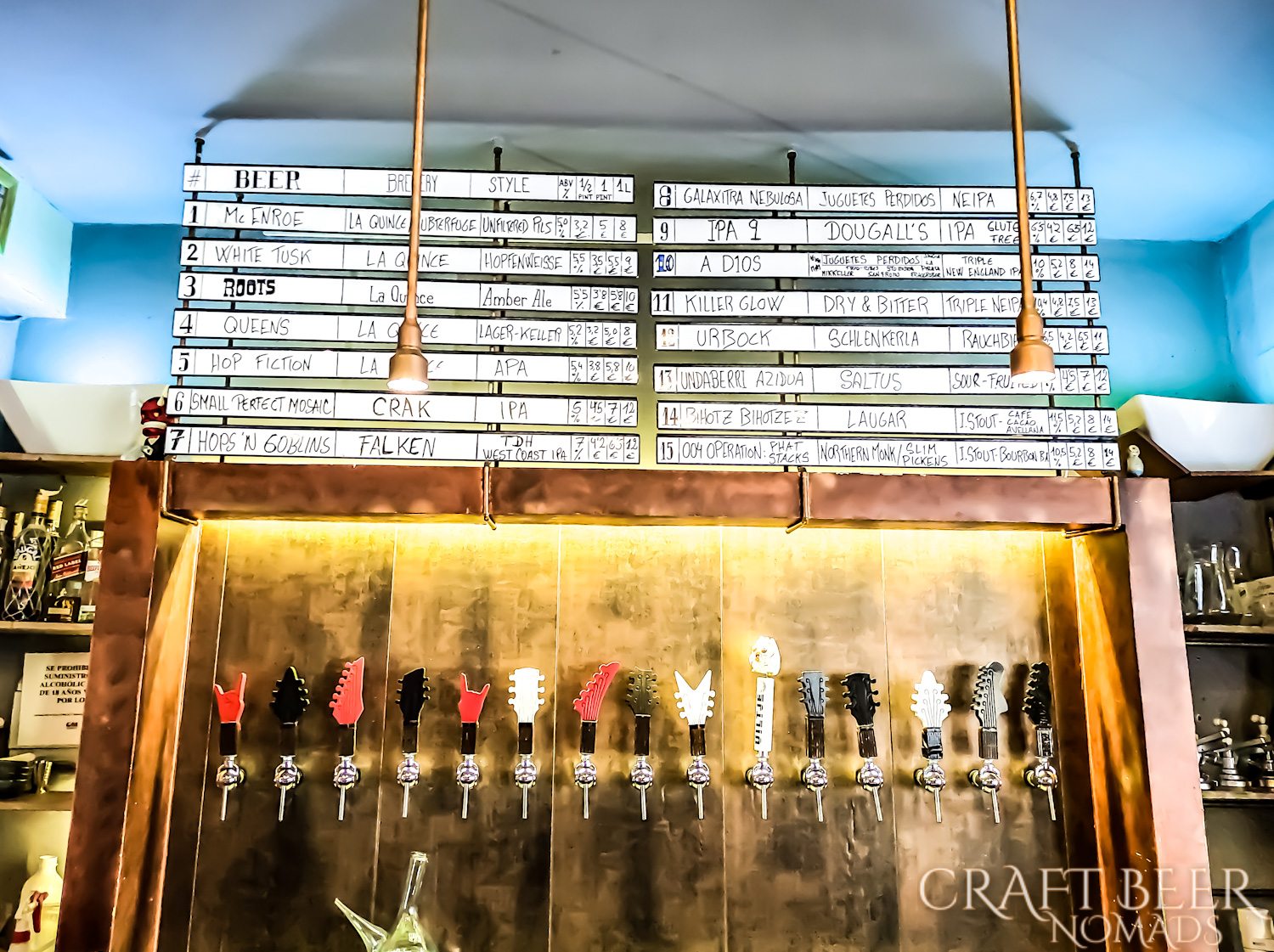 Brewing and traveling is a way of life for La Quince fellas (cheers to that!), and they do a lot of international collaboration in addition to operating with breweries around Madrid. Their record is rather impressive – they have so far produced more than 100 varieties of beer, in 40 factories, in 9 different countries. Unlike many other gipsy breweries, La Quince installs their own fermenters in the most trusted factories, and have their own suppliers of raw materials.
Brew Wild Pizza Bar is a lovely venue, that offers craft beers from several Spanish microbreweries and from abroad, and combines beer with Italian thin crust pizzas. The bar is as much a restaurant as it is a taproom, and a popular place among both locals and tourists. The cellar level of the bar is amazing, a centuries old vault with stone walls and arches. Note that there is also another Brew Wild Pizza Bar, located in Barcelona, surely worth of a visit too!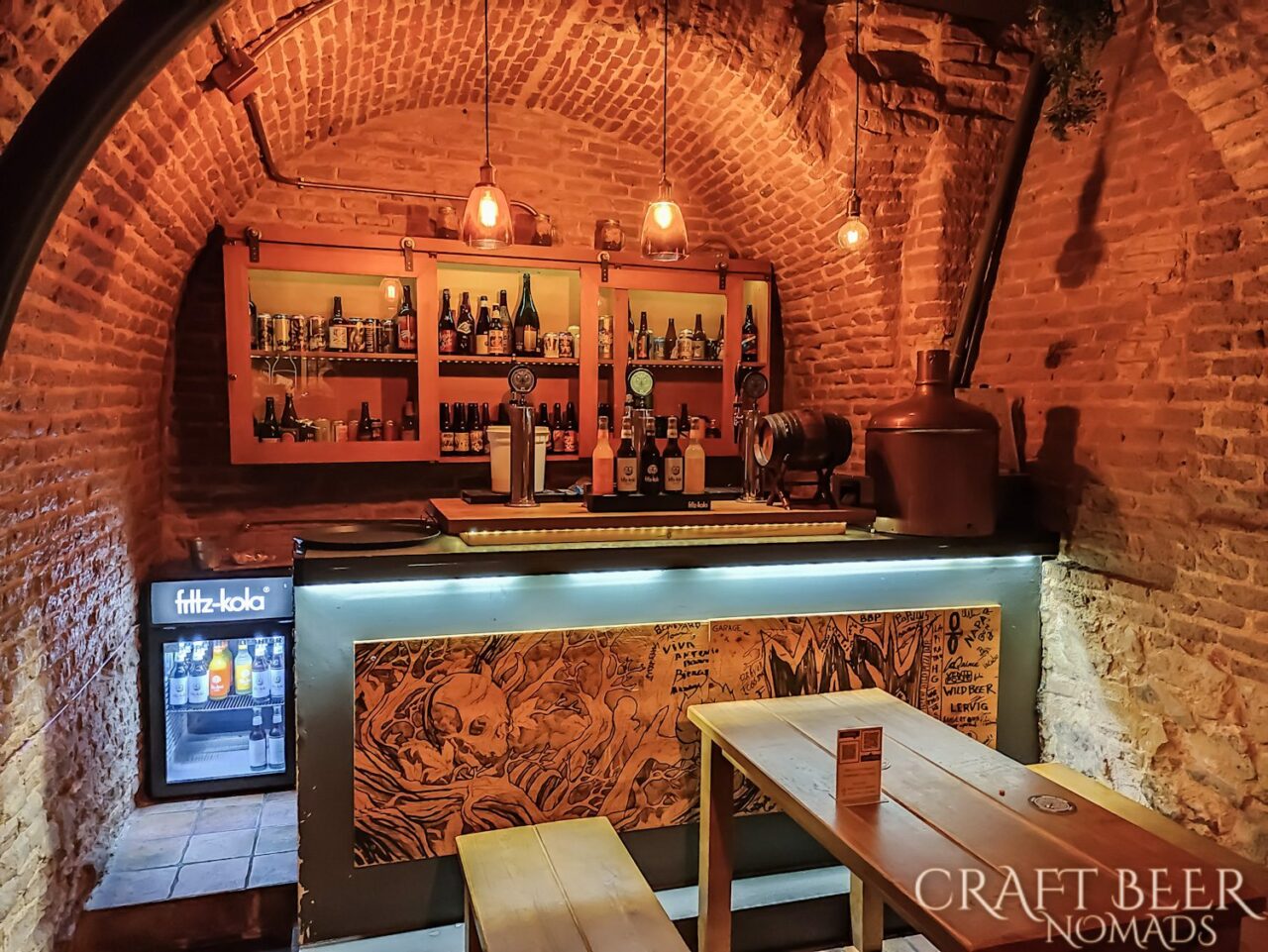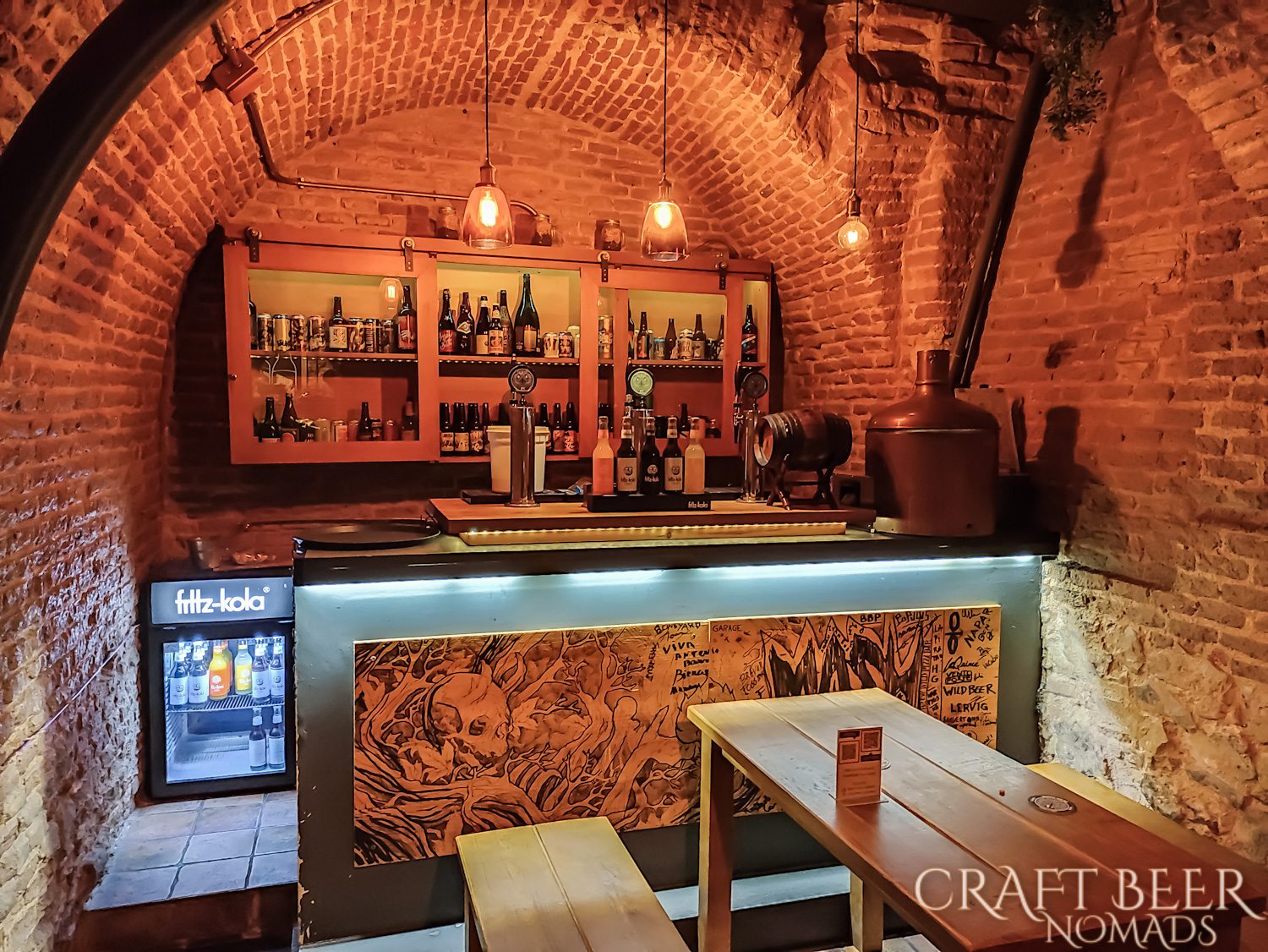 La Quince has six beers in their core selection and several seasonal/temporary brews, including always one craft lager. The love for music shows in their Stereocraft project, beers inspired by music, brewed to be enjoyed with a certain album or playlist, that can be accessed with a QR code printed in the can. Of the beers that we tasted in Brew Wild, we gave the best rating to juicy Satanas Jr. triple IPA
Brew Wild Pizza Bar, Calle de Echegaray 23, Madrid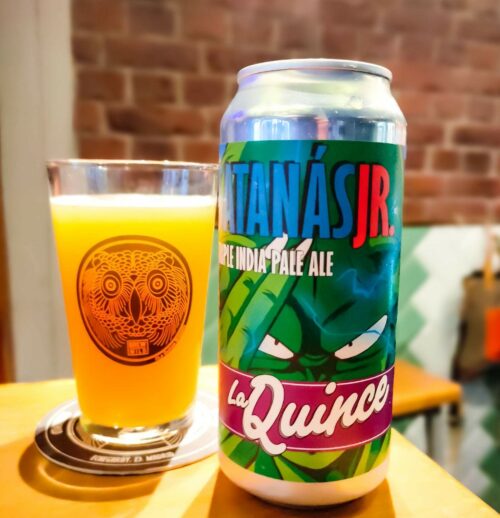 NIB Brewing and La Tienda de la Cerveza
NIB, that stands for Not Industrial Beer, is a Madrid-based nomad brewery, that produces their artisan beers in small breweries in Madrid and around. NIB brewing was founded in 2019, when Matmor Brewery, La Tienda de la Cerveza and Craft Against the Machine joined forces to create a new beer brand.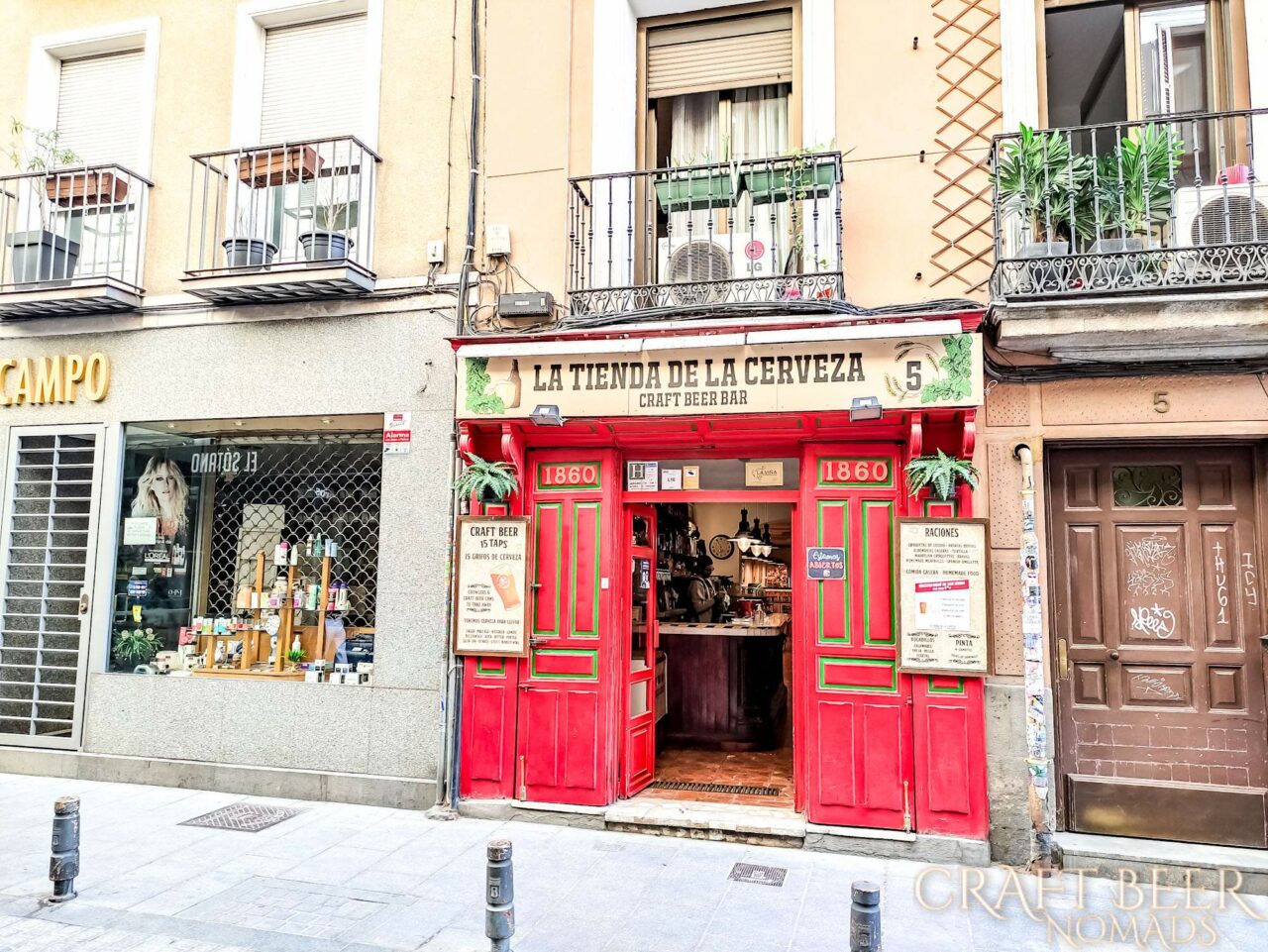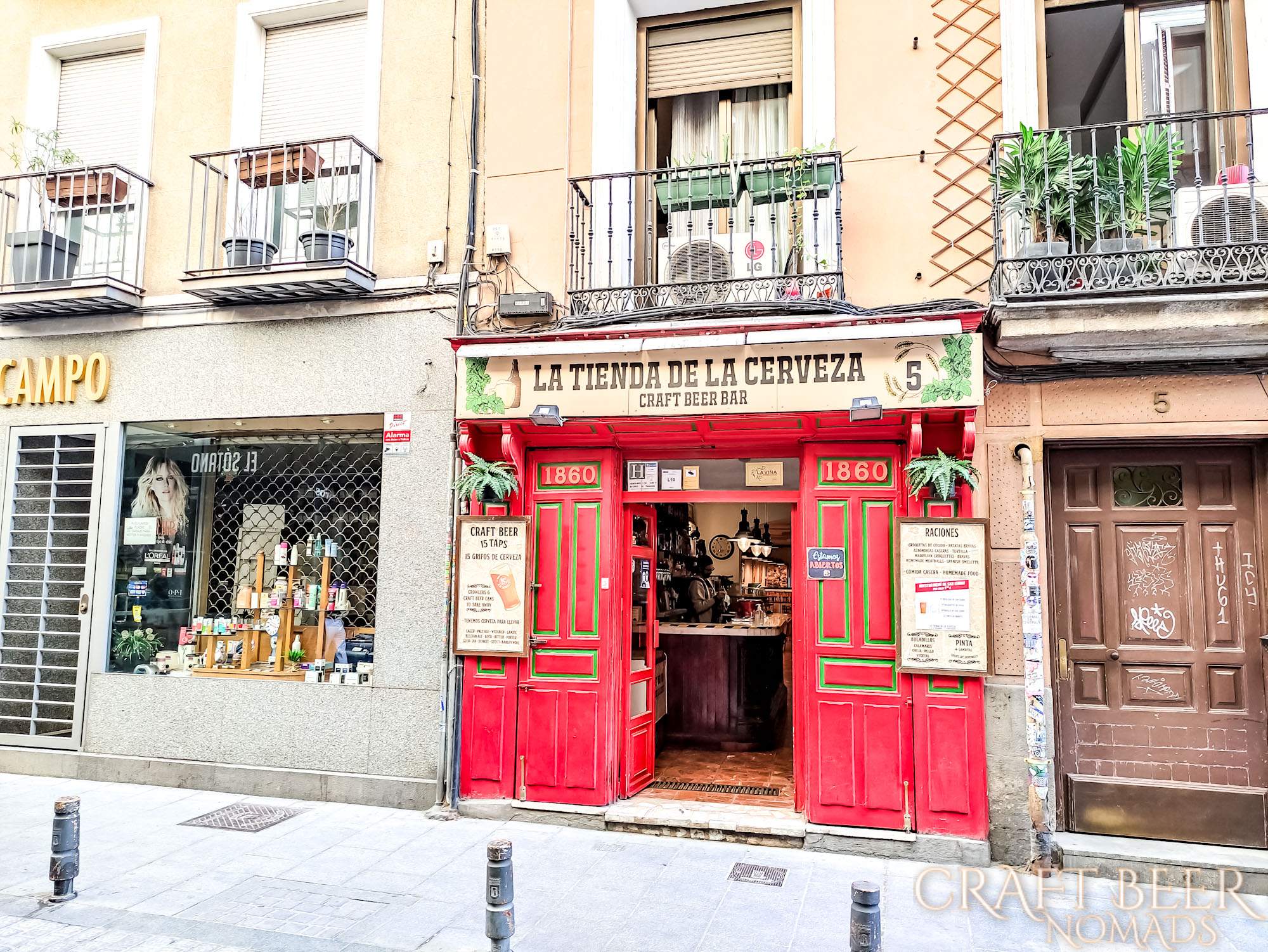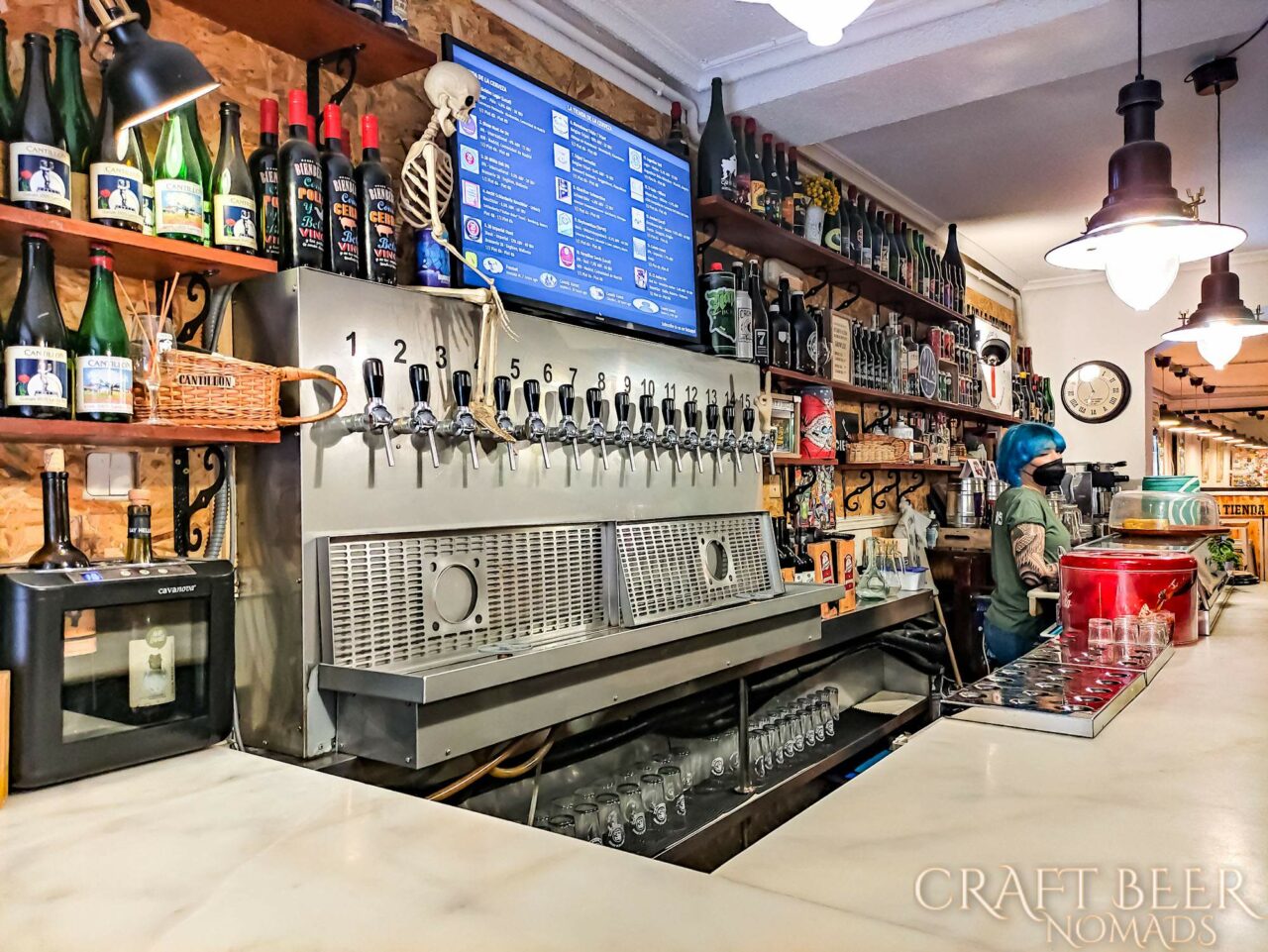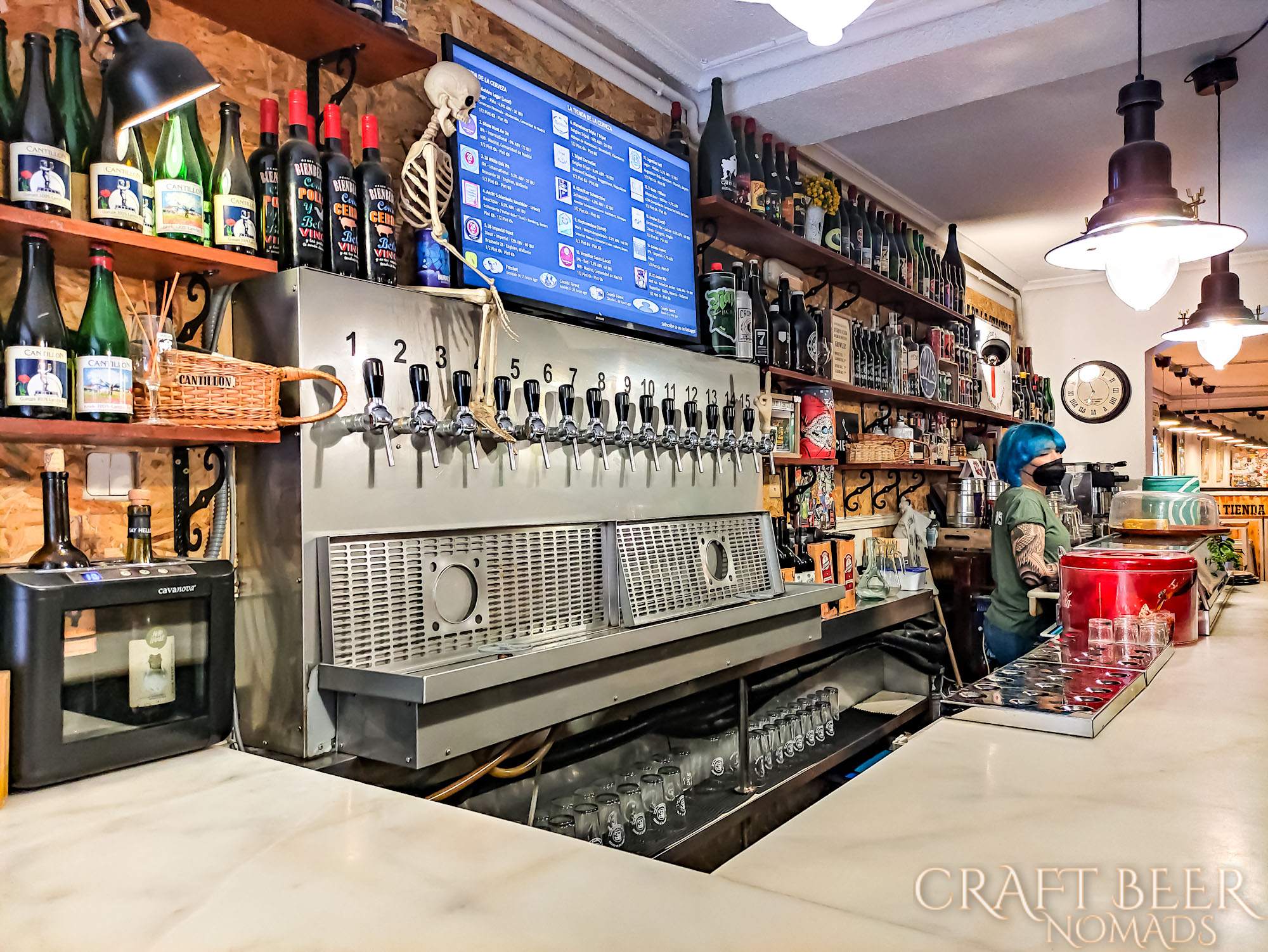 In Madrid the best place to taste NIB brews is of course one of the founders, La Tienda de la Cerveza craft beer store and taproom. La Tienda has operated in central Madrid already for ten years, and was the first craft beer store in the city, and one of the first in the whole country. They have 15 taps with brews from around Spain and abroad, and a wide selection of cans and bottles too. We popped in La Tienda de la Cerveza for a quick chat with Javier, the founder of the beer store, and to try a couple of fresh NIB brews. Our favorite was Show Must Go On, a hazy and fruity oatmeal IPA.
Calle de las Maldonadas 5, Madrid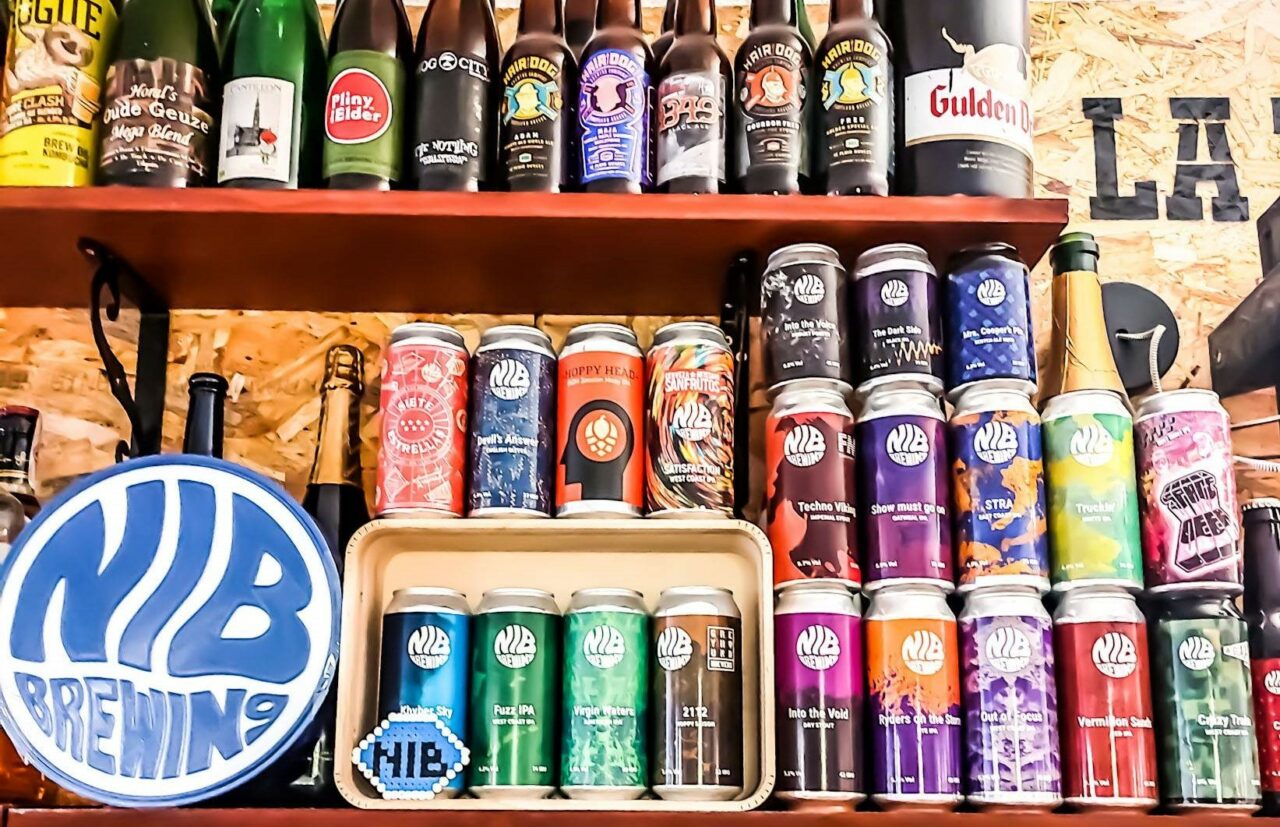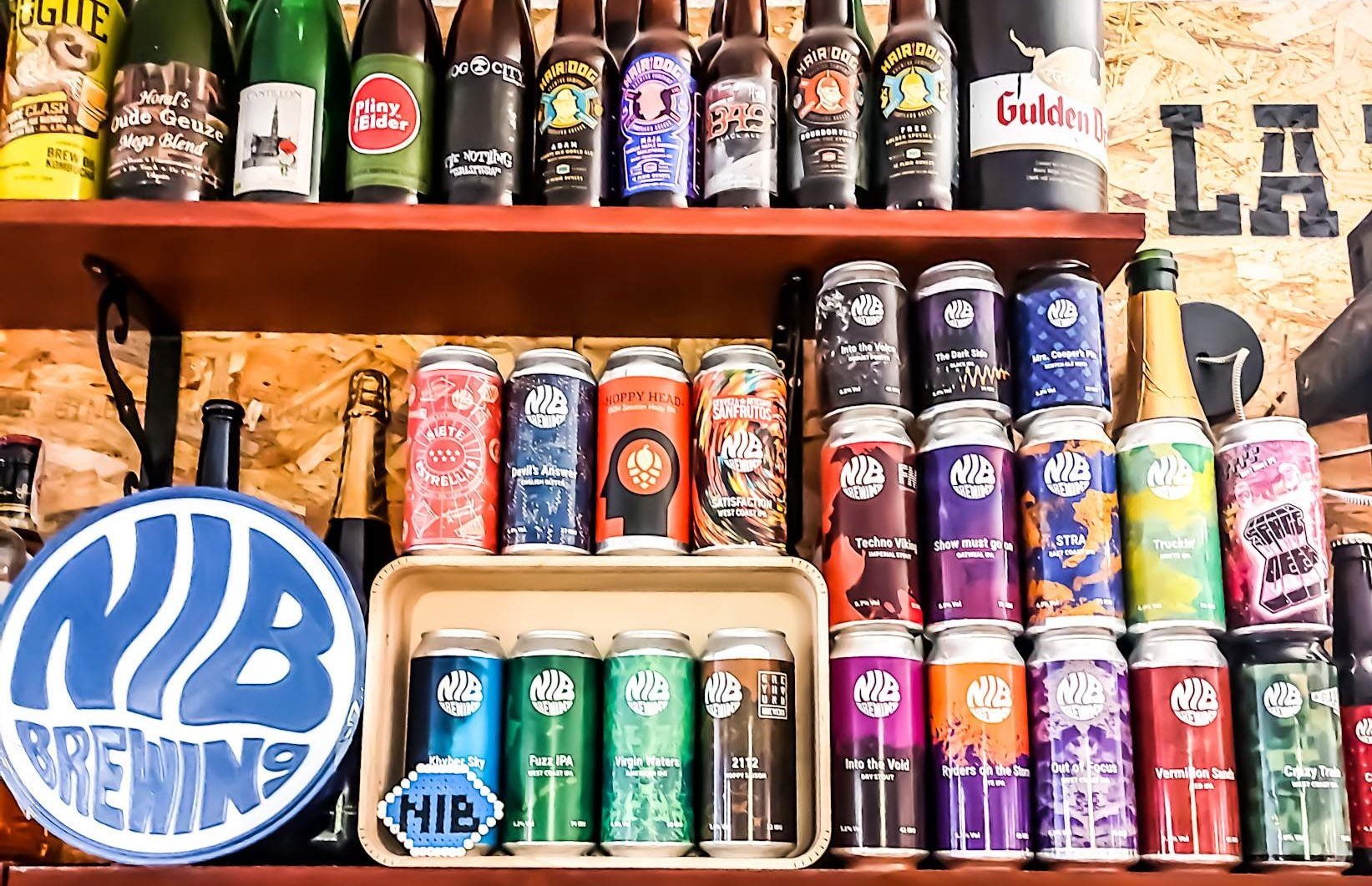 Other breweries and venues to enjoy craft beer in Madrid
On top of the breweries and tap rooms introduced in this post, there are of course several craft beer oriented pubs and craft beer stores to visit in central Madrid, with a lot of local brews to choose from. We shortly visited La Birratorium beer store, that, in addition to beers in cans and bottles, has six taps and a small tasting area for enjoying the beers on site. They also sell brewing stuff from malts and hops to homebrewing kits.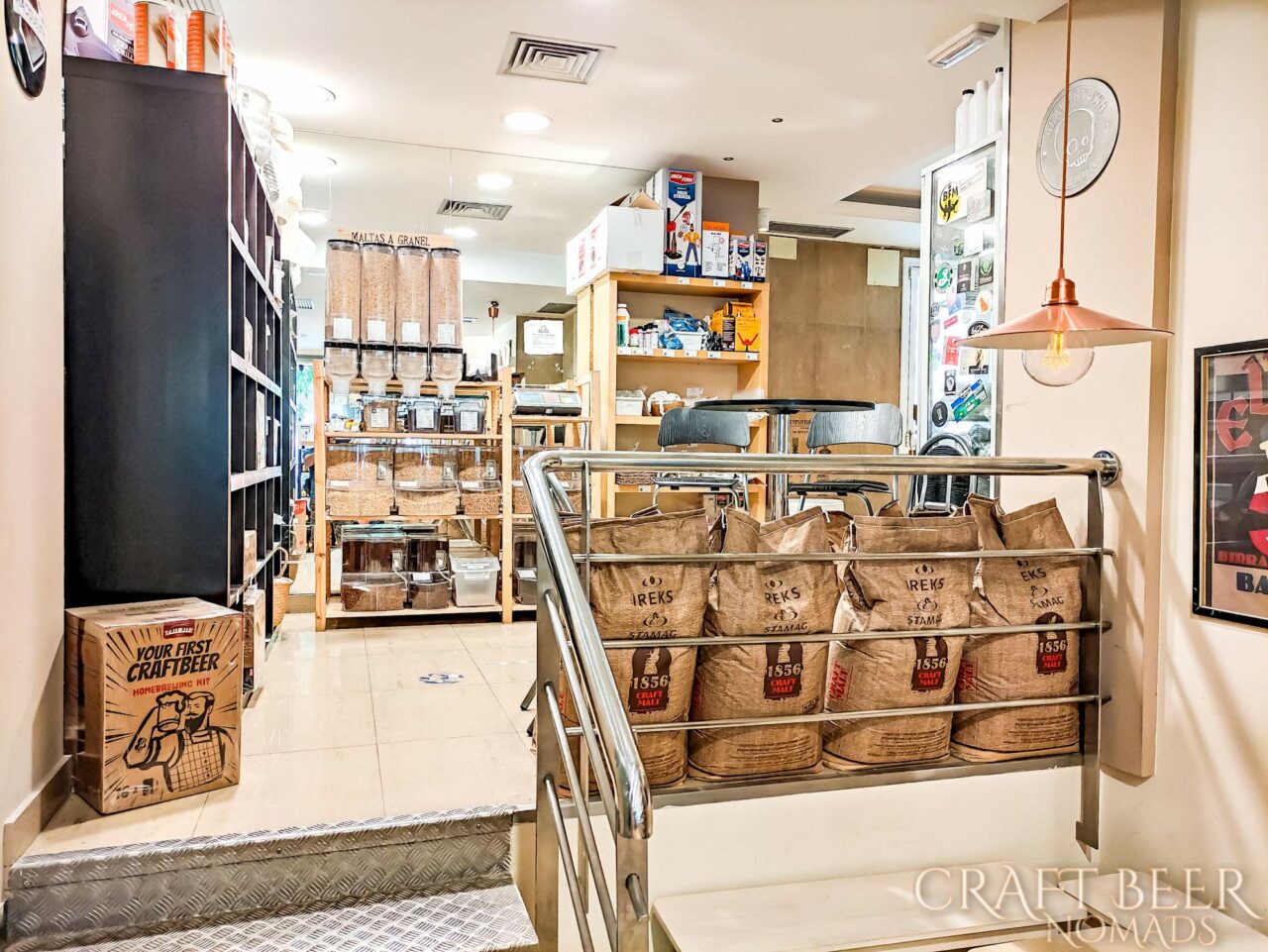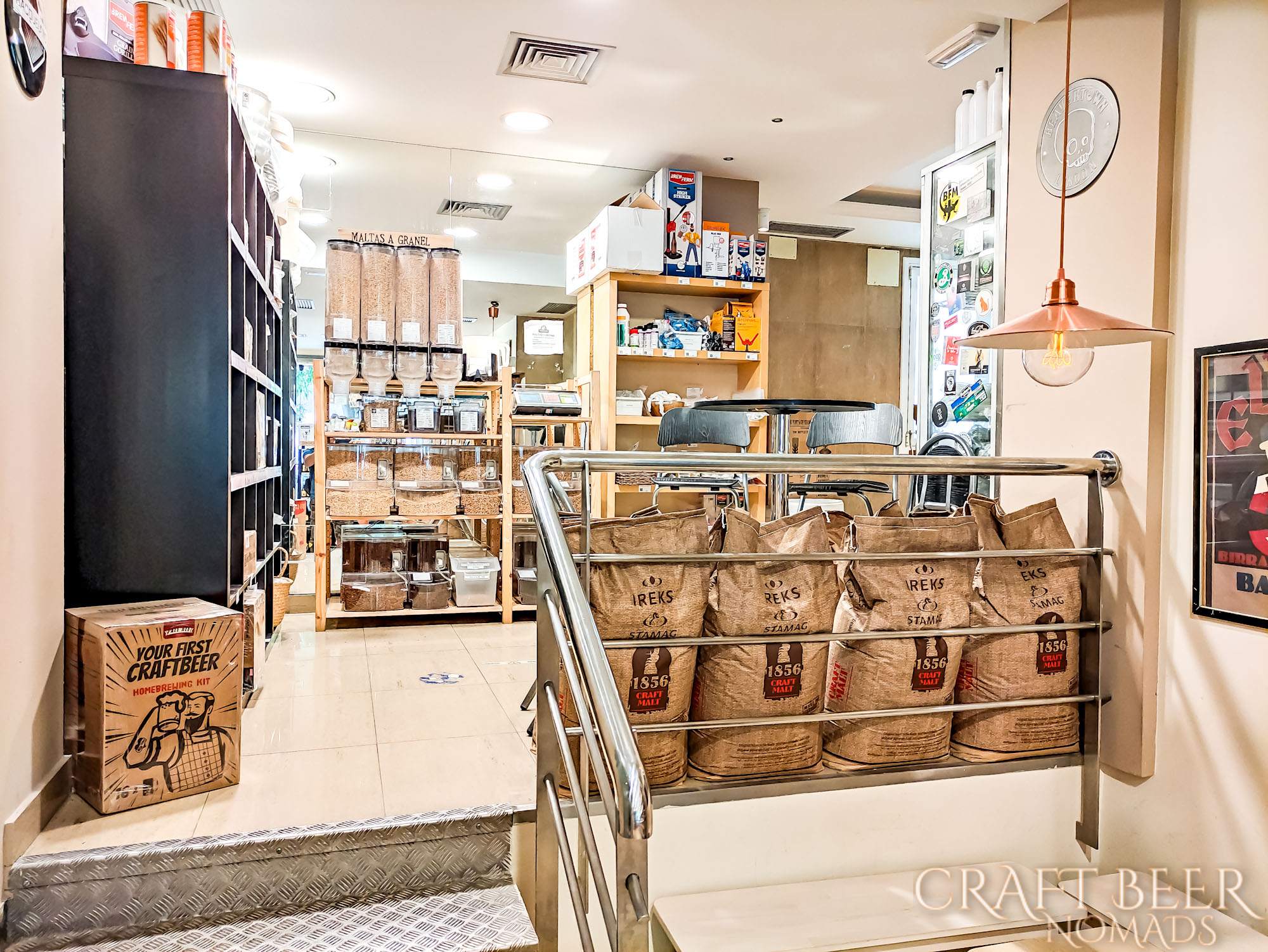 When widening the scope from central Madrid to the whole region, the Community of Madrid, there are altogether around 30 breweries and nomad breweries, and it would be interesting to make a wider brewery tour around the city to get to know breweries like Península Brewery, Mad Brewing or Cervezas Patanel for example, and many others. Luckily a lot of brews from the breweries based around Madrid are available in the craft beer pubs and stores in the city center too.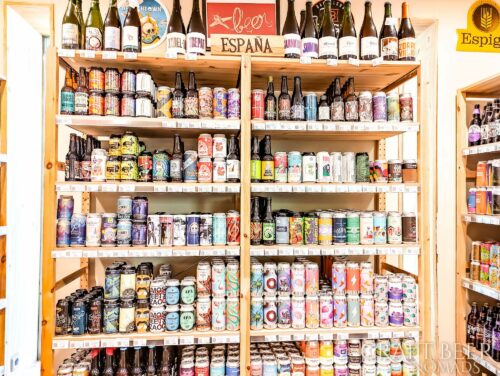 Have you visited the capital of Spain, and maybe even had some local craft beer in Madrid? How do you see Spain as a craft beer country, or do you have a favorite brewery in Spain? Leave a comment below!
We are sorry that this post was not useful for you!
Let us improve this post!
Tell us how we can improve this post?