Craft beer in Spain: Brewery visits in the Basque Country
Craft beer in Spain: Brewery visits in the Basque Country
Published: September 23, 2021
The Basque Country, located by the Biscay Bay and in the western Pyrenees is a unique corner of Europe, and covers areas on both sides of the French-Spanish border. The region is famous for the Basque culture and language, strikingly beautiful nature with stunning coastal landscapes and rolling green hills, as well as of vibrant cities and amazing gastronomy.
When we drove through the Basque Country in early summer 2021, we continued our craft beer tour in Spain and visited some local breweries. The Basque Country is surprisingly big when it comes to craft beer, and home to several well-known Spanish artisan breweries. During the past decade, the craft beer boom has lead to founding of dozens of interesting breweries around Spain, and the Basque Country is no exception. Craft cider production has long roots in the area, and these days craft beer production goes strong and artisan beers are also paired with the local cuisine.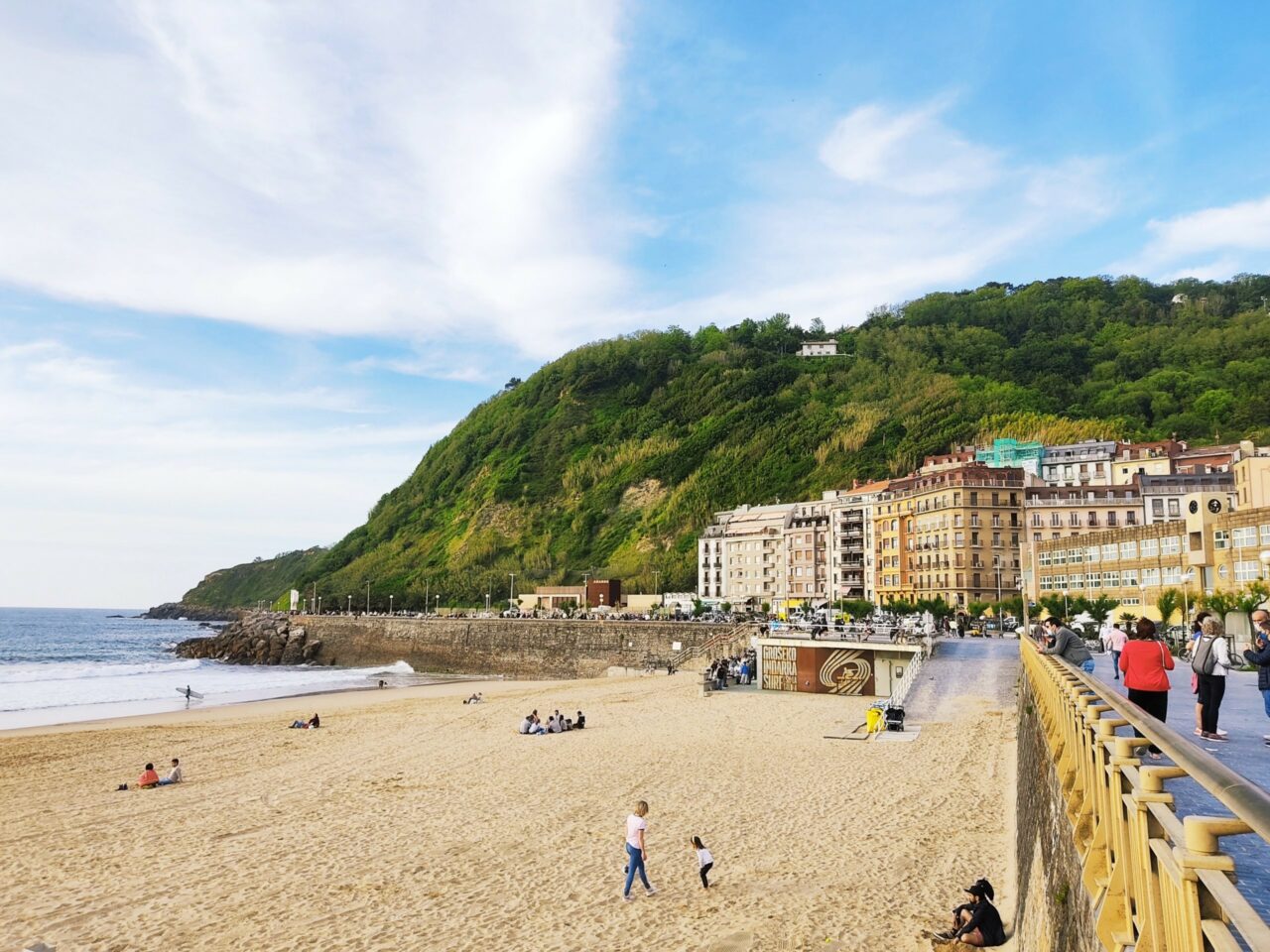 In this post we introduce two microbreweries that we had the chance to visit during our tour in 2021, and shortly list also other significant and interesting breweries of the area. We'll definitely go back some day to explore the Basque Country more – both as a travel and trekking destination and as a craft beer area!
Basqueland Brewing has been producing quality artisan beers in Hernani, a small town very close to the famous San Sebastian, since 2015. Basqueland has grown rather quickly, gained reputation in Spain and beyond, and nowadays delivers beers across the EU. They started as a nomad brewery, but with an ambitious plan and clear goal to gather together proper investors, both local and from the US, where one of the founders is from, and to establish their own brewery.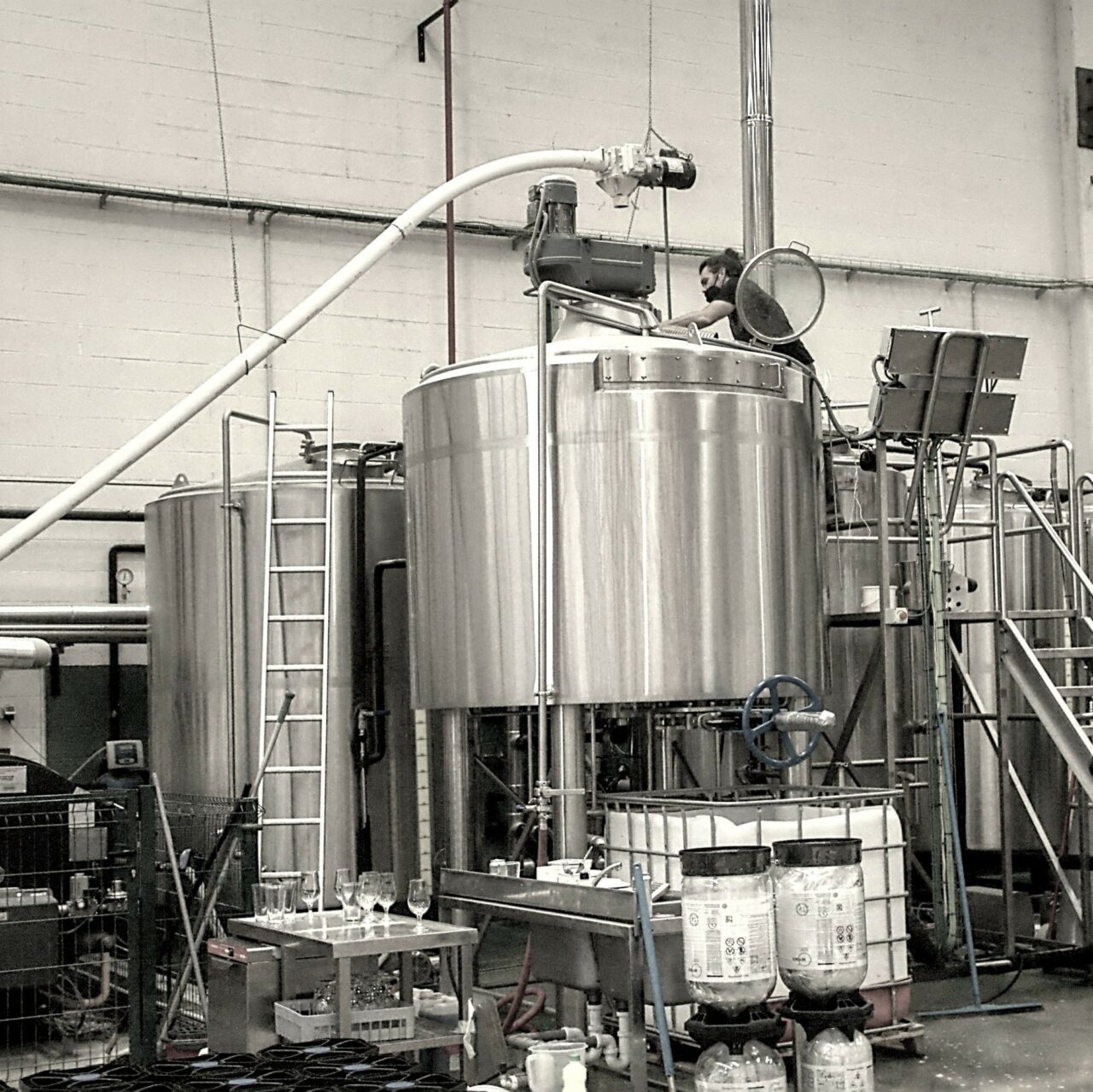 In 2019 the production volume was already 400 000 liters, and even if the pandemic times have been challenging, the volume is growing and the extension of the production facility more than doubles the former capacity way over 1 000 000 liters per year. Basqueland Brewing distributes a lot of beer via their own online shop and via other online beer stores. They also have a popular taproom in the brewery, great for having super fresh craft beer in house or as take away, and in San Sebastian they have a tavern restaurant called Basqueland Izakaia, that serves not just craft beers but also Asian cuisine and organic wines. Basqueland beers are of course available also in several craft beer oriented pubs and stores.
Award-winning ambassadors of the Basque Country
Basqueland states that they are proud to be ambassadors for the Basque community and to be pioneers in pairing Basque culinary experiences with craft beer. Being one of the first and one of the best-known artisan breweries of the area, Basqueland is a flag-bearer for not just local craft beer but also the culture of the Basque Country overall.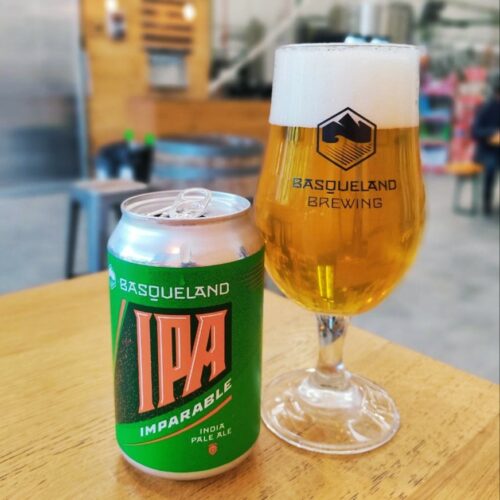 Basqueland wants to brew true-to-style artisan beers using the best ingredients and techniques, and has been very successful in beer competitions both nationally in internationally. In May 2021 it was awarded as the Best Brewery 2021 in the international Barcelona Beer Challenge, and brought home nine medals in different beer categories.
The first beer that we ever tasted from Basqueland was their tasty flagship IPA Imparable, and since then we have tried several brews, both core and limited editions, and all of them have been delicious. Below short reviews of some of our favorites – the article continues below the reviews.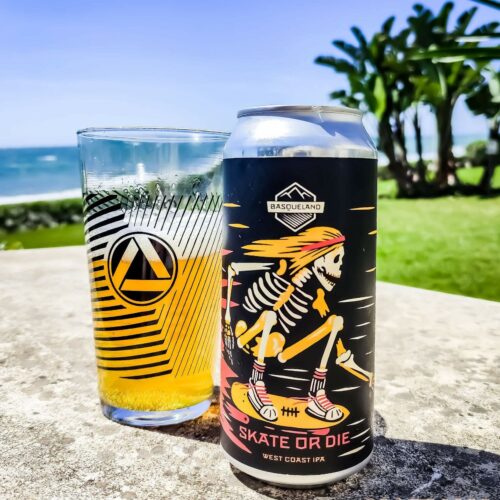 Skate or Die (ABV 6,7 %, IBU 65) is a very pleasant and straightforward west coast IPA. Floral aroma with resinous notes and pine. Dry, balanced and hoppy, with a nicely bitter finish.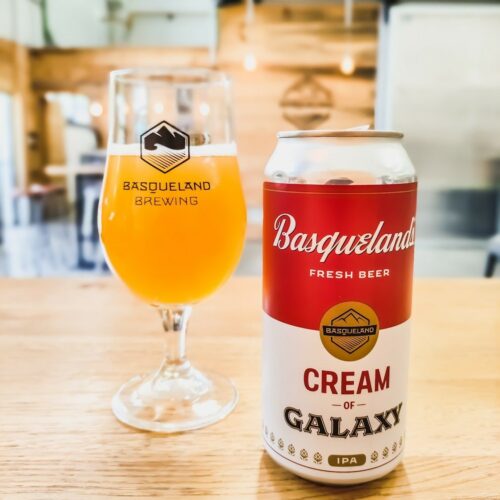 Cream of Galaxy (ABV 6,5 %) is a NEIPA with a lovely tropical aroma with mango and other ripe fruits, orange too, and some piney notes. Silky mouthfeel, medium bitterness, balanced, smooth. Delicious!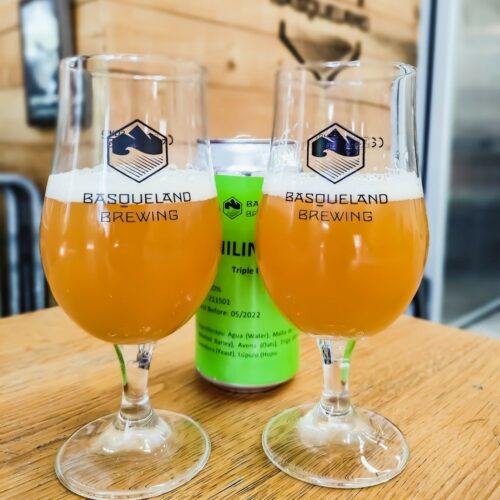 Smiling Eyes (ABV 10 %) is a smooth but super strong DIPA. Sweet, tropical aroma with herbal notes. Fruity, quite sweet, not very bitter. This is heavy stuff, great for friends of triple IPAs.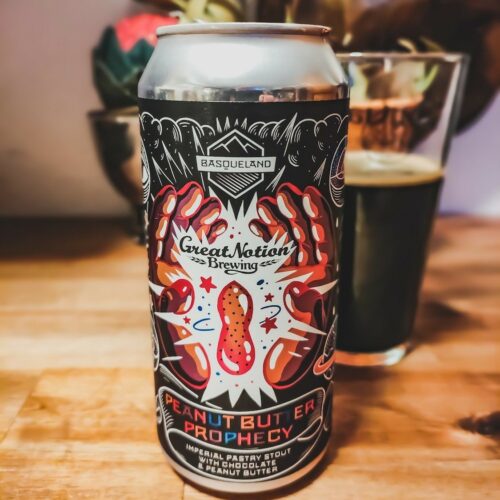 Peanut Butter Prophecy (ABV 11,5 %) Imperial Pastry Stout is a delicious dessert treat! This silky brew is a collaboration with Great Notion Brewing. Liquid chocolate with coffee, alcohol and peanut butter. Strong, not overly sweet, dark, roasted, smooth but also somewhat bitter.
On our way to San Sebastian, we stopped shortly in Bilbao to visit Drunken Bros Brewery and taproom, a few kilometres from the Bilbao city center, in Zamudio municipality. This was a very interesting visit, since Drunken Bros had just recently jumped from being a nomad brewery (since 2013) to brewing in their own brewery. In late May they were brewing the first beers in the new premises, and had just recently opened a taproom right next to the brewery.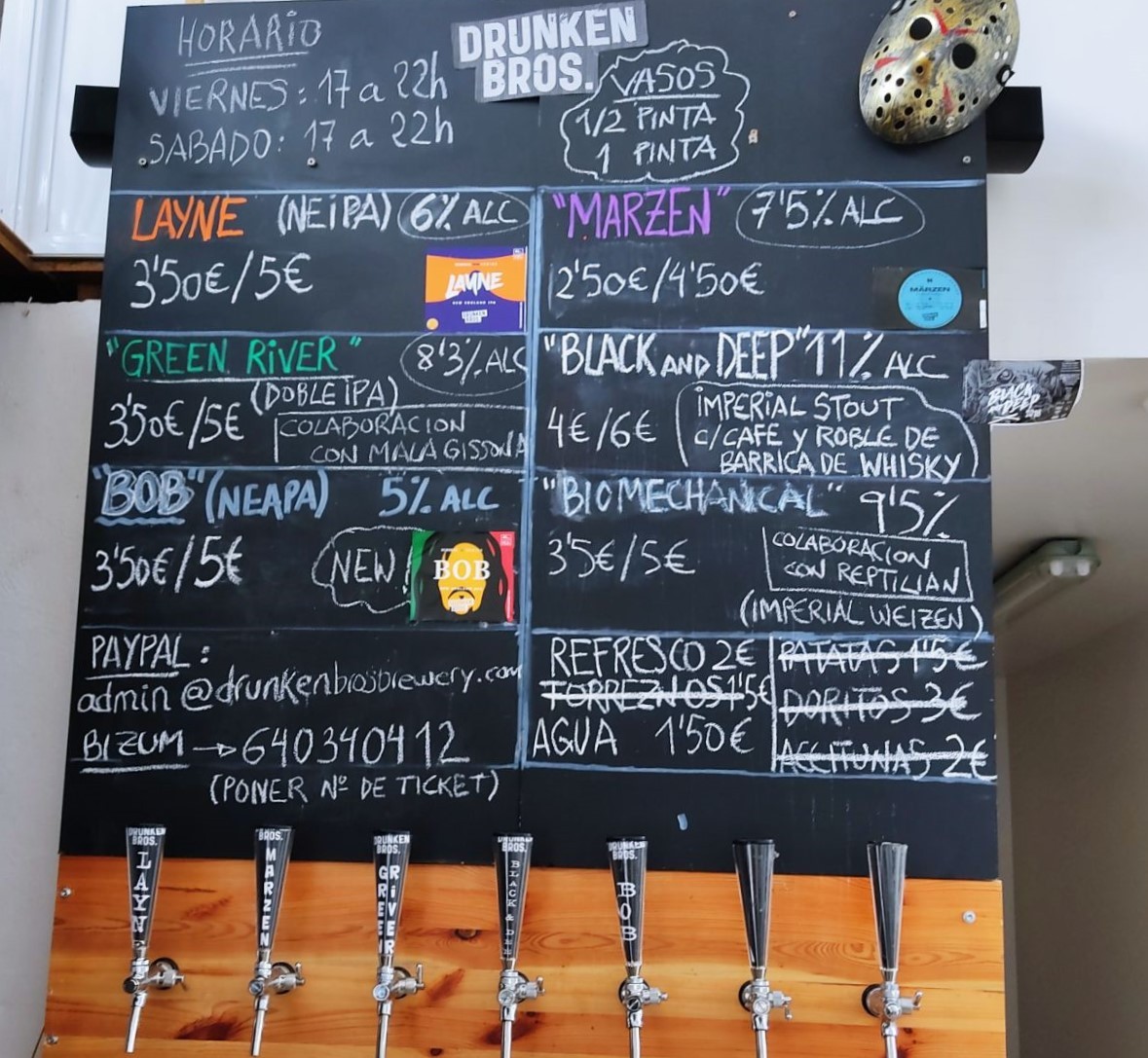 Drunken Bros has a wide range of artisan beers in their selection, and they like to combine music and beer, which is visible in the labels and the names of the beers. A great example of this is their Memorial Series – a series of craft beers (mostly IPA's) dedicated to legends. Of this series we liked the BB Coffee Stout a lot! Drunken Bros beers are available around Spain, but the best place to taste them is of course the taproom of the brewery, so when you are traveling to Bilbao next time, check the place out!
Other microbreweries in the Basque Country
As said, there are several interesting artisan breweries in the Basque Country, and since this post was first published, we have returned to explore more! In 2023 we visited Laugar Brewery in Gordexola, close to Bilbao, and Bidassoa Basque Brewery in Irun, close to the border with France.
Read more about these two wonderful microbreweries in separate brewery introduction posts;
Furthermore, back in 2019 we visited Basquery Brewpub in Bilbao, check out a short introduction of Basquery in a separate article.
There are still a handful of interesting Basque breweries that we haven't yet had a chance to visit, like Gross Brewery in San Sebastian and Saltus Brewing close to Pamplona in Navarre region, that is also part of the greater Basque culture region.
Have you tasted craft beer in the Basque Country? Do you have a favorite brewery in the area, or maybe some breweries to add in our list of interesting artisan breweries in the Basque Country? Leave a comment below!
We are sorry that this post was not useful for you!
Let us improve this post!
Tell us how we can improve this post?