3 + 1 great craft breweries in NYC, New York
3 + 1 great craft breweries in NYC, New York
There are several iconic craft beer cities in the US, and New York City definitely is one of them. With dozens of breweries and countless of craft beer oriented pubs, the range of craft brews and venues in NYC is confusingly large. In this post we first open up the fascinating history of beer in New York, and then introduce some great craft breweries in NYC – save the tips for your next trip! We visited these breweries and taprooms when we did a one-week house-sit in Astoria, Queens, in February 2020.
History of craft beer and brewing in NYC
The history of brewing in New York is long, and actually the whole North America's first comercial brewery was located in Manhattan, and started brewing in Stone Street back in 1632. The beer industry in NYC started to grow significantly in the 19th century, and New York also became the biggest hops-growing region in the country at that time. The early beers in the US were mostly ales, but lager beers started to dominate the market in New York City in mid 19th century – the style flourished due to the strong influence of German immigrants that had arrived in the 1830's and 1840's. The second half of the 19th century was the first a craft brewing era in NYC, with dozens of new breweries opening in Brooklyn area alone, and over 100 in the city in total.
However, in the early 20th century the craft beer industry started to suffer, as large national players started to take over the market, and there were also some years with poor crops. And then came the Prohibition, that naturally hit hard the whole alcohol beverage industry. The Prohibition begun in the United States in January 1920. During the next 13 years production, import, transportation and sale of alcohol products was banned by the constitution. Nationwide, around thousand breweries were shut down, and during the years the beer industry was completely brought down. Post Prohibition, the commercial breweries started to recover quickly, but for craft beer industry the next 40 years or so were rather quiet, before the new era of craft beer started.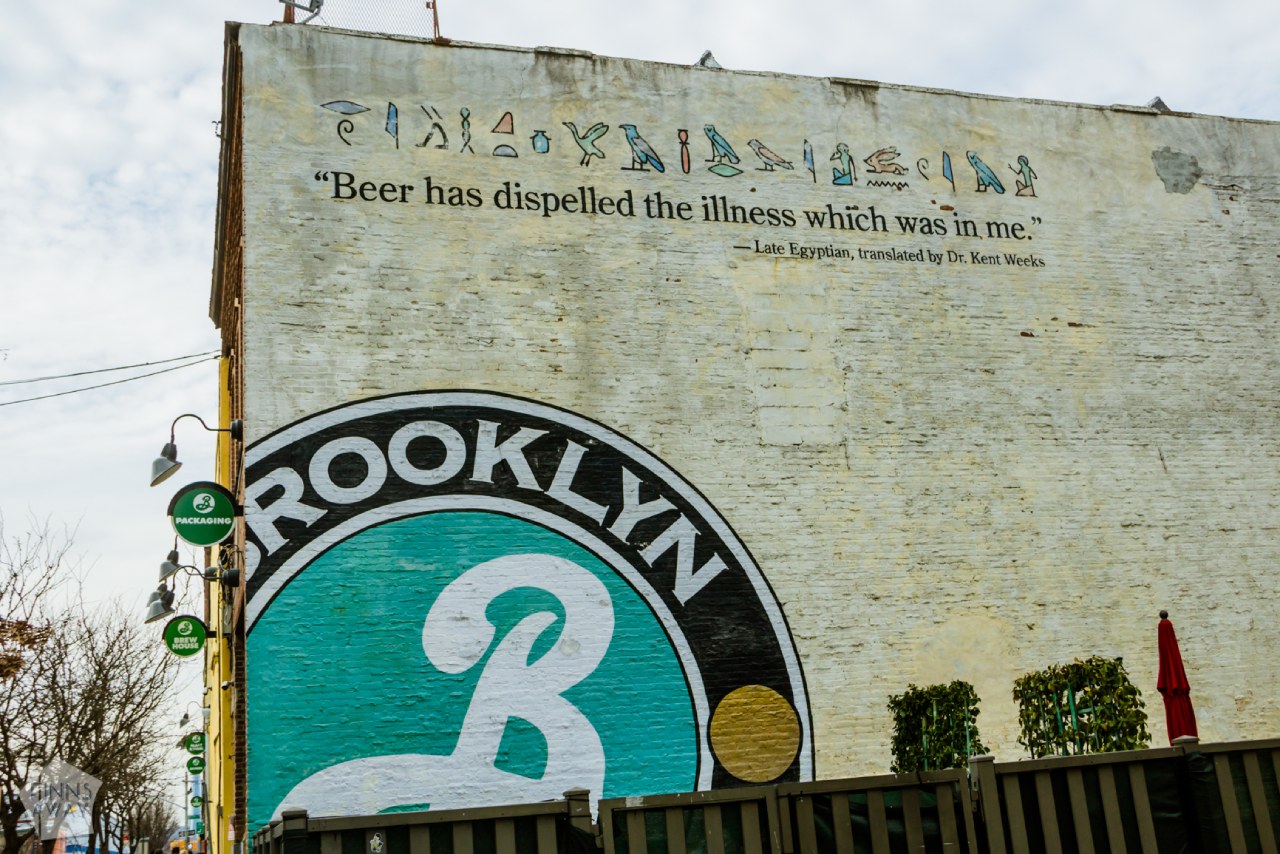 Even if New York used to be one of the brewing capitals of the US, only three Brooklyn-based independent breweries managed to reform their business and survive over the Prohibition years. The business didn't flourish though, and one of them shut down, and the rest were incorporated into huge national brewing companies. By 1970's there was basically nothing left of the first golden era of brewing in New York City. That is tragic of course, but the clock was already ticking for the new craft beer boom. Home-brewing was getting more and more popular, and new tax laws helped small breweries to build their businesses. In the early 80's new craft breweries started operations in different states around the US. By 1985 there were 100 breweries in the country, and in 1996 there were already 1000 of them. Ever since, craft beer culture has bloomed in the US and gained popularity worldwide, and as said, today New York City is one of the craft beer capitals of the US.
A little tour of craft breweries in NYC
Our time in NYC was limed to just a few days, but we still managed to visit several micro breweries and taprooms. We also noticed, that delicious craft brews are sold in basically every corner shop, no matter how small. It's impossible to make any "best craft breweries in NYC" or "best craft beer pubs to visit in NYC" lists, as there are so many to choose from (and too many to visit during one short stay in the city), but we can warmly recommend these below venues that we visited.
The Bronx Brewery is located in an industrial area in South Bronx. This micro brewery with an attached taproom and a backyard beer garden still has quite genuine artisan brewery feel, even if it was established already in 2011.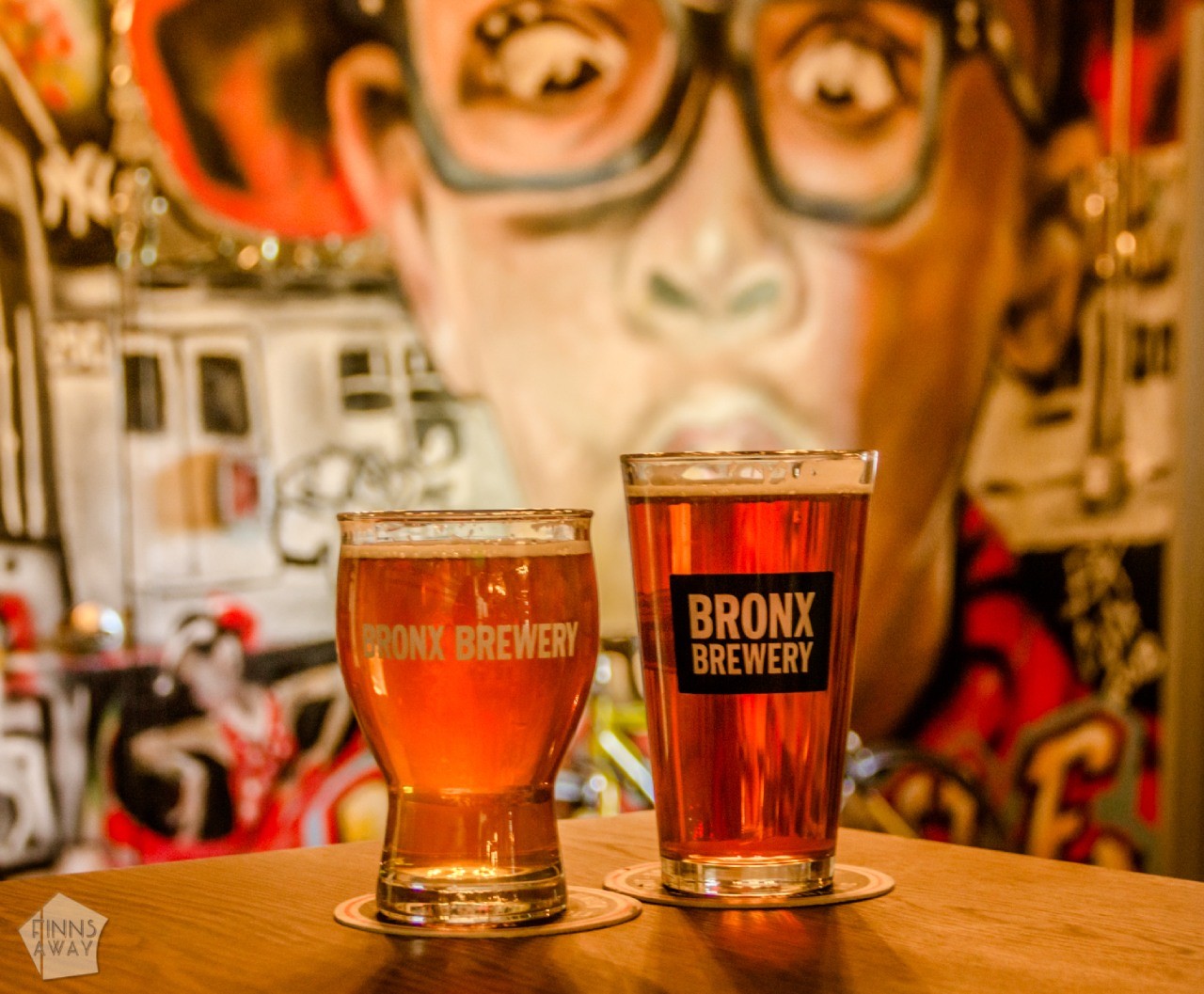 "Revolving around the pillars of Community, Creativity and Inclusivity, our goal each day is to create a diverse, vibrant culture that uses beer, art, food and music to inspire, unite and drive positive change in our world."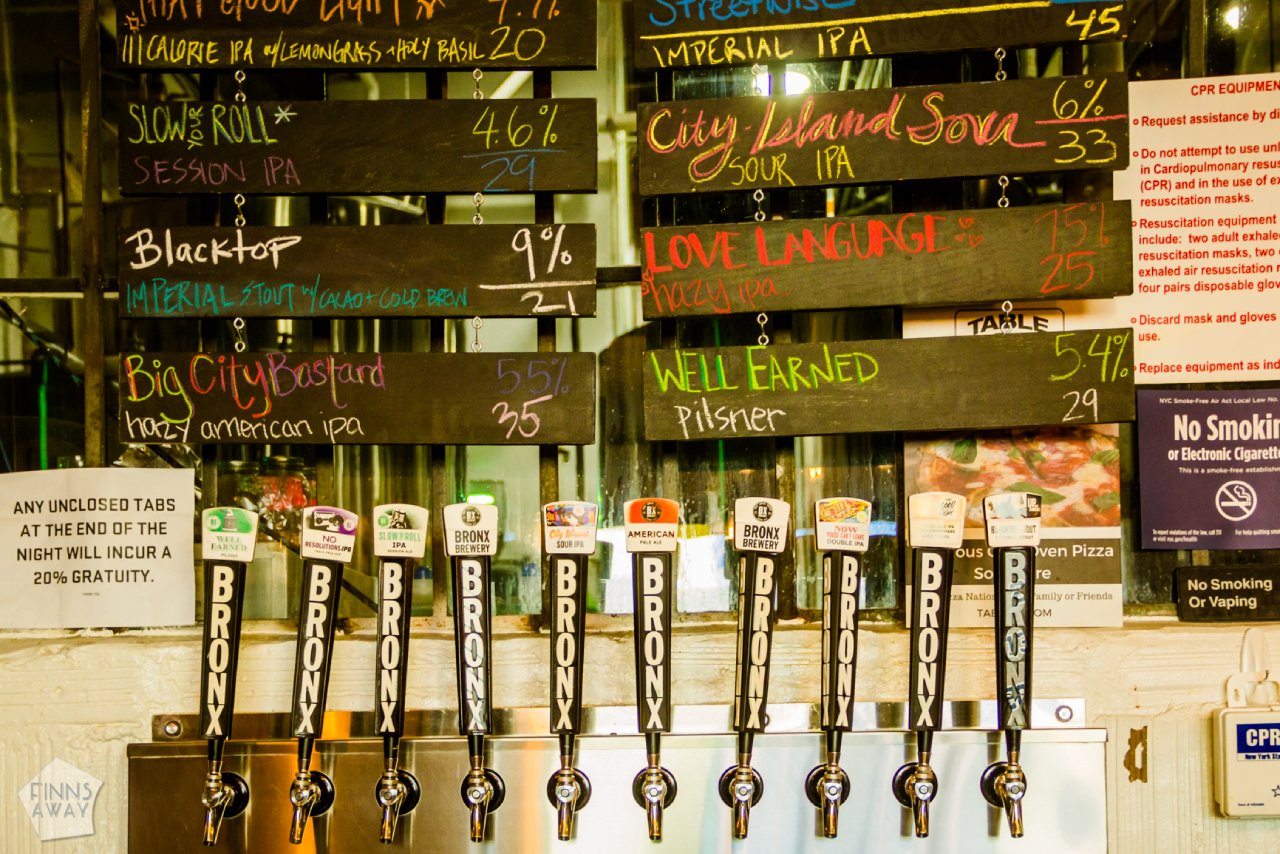 Bronx Brewery beers range from pilsner to double IPA's via sours and pale ales. We tasted a few IPA's, and gave the best rating to hoppy, aromatic No Resolutions American IPA. Bronx Brewery taproom is open seven days a week, and also serves pub food like empanadas, sandwiches and burgers.
Grimm Artisanal Ales was established already in 2013, but operated the first five years as a nomadic brewery, so without their own facilities, developing recipes and brewing in collaboration with existing breweries. In 2018 they opened a permanent brewery and a stylish and modern tap room in East Williamsburg area in Brooklyn.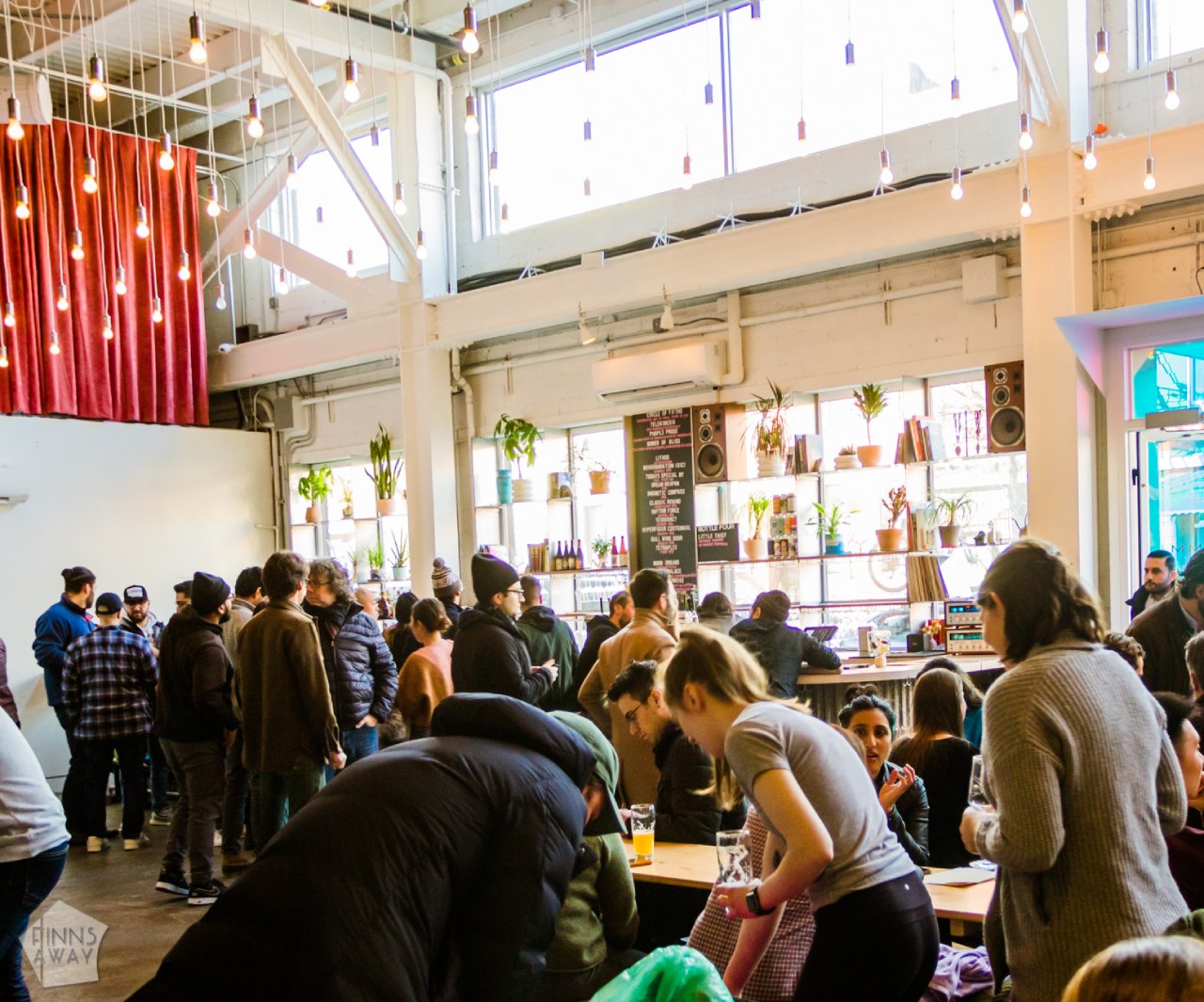 "We specialize in concise, elegant ales epitomizing the creative, experimental spirit of the American artisanal beer revolution. With each limited edition release, we seek to push the boundaries of style and flavor in order to create beers with the utmost depth and complexity."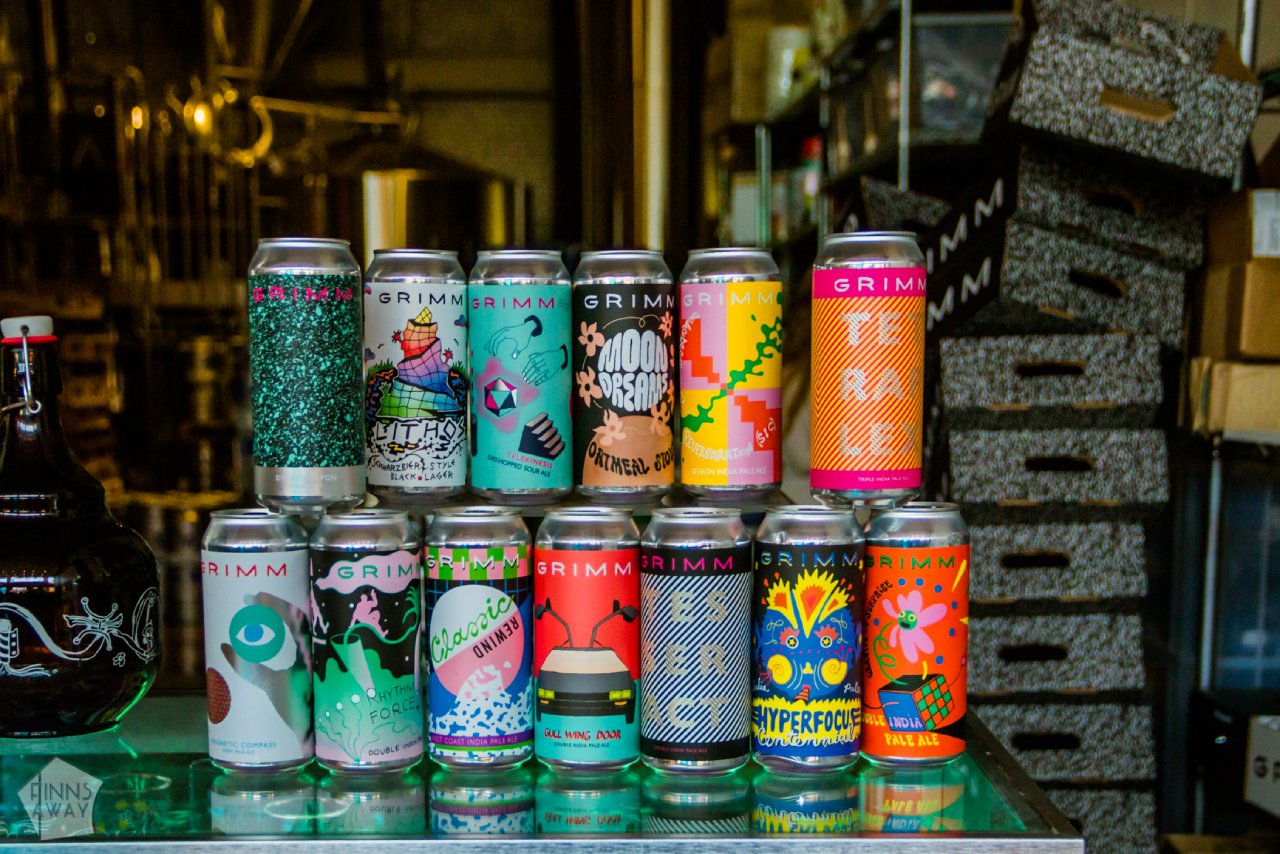 The founders of the brewery, Joe and Lauren Grimm, started as home-brewers and were first fascinated with Belgian-styles ales, and later experimented with a wide scale of beer styles. Still today, Grimm makes some Belgian ales, but has an impressive selection of different kinds of ales, especially sour ales and IPAs. We loved their light but smooth and tasty Magnetic Compass IPA.
When visiting Grimm taproom, we checked out also Interboro Spirits & Ales taproom, located almost around the corner, and you should combine these two too! Interboro taproom is a small and cozy place that looks more like a bar at first glance when stepping in, but only until you realize that there is just a glass doors separating it from the brewery itself. After the shiny and modern Grimm taproom, Interboro charmed with a genuine small brewery / corner pub feel.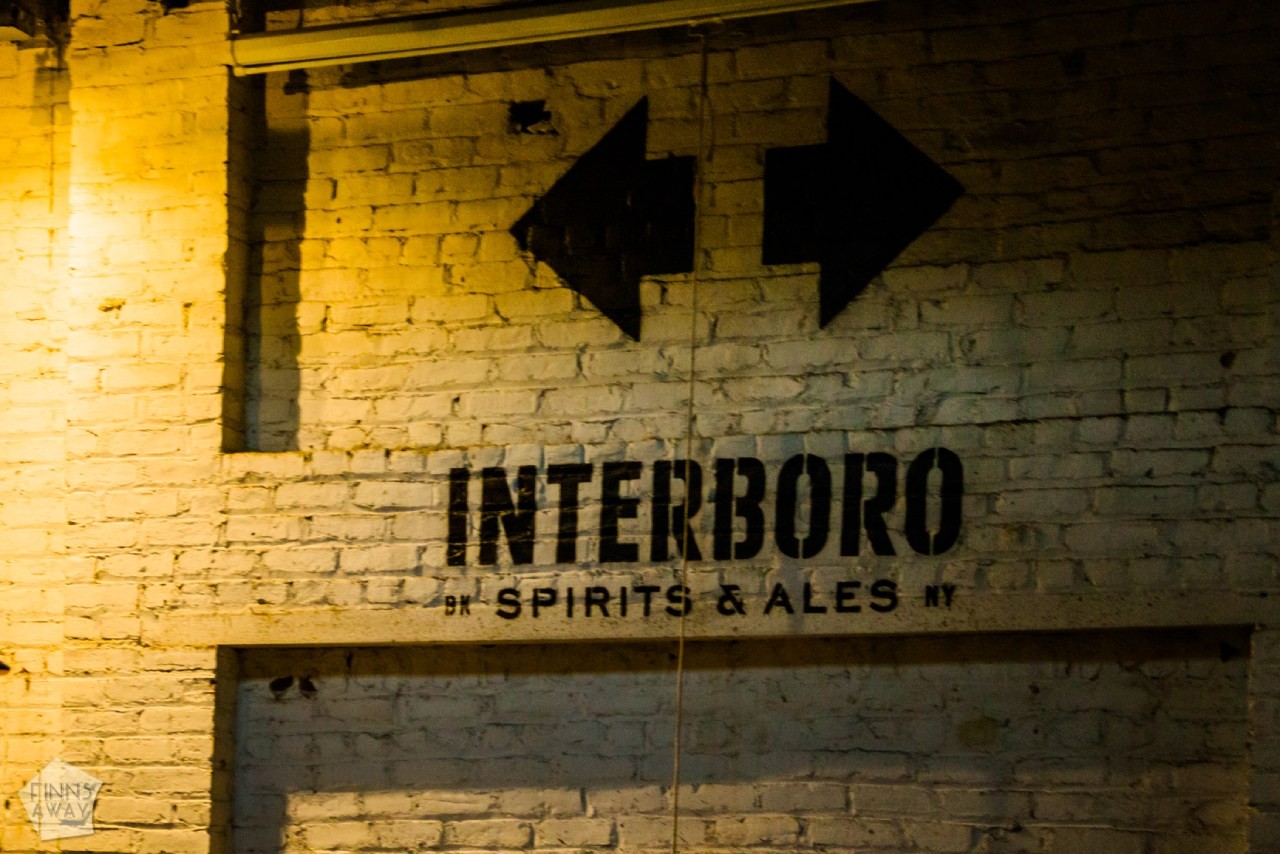 "Rooted in the city and its culture, we're stoked to make great beers and spirits for the community we're proud to be a part of. New York City inspires us, bringing the art, music and culture of the world to our doorstep. Our hope is we get people connecting and building the scene that pushes us to keep being creative."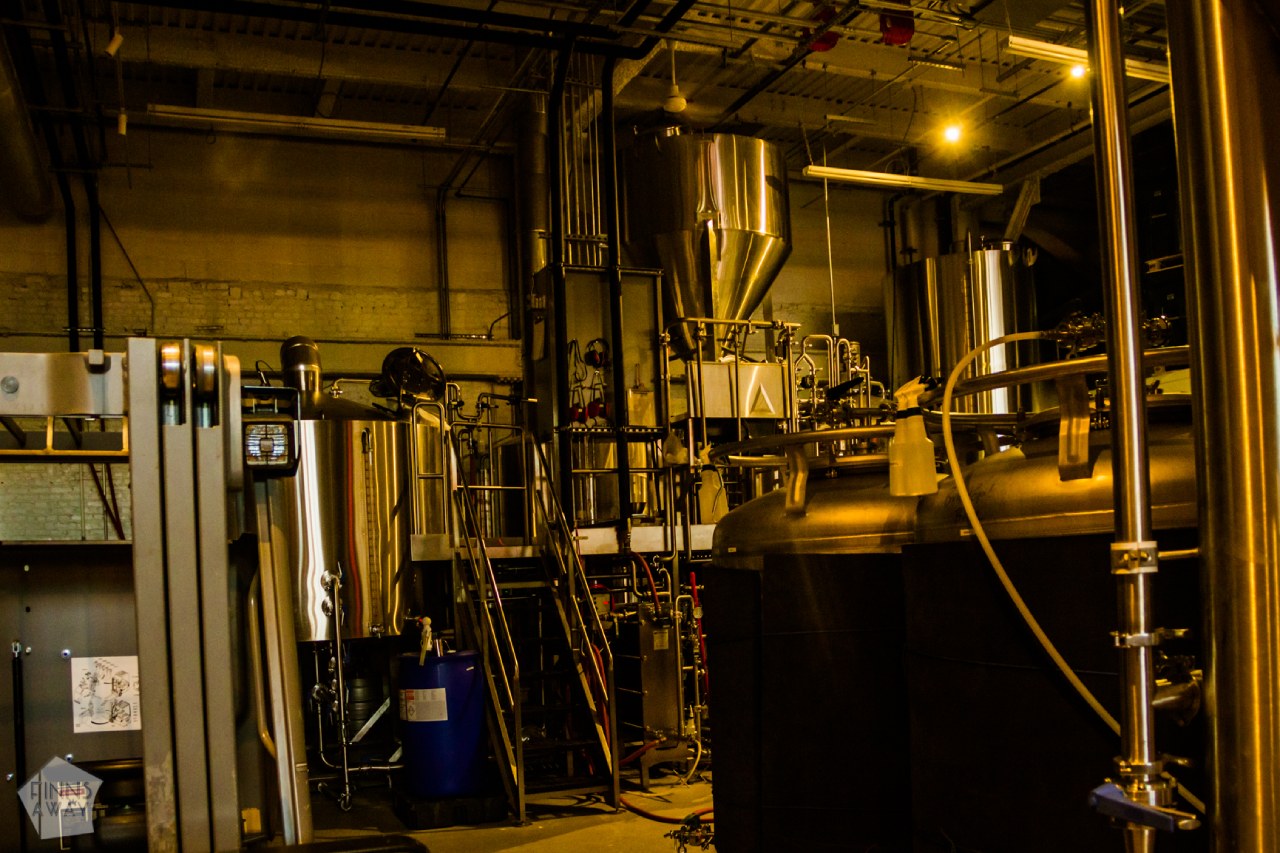 There were several interesting IPA's on tap, and Interboro beer selection also includes pilsners, sours and stouts for example, part of the beers being seasonal brews. We tasted Mad Fat Fluid, a nicely bitter and grapefruity American IPA.
Brooklyn Brewery has grown to be a beer symbol of New York, so let's include it here also, even if nowadays it is so big and popular, that it feels more like a commercial brewery than an artisan one. Brooklyn Brewery was founded with an aim to return Brooklyn into a prosperous brewing neighborhood that it was back in the days. The first batch of Brooklyn Lager was brewed already in 1988, and first international sale was made to Tokyo the next year. The brewery and tasting room in Williamsburg was opened in 1996 and renovated in 2018.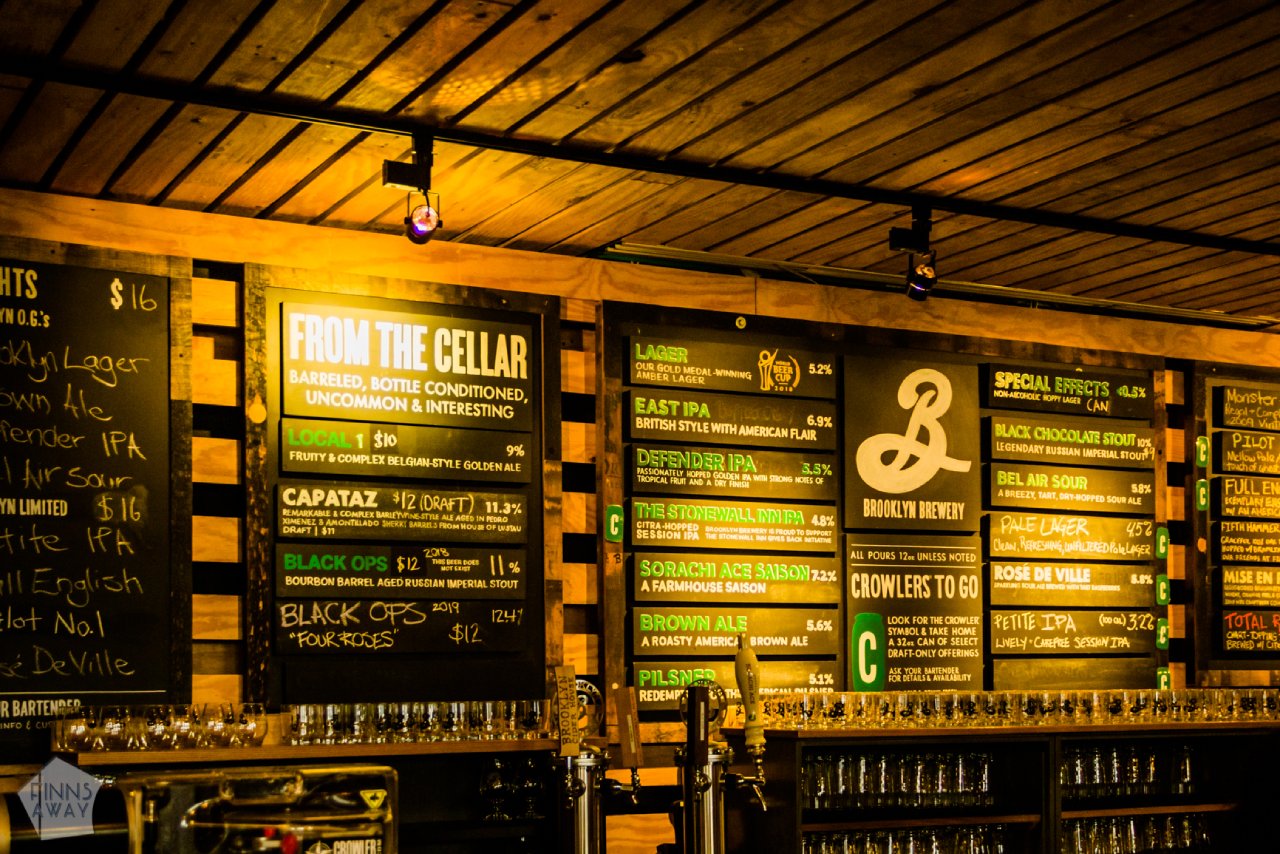 "Welcome to Brooklyn! Our namesake borough runs on the creative energy of the many communities it contains. We brew to support these vibrant people, in our neighborhood and around the world."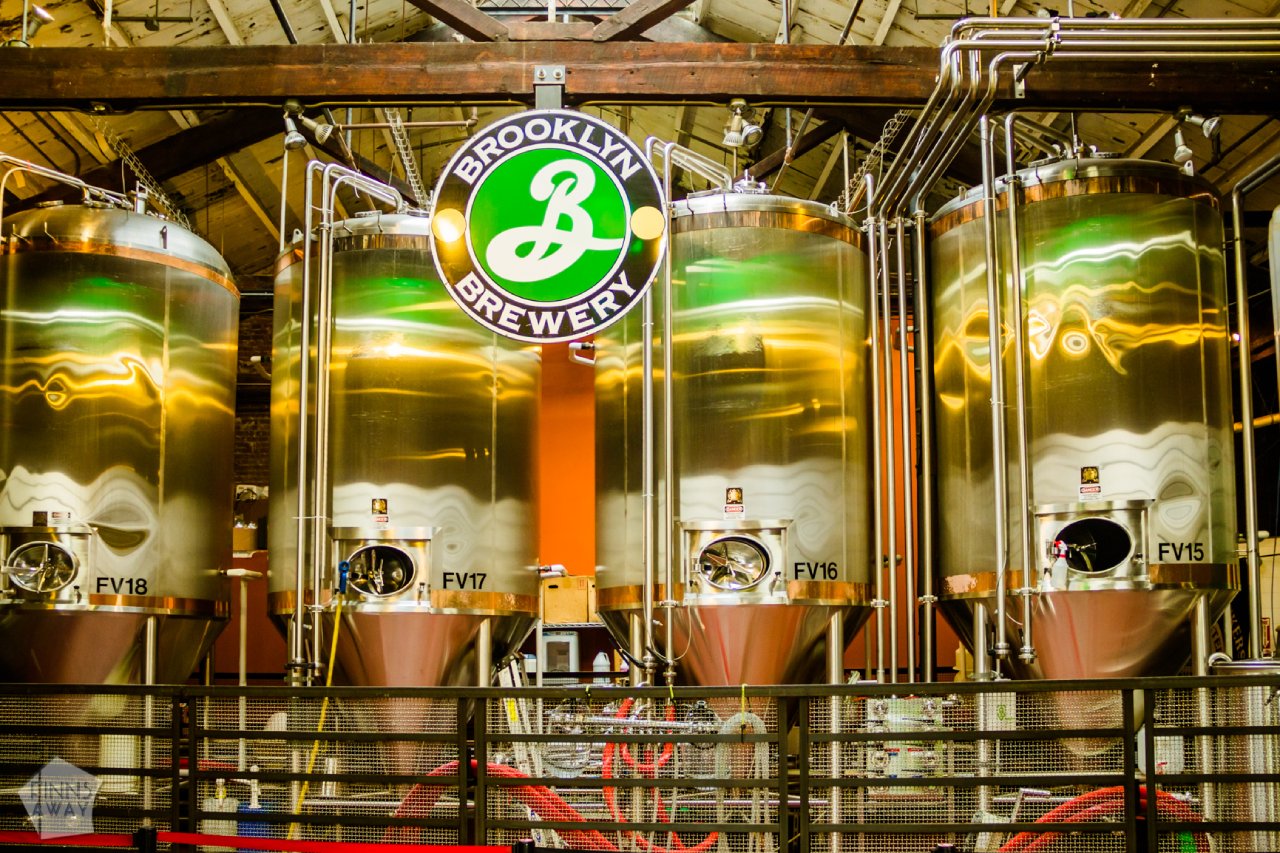 Today Brooklyn Brewery beers are available around the world, and the Williamsburg tap room receives international guests every day. The free brewery tours on weekends are especially popular (or at least were, before Covid-19…), and the taproom can get very busy. We visited this legendary brewery on a Sunday afternoon in February, but the queues for both a free tour and to buy beer were so long, that we didn't stay to try their brews on site.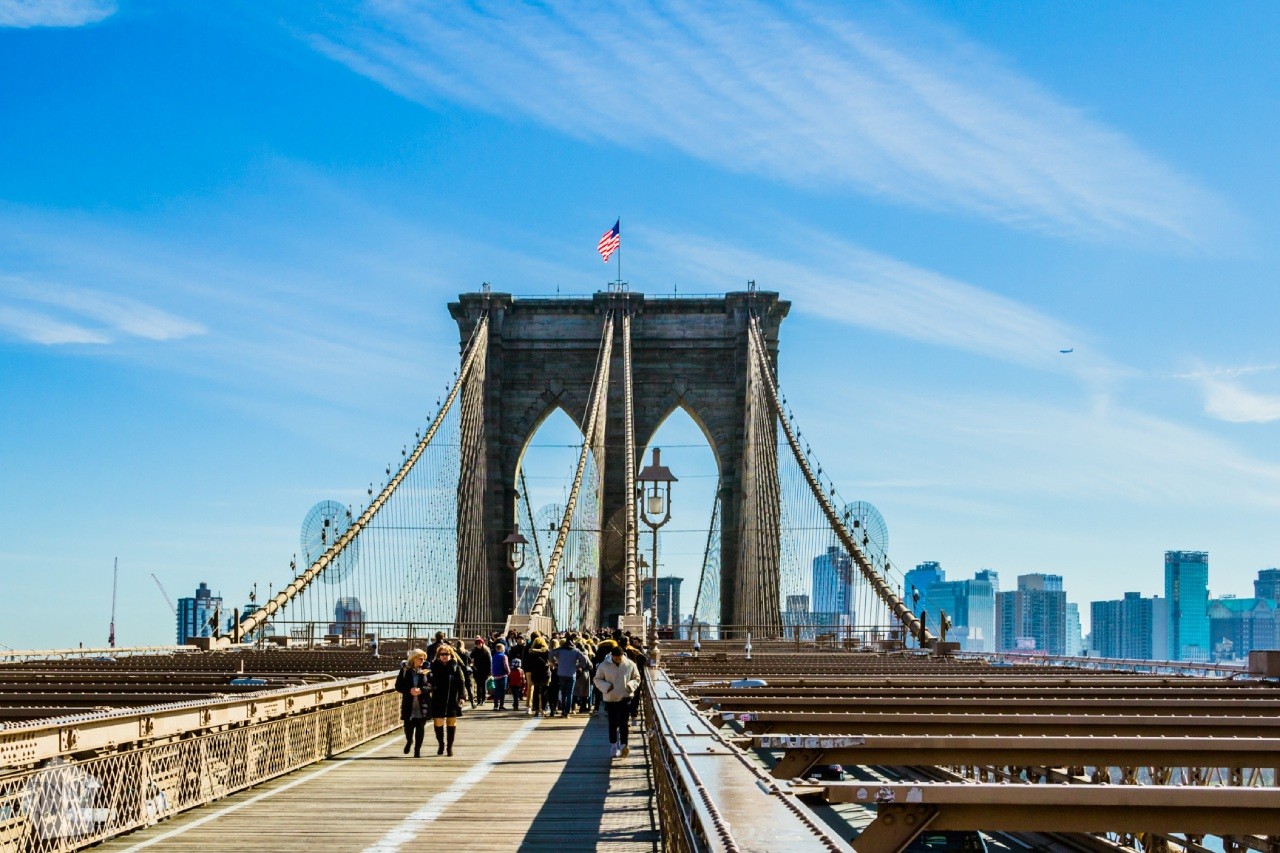 On top of these four breweries mentioned in this post, there are dozens of other interesting craft beer breweries and tap rooms in New York City, which makes it an awesome destination (also) for craft beer enthusiasts! Have you visited some craft breweries in NYC? Leave a comment below!
We are sorry that this post was not useful for you!
Let us improve this post!
Tell us how we can improve this post?