Malaga for craft beer enthusiasts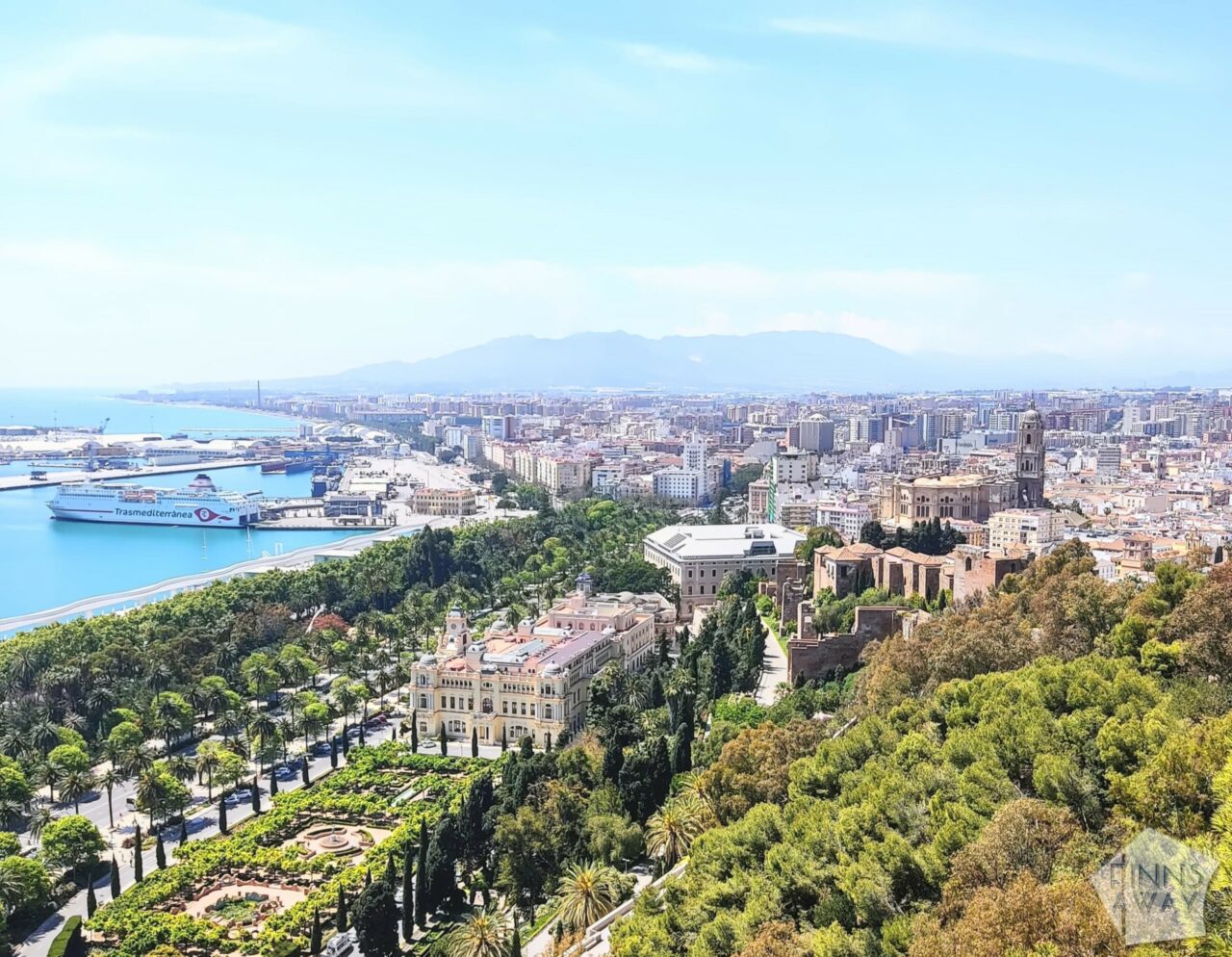 Malaga region in Andalusia, on the south coast of Spain, has been a tourist hot spot for decades. The regional capital Malaga, often overlooked by tourists heading straight to the beach resorts, is a charming city, in which it's possible to combine a city holiday with a beach break. The main sights of the city highlight its long history, and during a half-day walking tour visitors can explore a Roman Theater, handsome Arab fortresses and stunning Baroque facades. When it comes to craft beer, Malaga, or Andalusia in general, is not a wonderland, but still, it's possible to find delicious local craft beer in Malaga, as well as some great craft beer pubs serving artisan beers from around Spain and abroad.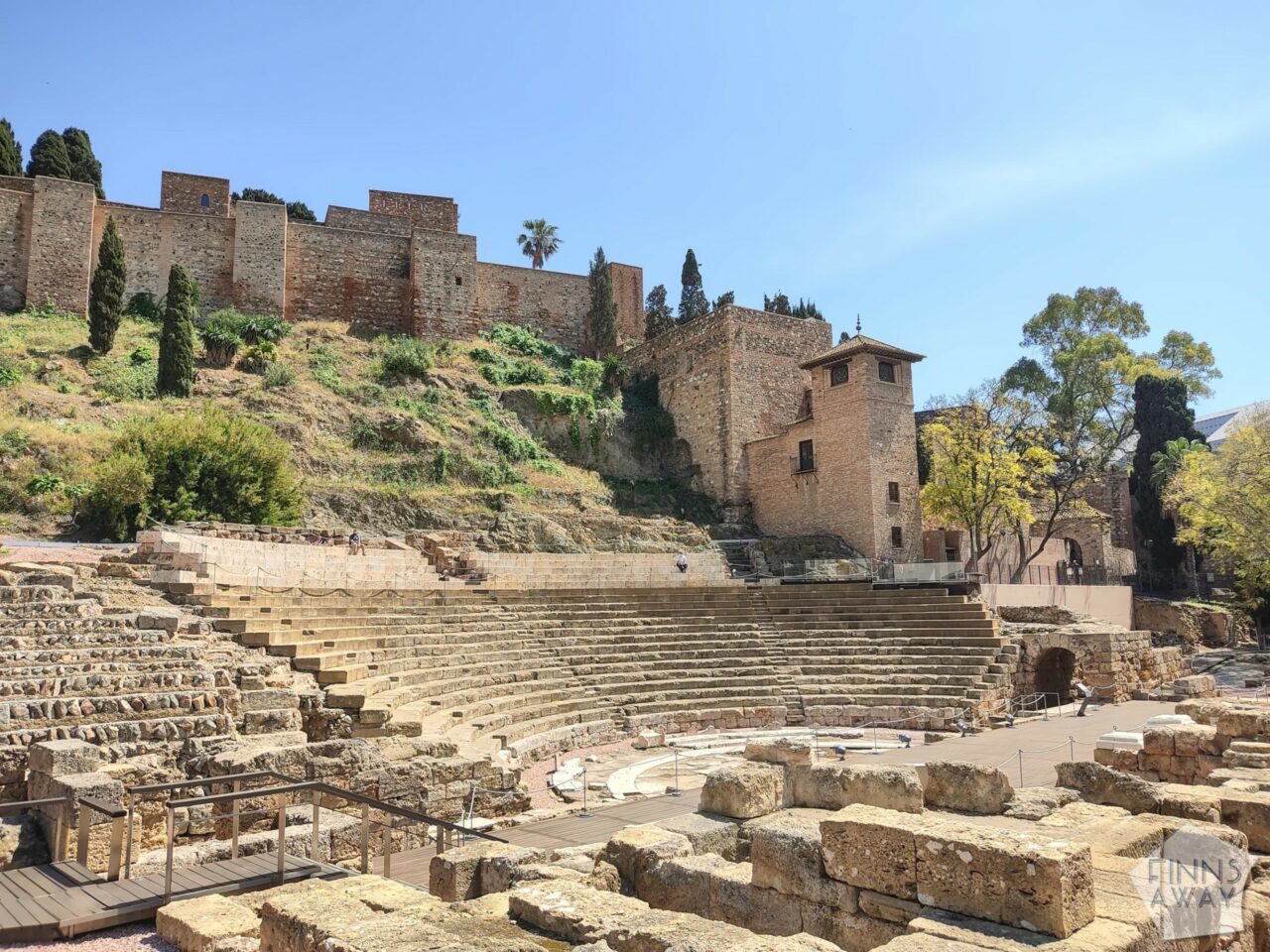 For those who like to enjoy their beer as close to the brewery as possible, there are a few craft breweries in Malaga with taprooms for tasting fresh brews. These breweries, except for the craft brewery of Cruzcampo, are not located right in the city center though, but you can still reach them using public transportation if you don't mind walking a bit.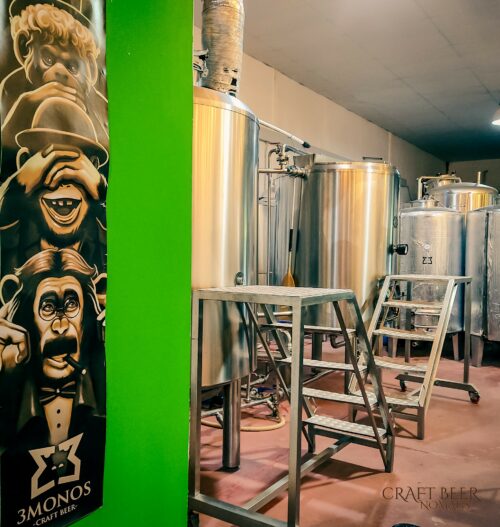 3Monos Craft Beer is one of the oldest breweries in Malaga area, and has been producing artisan beers since 2015. Tres Monos means three monkeys, and the monkey theme is clearly visible in the names and the impressive label art of the beers. Pre-corona 3Monos used to have a wide range of beer styles, but at the moment the focus is mostly on hoppy pale ales and pilsner. The small taproom of the brewery, in San Luis industrial area, close to Los Prados, is open on Fridays, and only a short walk away from Los Prados train station and bus stops.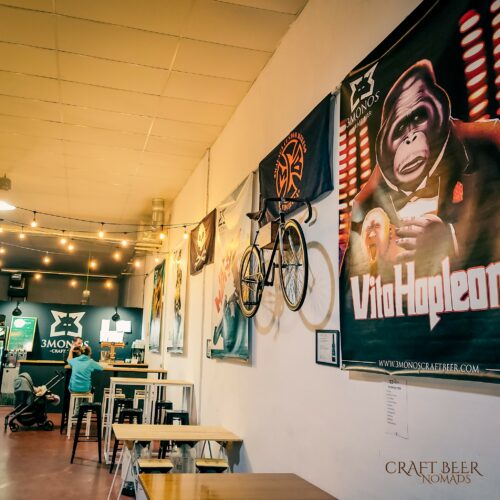 In addition to the brewery taproom you can also find 3Monos beers in the craft beer pubs of Malaga downtown. Our favorite 3Monos beer was an APA called Monkey Business, a refreshing and light but nicely hoppy and fruity pale ale.
Also Bonvivant Beer was founded in 2015, and has grown to be a well-known craft beer brand in Malaga. Their factory is located in an industrial area called Guadalhorce, and right next to the brewery they have a taproom with a terrace restaurant. It's not the easiest location to pop in, but if you have time, the brewery is definitely worth a visit. Read more about our visit to Bonvivant Beer and about their artisan beers in Craft Beer in Malaga: Bonvivant Beer.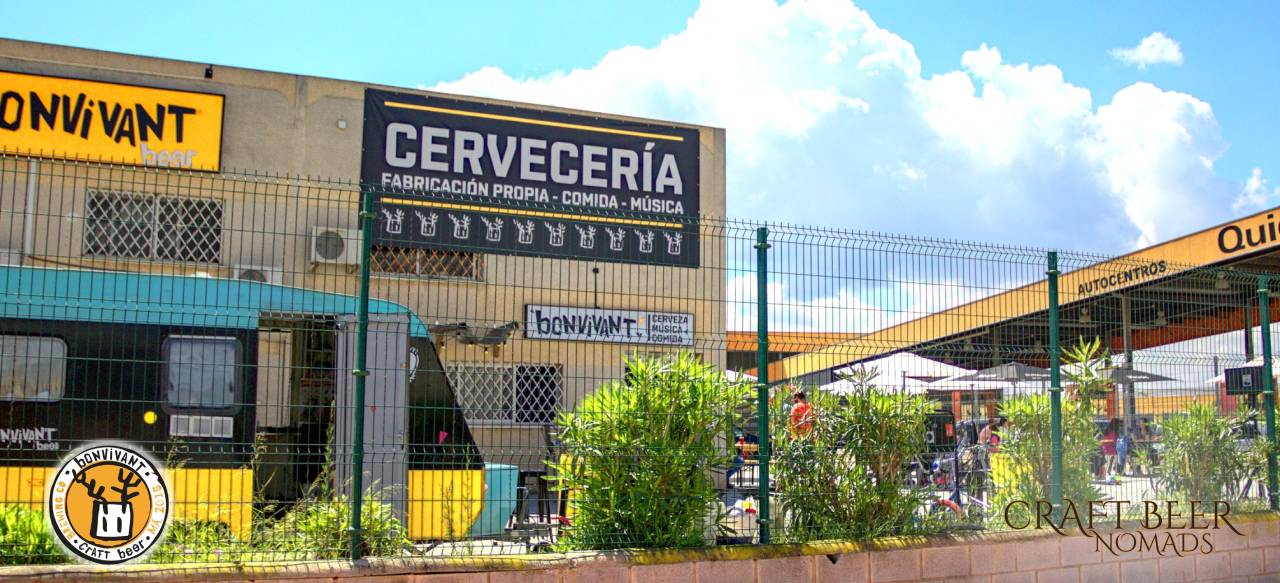 Diez Cabezas is a new artisan brewery established in 2020. We haven't had the chance to get to know this artisan brewery better yet, but their taproom is without a doubt worth a visit. The brewery is located in Alameda industrial area, quite close to 3Monos actually, and the taproom is open from Thursday to Saturday.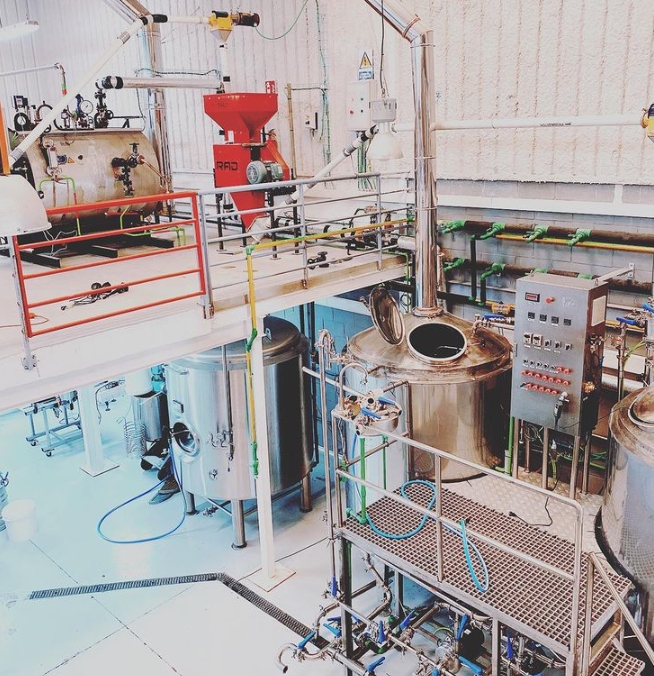 Attik Brewing is a nomadic brewery based in Torremolinos, a resort town close to Malaga. This creative brewery does not have their own taproom (yet at least), but you'll find their delicious beers in the craft beer pubs of Malaga. Read more about Attik and the founders of the brewery in a separate article – Craft beer in Malaga: Attik Brewing.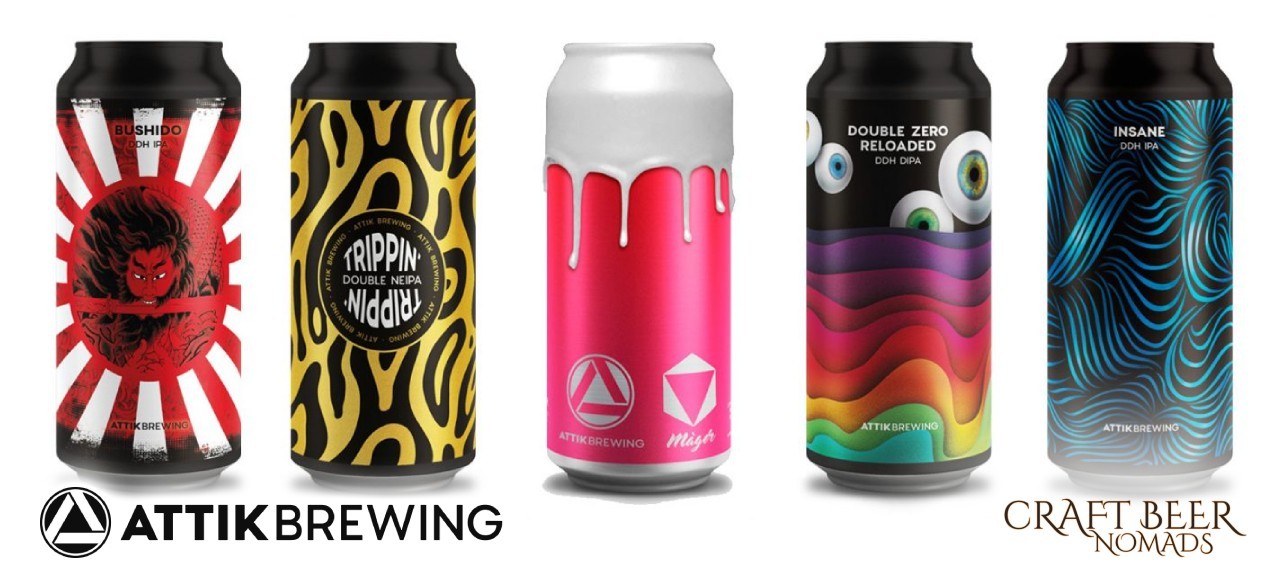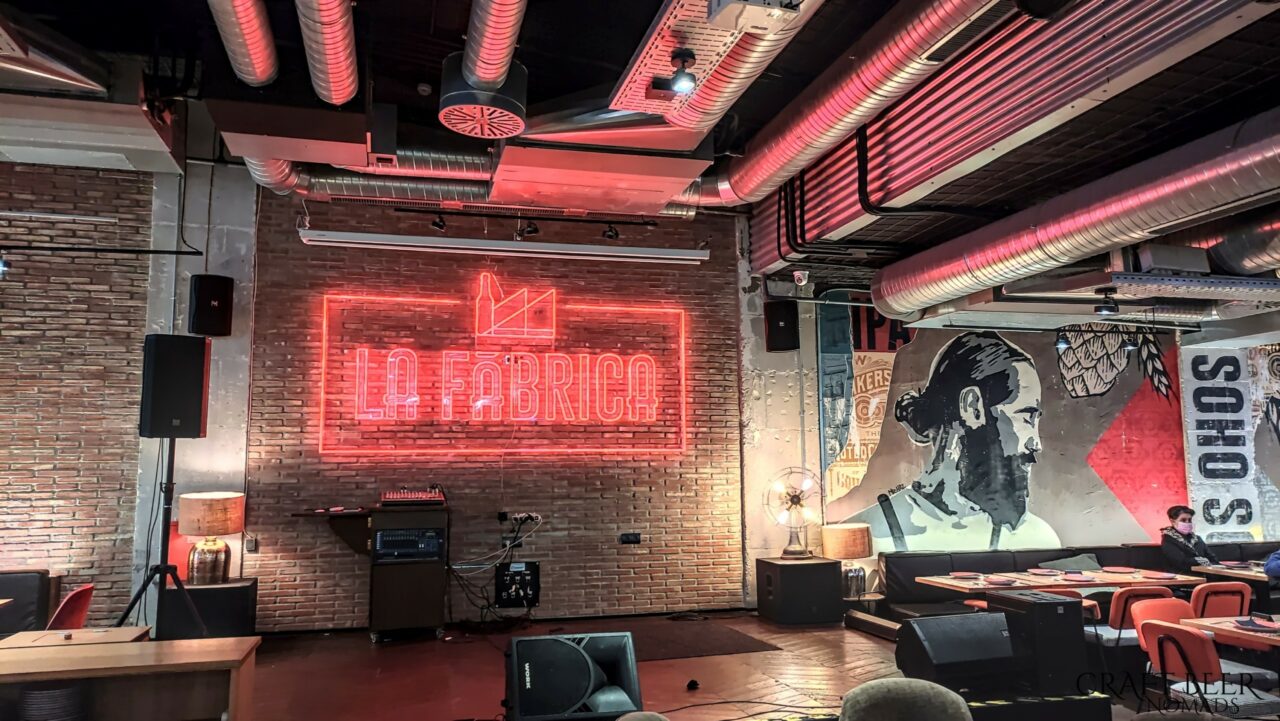 Located right in the Malaga city center, in the trendy Soho neighborhood, you'll find La Fábrica, a brewpub of Spanish beer giant Cruzcampo. This modern, stylish brewpub serves a selection of beers brewed onsite, so despite being owned by a macrobrewery, the products are actually craft beer. There is a core selection of five La Fábrica Cruzcampo beers and two rotating seasonal beers available, and in addition always some limited edition brews.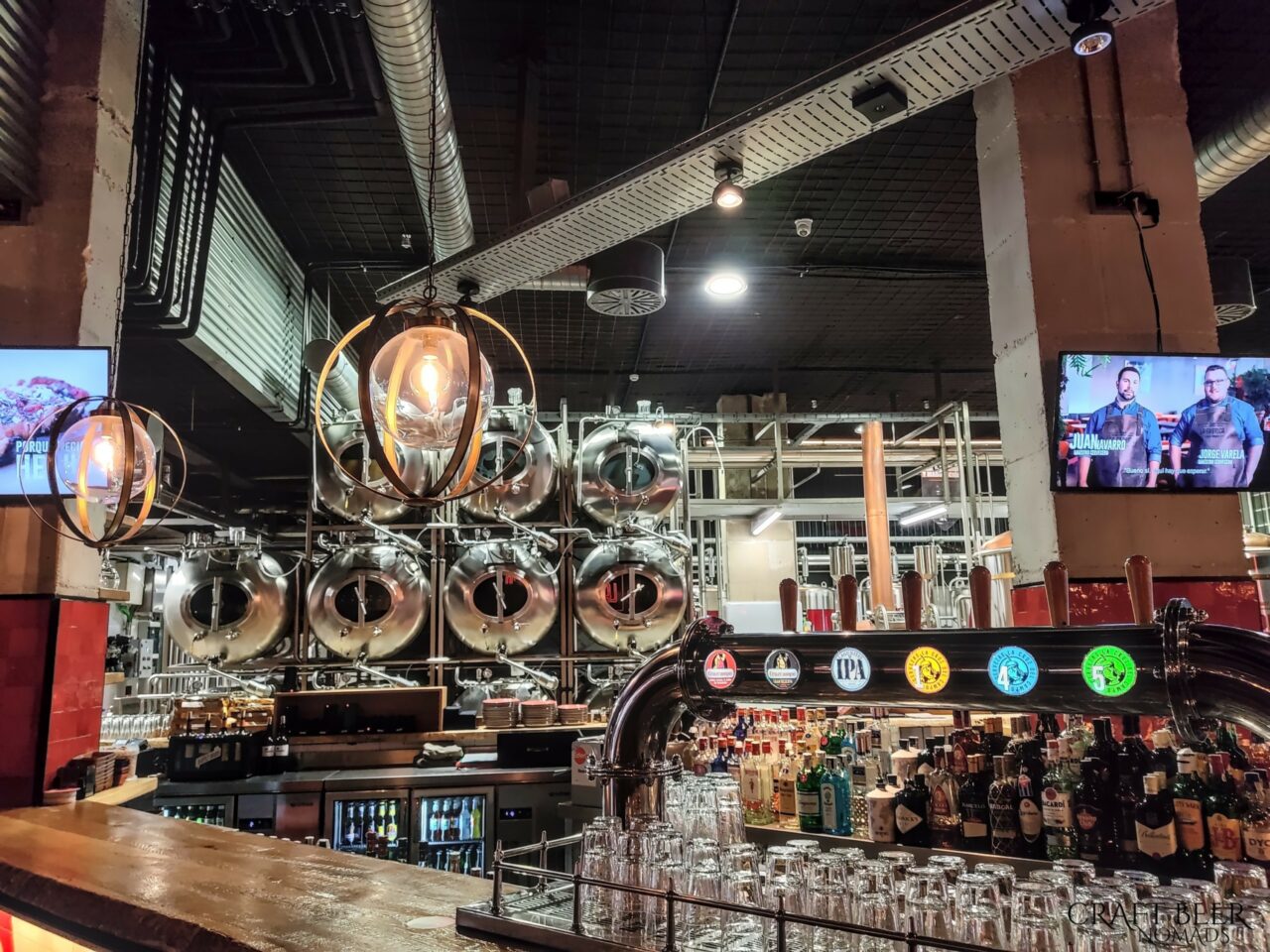 Craft beer pubs in Malaga
In Malaga city center, there are several craft beer oriented pubs to choose from. As most of the pubs listed here are very close to the popular Centro Historico, the lovely old town of Malaga, they are great venues to relax after (or in the middle of) a sightseeing tour.
El Rincón de Cervecero, that translates to brewers' corner, is a craft beer pub founded by brewers. Located in Soho, this nice, quite traditional-looking beer pub is a great place to pop in for a Spanish craft beer, or to buy some beer souvenirs. Operating since 2014, they have eight rotating taps and a wide selection of craft beer in different styles in bottles and cans.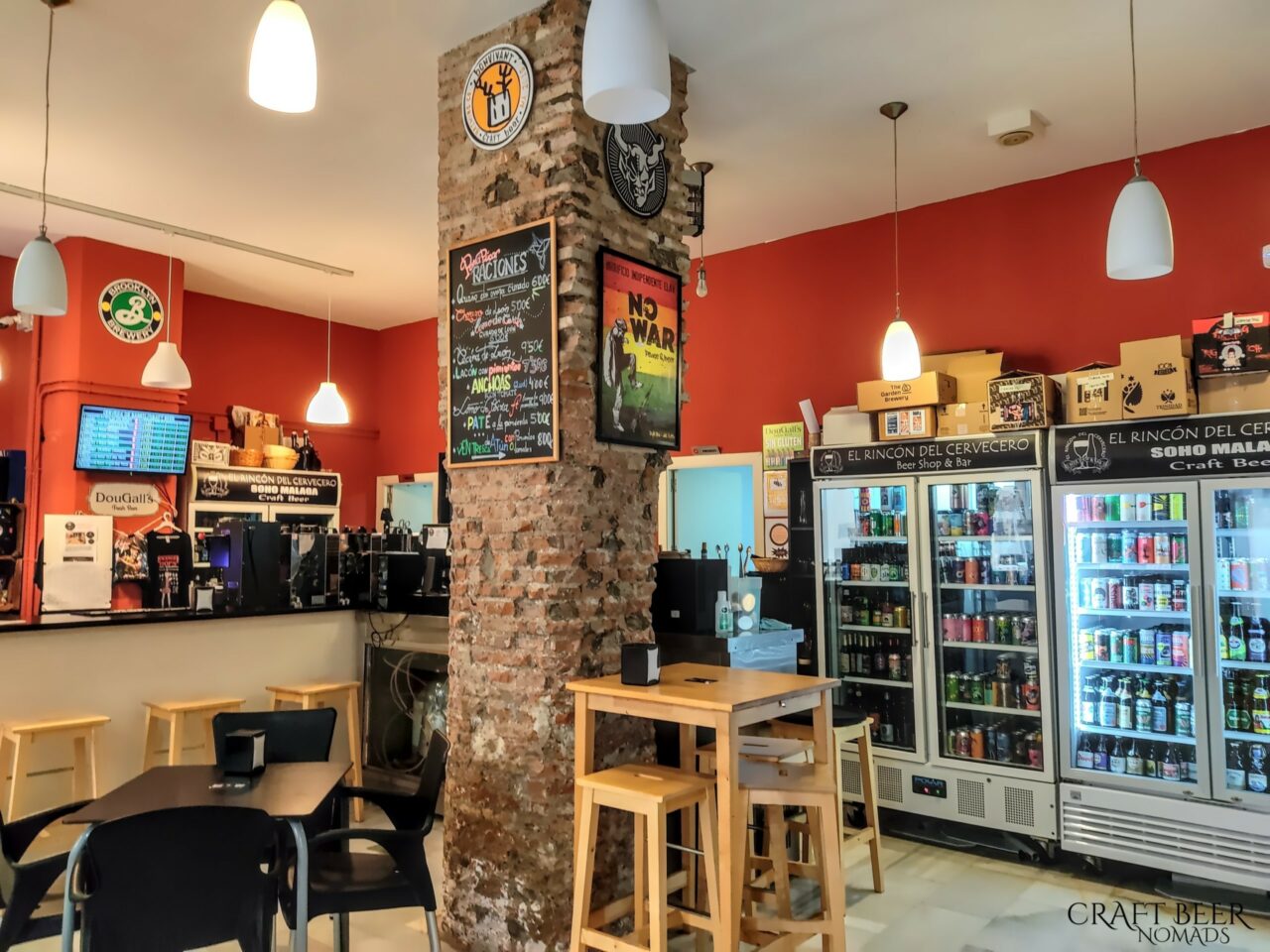 La Botica de la Cerveza craft beer pub is located right by the Malaga Old Town and Alcazaba fortress, in a beautiful building. We liked the atmosphere of this small venue, and the customer service was very friendly. They have six taps and a quite big selection in cans and bottles, both local brews and craft beers from abroad.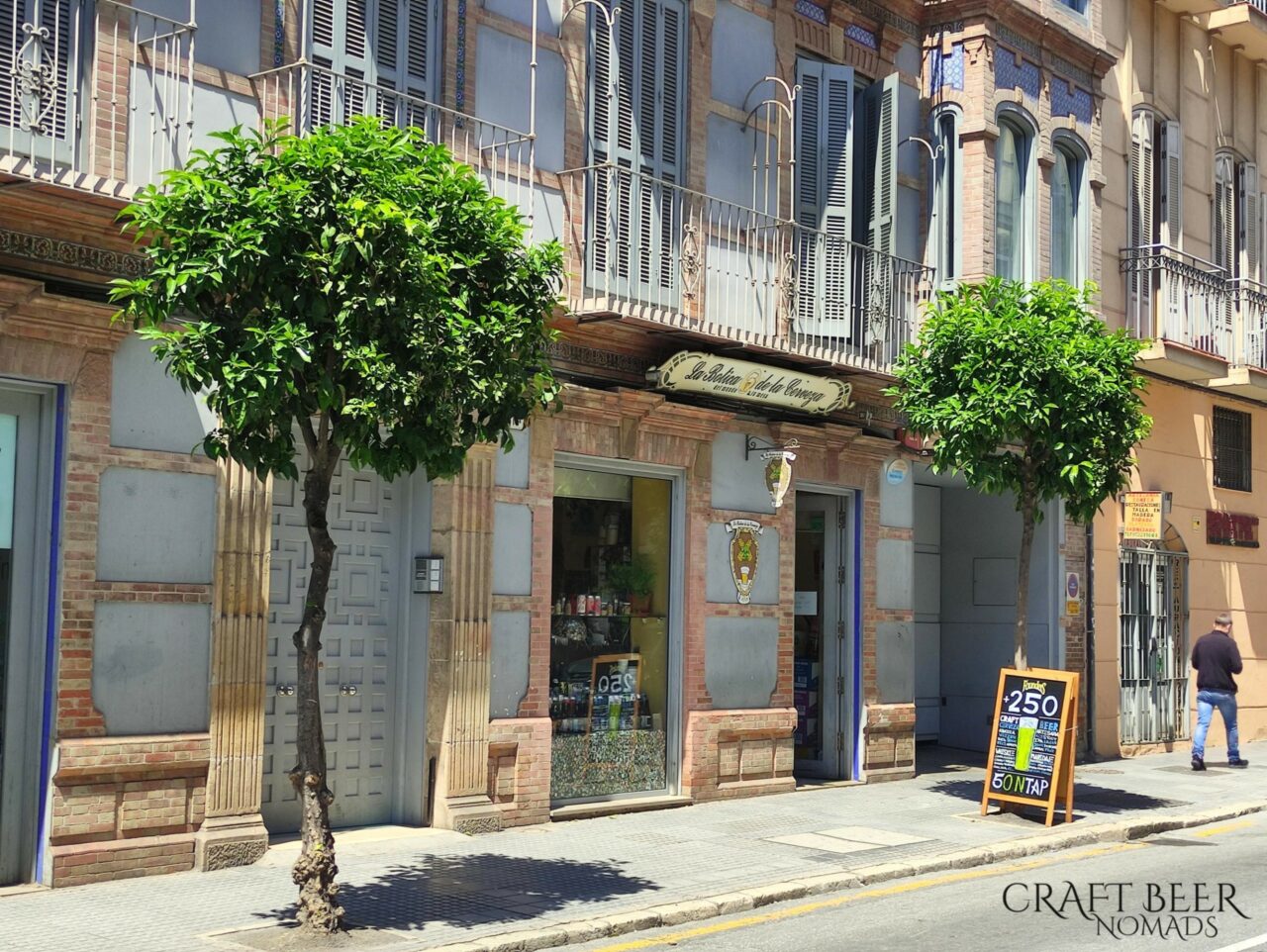 La Madriguera Craft Beer & Food
La Madriguera Craft Beer & Food is a small, cozy pub that is focused not just on craft beer but on cuisine as well. There are eight taps of both local and international craft beers, and of course a lot of cans and bottles too.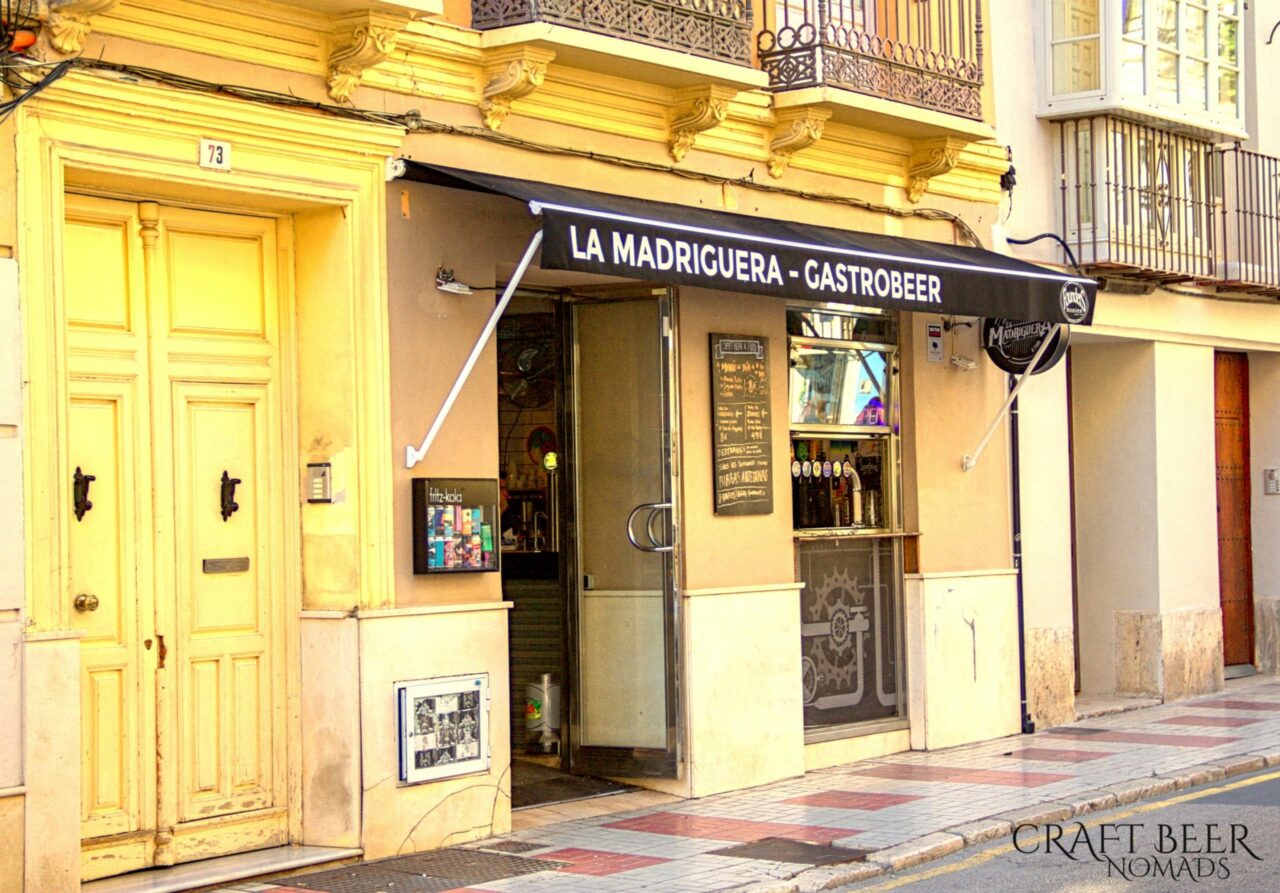 Central Beer Pub is a bit more traditional beer bar, with 15 taps from commercial lagers to international craft beers. There are not so many local brews, but in bottles and cans there is a wider selection of artisan beers. Customer service was excellent!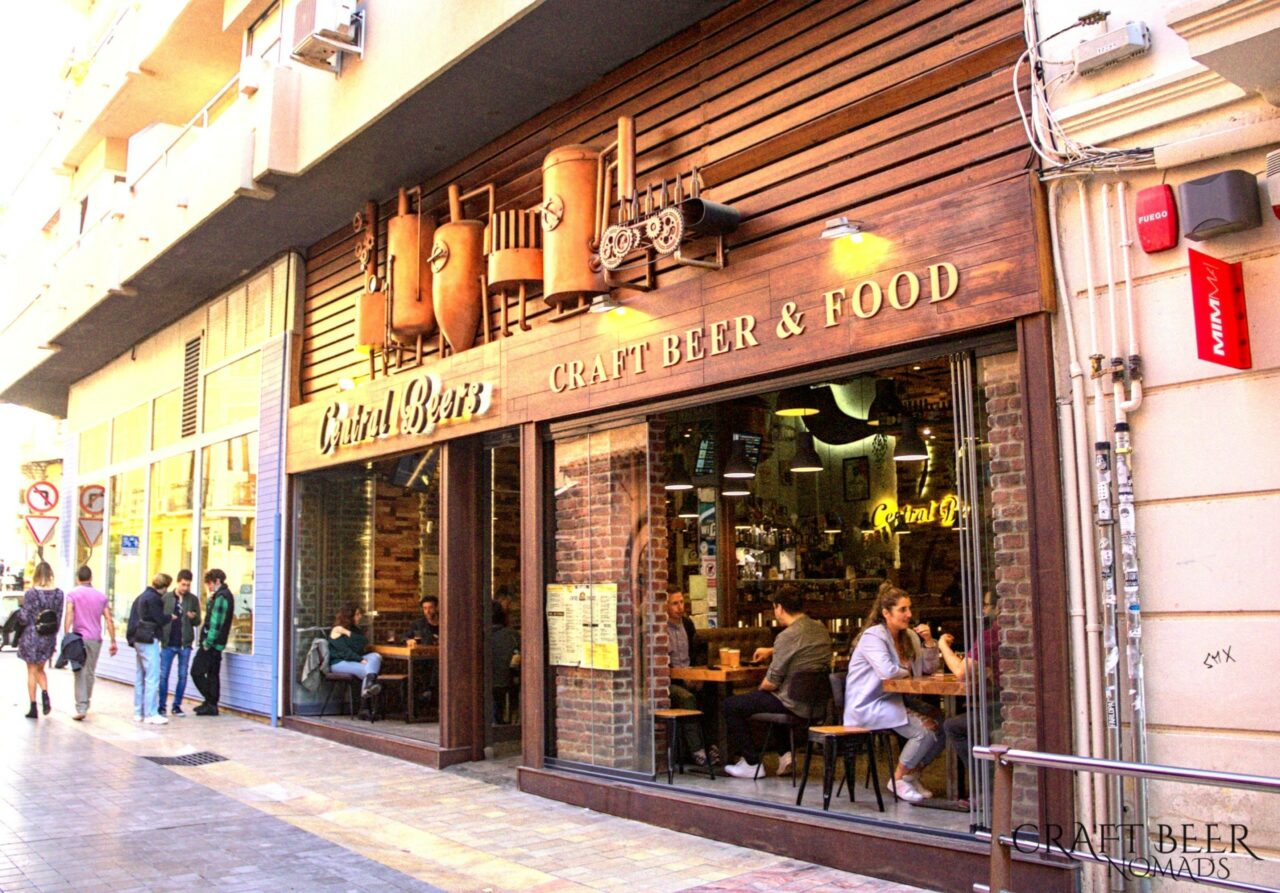 The popular Arte&Sana craft beer pub has recently re-branded, and is now known as Birras Deluxe. This pub has been for a long time a favorite for many beer drinkers in Malaga. Even if the new brand makes this coffee&beer shop look more like a cafe, there still are ten taps of Spanish and international beers and a selection of craft beer in bottles too, so it's well worth a visit.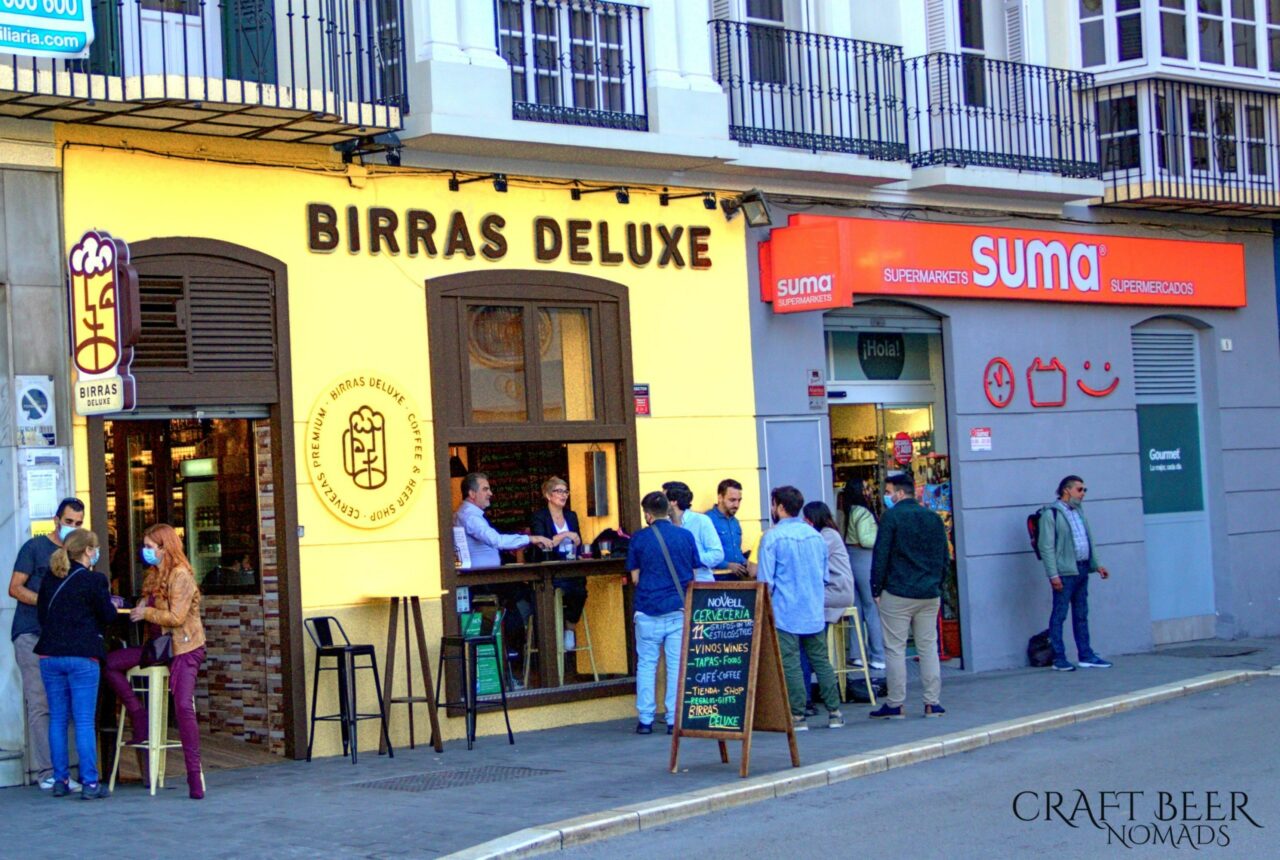 In addition to these venues in Malaga that we have visited ourselves, there are a couple of more that we want to bring up here. Friends of Belgian beers may want to check out Cervecería Mapamundi 2011. This pub is specialized in Belgian style brews, but they do have a selection of other craft beers too. In Los Guindos area, south from the city center, you'll find a pub called Hop Scotch Craft Beer & Whisky, a popular venue for tasting craft beers from around the world, and whisky too, since 2014.
Finally, if you are visiting the beaches of Torremolinos, check out Twisters pub. This small venue is nothing fancy or trendy, but has a comfy corner pub feel and a decent selection of local craft beers, including brews by Attik Brewing, whose home-base is in Torremolinos.
We are sorry that this post was not useful for you!
Let us improve this post!
Tell us how we can improve this post?